Madrid and Barcelona are common choices but they are far from the only cities in Spain that offer high-quality affordable dental care. One place often overlooked by dental tourists is Almeria, a beautiful city in the southern region of Andalusia.
Situated on the Mediterranean coastline between its larger neighbours of Murcia and Malaga, the altogether quieter Almeria offers unspoiled beaches, a nature reserve, and an ancient fort to explore. It also has its own international airport with direct flights to and from London, Manchester, Birmingham, Leeds, and Newcastle, making it easy to reach. And you will find no shortage of affordable dental clinics in Almeria, staffed by experienced English-speaking dentists and hygienists.
How Much You Could Save on Dental Treatments in Almeria
Below you will find a rundown of the most common dental treatments British patients travel aboard for, along with their current average price in both the United Kingdom and Almeria. While prices do vary from clinic to clinic and can change over time, the information here is accurate at the time of writing and will give you a good indication of just how much you could save on dental work in Almeria.
Veneers are often requested by patients who want a complete smile transformation , and for this type of treatment in the UK you can expect to pay in the region of £1,460 for a single porcelain veneer. Compare this with the price for a veneer in Almeria, which comes to around £420. On just one veneer you could save over £1,000, so if you covered your front eight teeth with veneers you would save over £8,000.
If you are in need of a crown to restore a damaged or discoloured tooth, the cost for a zirconia crown from a British dentist is likely to be roughly £1,250. On the other hand, Almeria dentists charge approximately £420 per zirconia crown , which is over £800 cheaper. Replace four old metal crowns with natural-looking zirconia crowns in Almeria and you could save over £3,000.
The most effective tooth replacement treatment currently available is a dental implant, but it is also one of the most expensive. A complete titanium dental implant, with abutment and crown, is likely to cost you around £3,045 from an implantologist in the UK. Travel to Almeria and you can expect the figure for one titanium dental implant to drop all the way down to £1,256. That is a total saving of over £1,750 on every dental implant you need.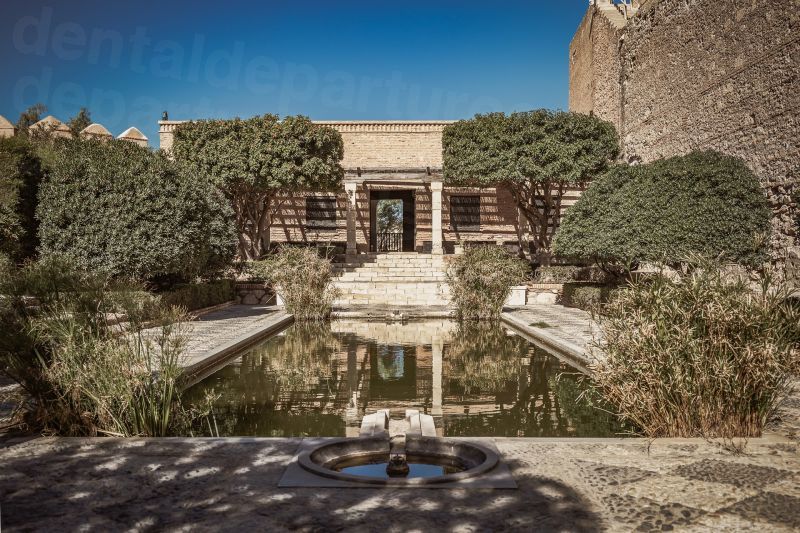 How to Find the Best Dental Clinics in Almeria
Even if you cannot speak any Spanish and have never been to Almeria before, finding a good dentist in the city can be a simple task. Dental Departures provides a wealth of information on dental clinics in Almeria, including reviews written by past patients, before and after photos of various treatments, and a full price list covering every different dental procedure available.
Other important details you can find out at Dental Departures include the qualifications of dentists, the different languages they speak, and their membership in professional medical associations. You will also find handy information like how long a dental clinic has been in business, their opening hours, and the accepted methods of payment.
All this information about thousands of dentists and dental clinics is available in one place, at Dental Departures. Our ethos is to help patients find the dental care they need at a price they can afford. To get you started in your search for the right Almeria dentist, here are a couple of recommendations.
Two Top Almeria Dental Clinics
The 5-star rated Clinica Dental Alberto Fernandez & Ayora achieves top marks for patient satisfaction and is also a Dental Departures Verified Clinic. It passed our four-part verification process, which includes a dental licence check, premises inspection, and quality of care survey. The talented team of dentists here is qualified in many different areas of dentistry, including periodontology, implantology, endodontics , and orthodontics.
If you are looking for a modern dental clinic in Almeria, Clinica Dess is also a great choice . This facility opened a couple of years ago and is equipped with the latest dental technology and tools. General, restorative, and cosmetic dentistry are all available here, so no matter your dental problem, the specialists are here can help. Clinica Dess also scores five stars for patient satisfaction and past patients have left them glowing reviews.
Combine a Sun-Drenched Holiday with Low-Cost Dental Care in Almeria
In general, dentists in Spain are cheaper than UK dentists , so you could go anywhere in the country for dental treatment at a lower price than home. However, Almeria stands out as Spanish dental tourism destination that not only offers expert dental care, but also doubles as an excellent holiday destination.
Whether you want to soak up some rays by the pool, visit cultural attractions like the city's cathedral, or taste the delicious tapas, you can do it all in Almeria. Another bonus is that it is simply not as crowded as some other more high-profile Spanish cities, which helps to keep the accommodation here reasonably priced too.
Book Your Almeria Dentist Appointment with Dental Departures
When you feel ready to start arranging your dental trip to Almeria, just use the online appointment scheduler here at Dental Departures. This service is available 24 hours a day, seven days a week, and you can do it on your computer, tablet, or smartphone. Simply pick an Almeria dental clinic, choose a suitable date and time, then provide a way we can contact you, an email address or phone number is fine.
Once we have set up your appointment you will receive a confirmation from us, and that is all it takes! You may change the time or date of your appointment up to one day before it is scheduled, and free cancellations are also possible when you provide 24 hours notice. If all that is not enough, any dental treatment booked through Dental Departures is covered by our Best Price Guarantee .
If you have any questions regarding Almeria dental clinics or the booking process, please speak to a member of our Customer Care Team. Or you can call our free phone number to get the answers you need and we can also help you arrange your affordable dental care in Almeria.
Sources:
The Best Countries in the EU for Dental Tourism. Socialist Health Association. 19 December 2018. https://www.sochealth.co.uk/sp/dental/the-best-countries-in-the-eu-for-dental-tourism/" target="_blank
Pretty, Steve, Dr. Replacing Missing Teeth. Bupa Dental Care. https://www.bupa.co.uk/health-information/dental-oral-health/teeth-replacing" target="_blank
Bennett, Alexis. Here's What You Need To Know About Veneers, The Celebrity Secret To A Perfect Smile. Self. 1 August 2016. https://www.self.com/story/heres-what-you-need-to-know-about-veneers-the-celebrity-secret-to-a-perfect-smile" target="_blank
Endodontic Treatments and Procedures. American Association of Endodontists. 9 November 2017. https://www.aae.org/patients/2017/11/09/endodontic-treatments-procedures/" target="_blank