Juarez, Mexico is attracting a growing number of dental tourists, particularly from just over the US-Mexico Border, who are looking for affordable, safe complete mouth makeovers that often involve a number of different procedures.
Juarez offers low costs yet high quality on a range of oral care treatment. Consider also its close proximity to El Paso in Texas, and you have an ideal dental tourist destination.
What Is a Complete Mouth Makeover?
A complete mouth makeover, or full mouth reconstruction, are terms often used interchangeably to describe the process of restoring all of the teeth in both the upper and lower jaws, as well as addressing any oral health issues.
The need for this procedure often arises because of the following:
Teeth that have been lost due to decay or trauma.
Teeth that have been injured or fractured.
Teeth that have become severely worn as a result of long-term acid erosion (foods, beverages, acid reflux) or tooth grinding.
Ongoing complaints of jaw, muscle and headache pain requiring adjustments to the bite (occlusion).
Gum disease
Since the entire mouth needs attention, a wide range of dental procedures may be needed - depending on what the dentist in Mexico recommends.
This may include:
Dental crowns
Dental bridges
Dental implants, such as restorations with 4 implants
Dentures
Fillings
Extractions
Gum treatment
Top Clinics in Juarez, Mexico for complete mouth makeovers
Here are some of the top clinics that the team at Dental Departures highly recommends:
DentalCare is located in the heart of Juarez, Mexico and delivers a range of affordable dental treatments to cater to the needs of international patients from the US, Canada and other parts of the world. They provide services that include dental prostheses, endodontics and general dentistry.


Smile Inn specializes in crowns/veneers, dentures, implant procedures and root canal. Aside from this, they provide their patients with free oral examinations and x-rays as part of their treatment.


Dental Solutions Juarez is another great option for a full mouth makeover. This clinic provides various dental procedures with the aid of its up-to-date technologies and the use of the latest techniques for any treatment. Expect excellent oral care from their dental staff that is well-experienced and highly qualified in the field.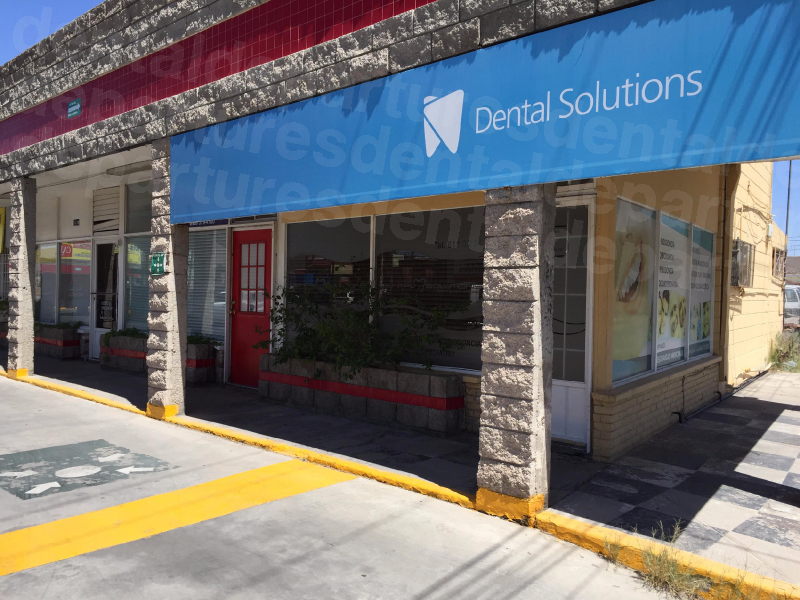 How Much Can I Save on a Complete Mouth makeover in Juarez?
Discover how much you can save on the prices and procedures by referring to the chart below. This will help you get an idea in terms of the price comparison, although do check with our individual clinic listings for more up-to-date prices before booking.
PROCEDURE

USD$

CAN$

AUD$

COMPARISON

Restoration with 4

$26,000.00

$33,431.00

$33,910.00

INTERNATIONAL

$11,000.00

$13,816.00

$14,243.00

JUAREZ

Dental Crowns

$1,164.00

$1,483.00

$1,505.00

INTERNATIONAL

$400.00

$502.00

$518.00

JUAREZ

Dental Fillings

$155.00

$199.00

$202.00

INTERNATIONAL

$38.00

$47.73

$49.00

JUAREZ

Dental Implants

$3,913.00

$5,026.00

$5,098.00

INTERNATIONAL

$1,900.00

$2,386.00

$2,460.00

JUAREZ

Veneers

$1,245.00

$1,599.00

$1,623.00

INTERNATIONAL

$360.00

$452.00

$466.00

JUAREZ

Root Canal

$1,275.00

$1,636.00

$1,660.00

INTERNATIONAL

$230.00

$289.00

$297.00

JUAREZ

Teeth Whitening

$668.00

$858.00

$870.00

INTERNATIONAL

$215.00

$270.00

$278.00

JUAREZ

41.10%

40.20%

40.80%

% PATIENTS PAY

$34,420.00

$44,232.00

$44,868.00

TOTAL AVERAGE COST

$14,143.00

$17,762.73

$18,311.00
Getting Started with Dental Departures
Dental Departures helps thousands of dental patients who are seeking solutions for their oral health concerns. This is a common need that we recognize. To help these patients, we gather some of the best dental clinics in Juarez that provide excellent services at affordable prices.
In addition to the quality services, we help patients get the best promotions they can have in getting any treatment.
For a safe complete mouth makeover in Juarez, book your free appointment with Dental Departures and bring your smile back to life once again!
Sources:
Medical Tourists Can Speed Through U.S.-Mexico Border Crossing. KNAU. Website accessed: 24 November 2020. https://www.knau.org/post/medical-tourists-can-speed-through-us-mexico-border-crossing
Slide Show: Root Canal Treatment. Mayo Clinic. Website accessed: 24 November 2020. https://www.mayoclinic.org/diseases-conditions/tooth-abscess/multimedia/root-canal/sls-20076717
Smile Makeover: Reinvent Your Smile. Consumer Guide to Dentistry. Website accessed: 24 November 2020. https://www.yourdentistryguide.com/smile-makeover/