Booking at one of our partner dentists in Mexico City can help you save a substantial amount of money on a range of dental procedures.
To maximize your cost savings without any of the risks associated with a sub-standard facility, we've listed out some of the best dental clinics in Mexico City below.
KEMMClinic Mexico
Founded back in 2003, KEMMClinic Mexico is an award-winning facility run by Dr. Alejandro Aguilar Williams, an internationally respected dentist. He and his team have been delivering high quality, affordable dental services to local and foreign patients for almost two decades - earning this clinic hundreds of five-star reviews from past patients. He has also authored academic papers on implants and cosmetic dentistry.
Ideal Dental Center
A mere 15-minute drive from Mexico City's airport, Ideal Dental Center has been providing world-class dental care for 33 years. They offer a wide range of services, attracting international patients with their combination of low cost and high quality. The clinic holds prestigious affiliations and memberships including those of the European Society of Esthetic Dentistry and the American Academy of Orthotists and Prosthetists.
Dr. Jaime Cohen Dental Clinic
The clinic is led by Dr. Jaime Cohen who majored in pediatric dentistry at Columbia University in New York, one of the most prestigious institutions in the world. She is the perfect example of how the low prices in Mexico City and other dental tourist hubs across the world do not equate to inferior quality compared to those in developed countries.
Located in a modern office building and featuring floor to ceiling windows, Dr. Jaime Cohen Dental Clinic provides sweeping views of Mexico City. In operation for 30 years now, the clinic offers a range of dental services delivered by specialist dentists in their respective fields.
Diordent
This clinic is led by Dr. Alejandro Pena Vega, a highly-trained and experienced dental surgeon. Having received his Fellowship in Oral and Surgical Implantology at BTI, Mexico and a Fellowship in Oral Surgery from the Intercontinental University in Mexico, he pours his expertise and energy into running Diordent, which is located close to the city center. His commitment to delivering low-cost and high-quality dental services is what drives this clinic and continues to attract dental tourists from across North America.
Treatments offered here include dentures, teeth restoration with All-on-4 and All-on-6 implants, crowns, veneers, teeth whitening, root canal therapy, children's dentistry and orthodontics (braces).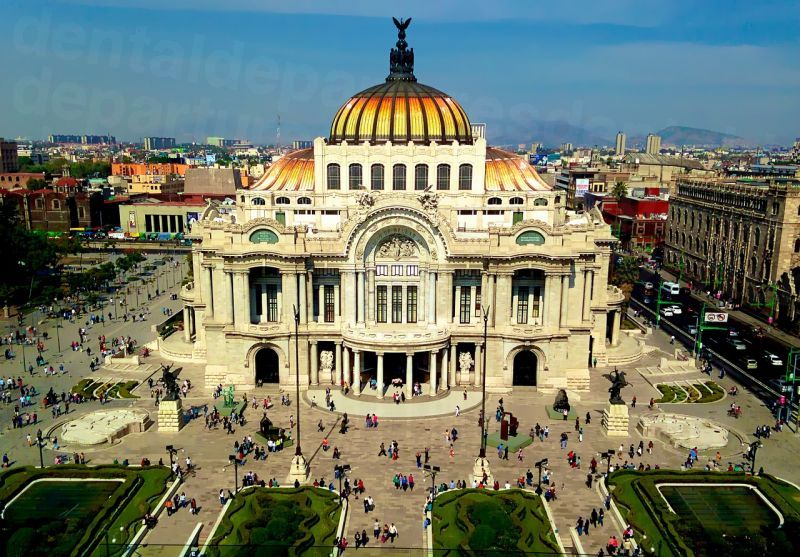 How Much Can I Save on Dentistry in Mexico City?
You may be wondering exactly how much you can save by visiting one of our background-checked dentists in Mexico City.
Here's a cost comparison for a few dental procedures (prices are averages calculated at the time of writing):
Dental Fillings:
Cost in the US: USD $ 155
Cost in Canada: CAD $ 199
Cost in Mexico: USD $51 and CAD $66
Dental Implants:
Price in the US: USD $ 3,913
Price in Canada: CAD $ 5,026
Price in Mexico: USD $1,250 and CAD $1,686
Dental Crowns
Cost in the US: USD $ 1,164
Cost in Canada: CAD $ 1,483
Cost in Mexico: USD $500 and CAD $674
Getting Started with Dental Departures
Rest assured that taking advantage of the low-cost dentistry in Mexico City does not mean you'll be putting your health at risk. Costs are kept low thanks to the lower cost of running a dental clinic in Mexico, in contrast to the high costs in the US and Canada.
To book, follow the steps on our site - and we'll send you a confirmation of your appointment via email. For further support, reach out to the Dental Departures Customer Care Team at any time of day or night.
Sources:
American Academy of Orthotists and Prosthetists. Website accessed: 11 November 2020. https://www.oandp.org/
The Mexico City Guide. Goop. Website accessed: 11 November 2020. https://goop.com/city-guide/the-mexico-city-guide/
Anatomy of a smile makeover. Dentistry IQ. Website accessed: 11 November 2020. https://www.dentistryiq.com/dentistry/restorative-cosmetic-and-whitening/article/16348488/anatomy-of-a-smile-makeover