DAS Dental Group is located in Tijuana, Mexico and offers a comprehensive range of general and specialist dental care. From emergency care to cosmetic dentistry, you are assured of personal attention and professionalism at all times.
The team believes that looking after your smile and teeth is one of the principal components of good health, so they encourage patients to return regularly by offering affordable services in a caring and comfortable environment.
About DAS Dental Group
Situated in the fashionable, middle-class neighborhood of Zona Rio, only a mile from the US-Mexican Border, this bustling area is popular with North Americans for visiting dentists in Tijuana and is renowned for its nightlife, restaurants and shopping.
Established in 2006, the DAS Dental Group has successfully welcomed international patients for over a decade. Their patient approach, honest appraisals and commitment to focusing on the doctor-patient relationship ensures patients feel reassured and at ease in their surroundings at DAS Dental.
For the convenience of international patients, you don't have to drive into Tijuana – you can park in San Ysidro and walk over the border and the clinic will pick you up to take you to your appointment, and drop you back there afterward. When you schedule your appointment, but let the clinic know you want a pick-up and it will be scheduled for you.
The staff at DAS Dental always take the time to work with all their patients to ensure they are comfortable so that they can leave Tijuana with the ultimate in dental health, as well as beautiful smiles.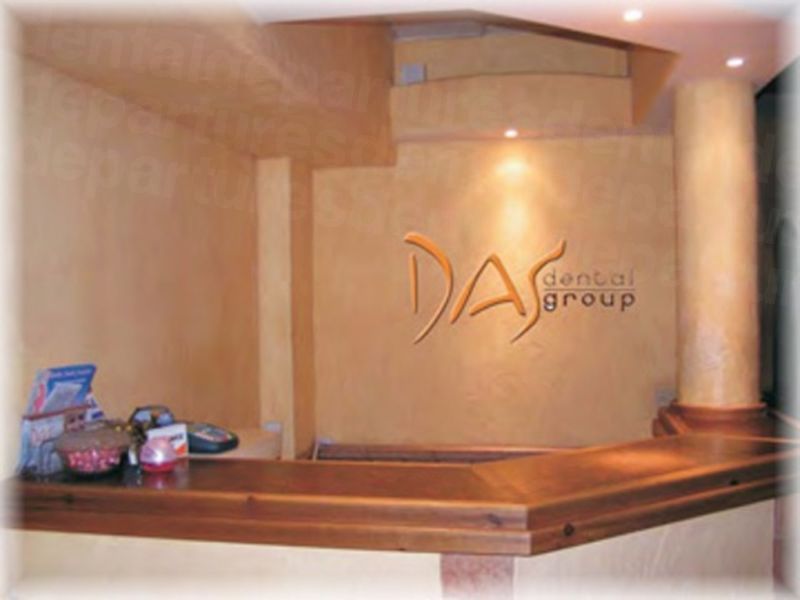 Dental Procedures Available at DAS Dental Group
The services at DAS Dental include everyday dental care, which includes a full diagnostic assessment and treatment plan for all new patients.
Offering a range of different treatment options to suit patient preferences and budgets, modern dentistry methods often means that even the most difficult cases can benefit from the skill and expertise offered by the DAS Dental Group.
Their specialist services include cosmetic dentistry services, such as crowns, tooth-colored fillings, veneers and teeth whitening, as well as dental implants. The team are also specialists in children's dentistry and advocate caring for your child's teeth from as early an age as possible by wiping your baby's gums with a soft, wet cloth after feeding – even before teeth have appeared – to get them used to the idea of oral hygiene.
It should go without saying that at DAS Dental strict infection control standards are adhered to. The clinical staff wear protective latex gloves and masks and effective sterilization and disinfection methods are carried out after each patient has been seen.
Dentist Recommendations at DAS Dental Group
Founded by Dr Miguel Montoya, who graduated in 1999 as a dentist and undertook post-graduate studies in Dental Implants. He is a member of the American Dental Association and speaks fluent English and Spanish.
You'll find plenty of excellent reviews about the services at this clinic, such as:
Steven from San Diego, USA, March 2017:
"Been a patient of this office for years, extremely happy with the quality of treatment, Dr Montoya is an outstanding dentist."
And Megan from Grass Valley, USA, February 2017:
"Always an amazing experience that meets all my needs beyond expectations. The care I receive is always consistent, from an expert dentist. Highly recommended."
What Are the Prices at DAS Dental Group?
Most people can save at least 50% by visiting the DAS Dental Group in Tijuana:
Fillings:
Fillings cost in the United States $170 (CAD $225);
Dental Filling cost at DAS Dental $80 (CAD $105)
Veneers:
Veneers cost in the United States $1,100 (CAD $1,450);
Veneers cost at DAS Dental $350 (CAD $460)
Dental implants:
Implants cost in the United States $3,900 (CAD $5,100);
Implants cost at DAS Dental $1,069 (CAD $1,400)
[Please note that these are estimates at the time of writing.]
Why Else Should I Consider Dental Care at the DAS Dental Group?
Everything about dental care at DAS Dental Group is centered on patients receiving convenient, good-quality dental care at affordable prices.
The group works with you to maximize any benefits due from your dental insurance by minimizing your out-of-pocket expenses and by ensuring your dental treatment is planned properly.
Tijuana has long been a destination that North Americans have gravitated towards for discounted services, goods and entertainment. It's easily accessible and the majority of people who have visited for dental care have generally found the services offered by dentists in Mexico to be at least comparable to the dental care they receive at home.
Although you may want to just visit a dentist and return home again as soon as possible, the DAS Dental Group's location means there are plenty of amenities you can take advantage of before your trip home, including the large farmer's market, Mercado Hidalgo and the shopping mall, the Plaza Rio. There are plenty of hotels to choose from should you decide to stay over for a night or two and discover more of the city.
Is it Safe in Tijuana?
There are always negative media stories about visiting Tijuana, but the truth of it is that it is no worse than any other major city. In most cities in the world, there are areas where you wouldn't go – and Tijuana is no different. Stay out of dodgy-looking bars and keep away from undesirable areas and your trip should pass uneventfully.
Remember that the Tijuana border crossing sees tens and thousands pass back and forth every day without incident. The DAS Dental Group is in a safe area of the city, but you can always take advantage of their pick-up service if you want to feel absolutely secure on your visit.
What's Next?
Don't forget to look out for our range of all-inclusive promotional dental packages at DAS Dental Group, or ask our Customer Care Team about the other services we provide, such as finance and insurance.
Sources:
18 Incredible Things To Do In Tijuana, Mexico. Jack and Gab Explore. 18 October 2018. https://jackandgabexplore.com/18-incredible-things-to-do-in-tijuana-mexico/
Dental Health and Teeth Fillings. WebMD. Website accessed: 5 April 2021. https://www.webmd.com/oral-health/guide/dental-health-fillings
Border Station (San Ysidro). Website accessed: 5 April 2021. https://www.borderparking.com/