The Dental Design Center is the most trusted implant and cosmetic dentistry clinic in Pattaya, Thailand specializing in restorative treatment, orthodontics, cosmetic, and implants. It is fully equipped with state-of-the-art technology with a powerhouse dental team that delivers superb service at affordable price.
About The Dental Design Center
The Dental Design Center is located Pattaya, a beach resort area great for tourists seeking oral care. It is committed to providing patients with safe, comfortable, and effective treatments. The clinic is a recipient of Dental Departures Global Patients' Choice Award. The annual accolade is given to clinics that achieve outstanding patient reviews. This recognition shows that it has satisfied patients from around the globe.
Dental Services
The Dental Design Center covers a wide range of specialized dental services such as complex restorative treatments, orthodontics, and cosmetic dentistry including dental implants.
Restorative Treatments
- With the use of advanced treatment in dentistry, the specialists perform complex restorative treatments using crowns, bridges, and dentures. Top quality materials are handpicked to improve patients' smiles.
Orthodontics
- Specialists in Orthodontics correct bite and straighten teeth using Invisalign clear braces that is removable
Cosmetic Dentistry
- Smile makeovers such as laser teeth whitening, veneers, and fillings are carried out to improve patient's teeth. Laser teeth whitening teeth eliminates discoloration. With the use of veneers, the dentists enhance the color, shape, and size of damaged teeth. Gum lifting and contouring, also known as crown lengthening, also improves the appearance of patients' teeth.
Full mouth rehabilitation
- Full mouth rehabilitation involves a combination of treatments like dental implants, crowns, and bridges. It restores damaged teeth by replacing them with stable prostheses like dental implants.
Oral Surgery
- Surgical procedures such as bone graft and sinus lift are carried out in the clinic. Oral surgeons perform bone graft and sinus lift procedures to patients with insufficient bone to hold dental implants.
Aside from the specialized treatments, the clinic also offers General dentistry such as teeth cleaning and oral examination. Badly decayed teeth are restored with Root Canal Treatment.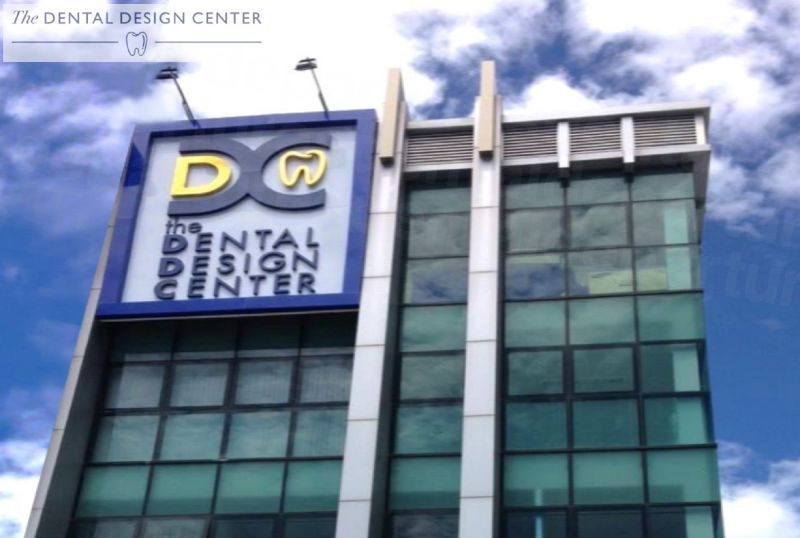 The Dental Team
The Dental Design Center has a diverse team of dentists and specialists who takes care of the patients' needs. The team is led by internationally certified dentists Dr. Ken Kasidis and Dr. Ning Porndee.
Dr. Ken Kasidis
After he received his Graduate Diploma in Prosthodontics from the Mahidol University, he went Down Under to attend the University of Adelaide for his Graduate Certificate in Clinical Dentistry (Prosthodontics). He later pursued a Certificate in Implant Biomaterials and Reconstructive Dentistry from the University of Toronto, Canada and received his Certificate in Implantology from the University of Frankfurt, Germany.
He is a member of the American Academy of Cosmetic Dentistry, Thai Dental Association, and Thai Prosthodontics Association. Additionally, he is a Diplomate and Fellow of the International Congress of Oral Implantologists (ICOI).
His experience in private hospitals exposed him to various procedures. He travels locally and internationally conducting lectures on dental implants as well as esthetic rehabilitation.
Dr. Ning Porndee
Dr. Ning received her Graduate Diploma in Prosthodontics from the Faculty of Dentistry at Mahidol University, Thailand. After this, she pursued her Postgraduate Certificate in Orthodontics in New York University School of Dentistry, USA. Her areas of specializations are Orthodontics, Prosthodontics, and dental implants. She is certified by the American Association of Orthodontics (AAO).
Facility
The Dental Design Center is fully equipped with the latest technology to help patients experience a comfortable and relaxing stay in the clinic. In line with the The Dental Design Center's goal of providing advanced and painless treatment, the clinic invested in hi-tech equipment such as:
·Cone Beam Computed Tomography (CBCT)
- CBCT is diagnostic tool that produces 3D images of teeth, soft tissues, nerves pathways, and bone. It used in treatment planning for dental implants and helps in the diagnoses of Temporomandibular Joint Disorder (TMD).
Digital x-rays
- With the use of digital x-rays, the dentists provide accurate diagnoses necessary in creating a treatment plan for the patients.
Computerized patient education software
- The dentists utilize computer patient education software to help patients understand their dental status, which guides them in making informed decision.
Autoclave Sterilization Machine
- The clinics utmost concern is patients' safety. In order to achieve this, the dental team uses Class B Autoclave Sterilization unit that meets and exceeds all European Union requirements.
Apex locators
Apex locators are used in root canal therapy to help patients experience a convenient treatment.
Ultrasonic and laser technology
Ultrasonic and lasers are used in dental restorations such as teeth whitening
Aside from the hi-tech equipment, the clinic provides a relaxing environment for the patients. Sit comfortably in the massage chair complete with soothing music while undergoing treatment. A friendly staff is available to assist patients with their needs.
Cost of Treatment
The cost of treatment is incredibly lower than Australia, New Zealand, UK, and other countries. A dental work in Pattaya will save you thousands of dollars. To give you an overview, take a look at prices of common procedures in Pattaya:
Dental Implants in Pattaya :
AUD $2,122 (NZD $2,277; UK £1,250; Eur €1,493)
Dental Implants compared to Australia and other countries:
AUD $2,253 (NZD $2,418; UK £1,327; Eur €20,051)
All on 4 in Pattaya :
AUD $10,483 (NZD $11,246; UK £6,175; Eur €7,373)
All on 4 compared to Australia other countries:
AUD $34,465 (NZD $36,976; UK £20,301; Eur €24,241)
Laser Teeth Whitening in Pattaya :
AUD $398 (NZD $436; UK £248; Eur €286)
Compared to Laser Teeth Whitening in Australia and other countries:
AUD $642 (NZD $705; UK £40; Eur €461)
Veneers in Pattaya :
AUD $497 (NZD $546; UK £310; Eur €357)
Compared to Porcelain Veneers in Australia and other countries:
AUD $1,425 (NZD $1,564; UK £888; Eur €1,023)
Get a smile makeover at The Dental Design Center. To book an appointment with the dentist, feel free to contact Dental Departures by phone, email, online chat.