Poland may not be a holiday destination that is popular with many people but it has much to offer to tourists who discover its charm. You can have a peaceful escape to the sandy beaches, go on skiing trips as well as travel there for a weekend getaway. Warsaw, the capital, is a particular favorite for weekend visitors. Nature is breathtaking in Poland. Coupled with mouthwatering food and a rich history, it should be on every traveler's list.
Recently, it has emerged as a top dental destination as many people realize how cheap it is to get dental care here. You do not even have to worry about where to find inexpensive dental implants in Poland because Dental Departures have got your covered. Recommended clinics are:
a) FABDENT- Designing your FABulous smile
This clinic is located in Warsaw and just like the name suggests, you will get a fabulous smile if you let them handle your oral hygiene needs. You can get all dental treatments you want here and the better part is that they are offered by experts. The ambiance is friendly and warm and the employees are committed to offering the highest dental care standards possible.
Besides investing in state-of-the-art technology, the clinic has invested in human resources too. The staff are required to update their knowledge and skills periodically through continuous professional development to make sure all the patients benefit. There are workshops, seminars and training courses which are organized frequently to cater for this.
b) Dental Art
Dental Art clinic is located at Szczecin in PAZIM complex. The location of the clinic gives everyone in there a great view of all parts of the city. Additionally, this is a combination of expertise and technology under one roof. The clinic specializes in prosthetics, aesthetic dentistry and implantology.
To ensure the standards of care are at the same level as what is offered at the rest of the world, the staff working here regularly participate in international symposiums and training courses as well as undertaking courses to update their skills and knowledge.
c) Dentus II
This was the 1st private dental center offering dental surgery in Szczecin. Besides offering services to the Polish people, it was also the first clinic in Poland to receive international patients. The dental tourists were mainly coming from Scandinavian countries back then and gradually patients from Denmark, England, Ireland and the rest of the world followed suit.
The clinic has been in operation since 1958 and it is a family practice. It has since grown to become a leading dental care provider in Poland. The rates are affordable and the staff are fluent in English.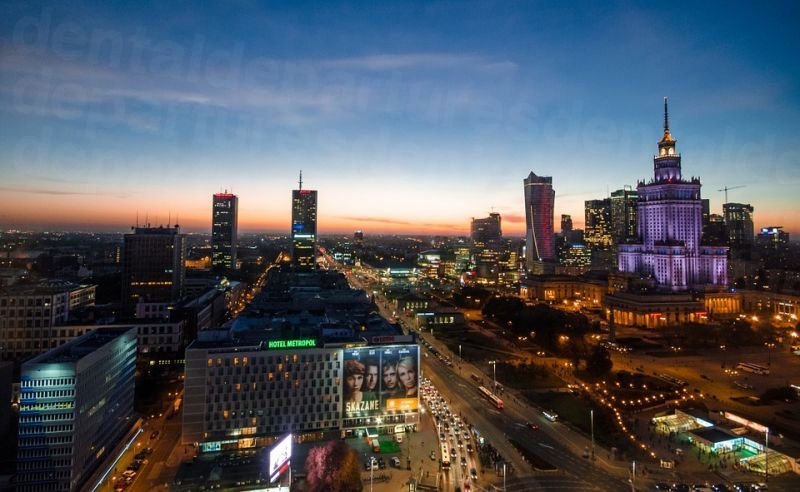 Prices
In Poland, dental implants cost USD $ 391( UK £ 300, CAN $ 495, NZ $ 530, AUD $ 494) compared to the UK where you will pay £ 2500 ( USD $ 3262, NZ $ 4429, AUD $1515, CAN $ 4135)
You do not have to beat yourself up deciding where to find inexpensive dental implants in Poland's top-rated dental clinics if you check with the clinics mentioned above.