Last fact-checked: 2 February 2021
Save five figures on the All-on-4® treatment concept in Malaga, a pretty port city on Spain's Costa del Sol.
This full-arch restoration technique is provided by Nobel Biocare®, giving patients a permanent, secure set of teeth on just four implants.
Learn more and discover our specialists in Malaga with Dental Departures.
What Is the All-on-4® Treatment Concept?
The treatment was pioneered in the late 1980s and perfected by Dr Paulo Malo from Lisbon, Portugal in conjunction with implant manufacturer Nobel Biocare®.
For individuals who have lost most of their teeth, they are more secure than dentures. The procedure involves placing four implants specifically positioned to support an entire arch of teeth without moving, wobbling or falling out. The procedure is almost the same as having your own, natural teeth.
What Is Involved in the All-on-4® Treatment Concept?
The process consists of an initial consultation and treatment planning, placement of implants and attachment of replacement teeth.
Not all patients are suitable for the All-on-4® treatment concept, so your dentist will assess whether you have enough bone for the implants. Because of the special positioning of the implants in this procedure, fortunately, even patients that have bone loss may be suitable for the treatment without undergoing a bone graft.
If you are a suitable candidate, the dentist will carry out the design process. This will include x-rays, CT scans and taking photographs and impressions of the mouth. The teeth are designed and can be tested in the mouth, or a mock-up is made on a computer so you can see how your new teeth will look.
If you and your dentist are pleased with everything, any remaining teeth will be removed, the four implants carefully placed into the jaw and your new teeth attached.
Learn more about the treatment steps for a full arch restoration here.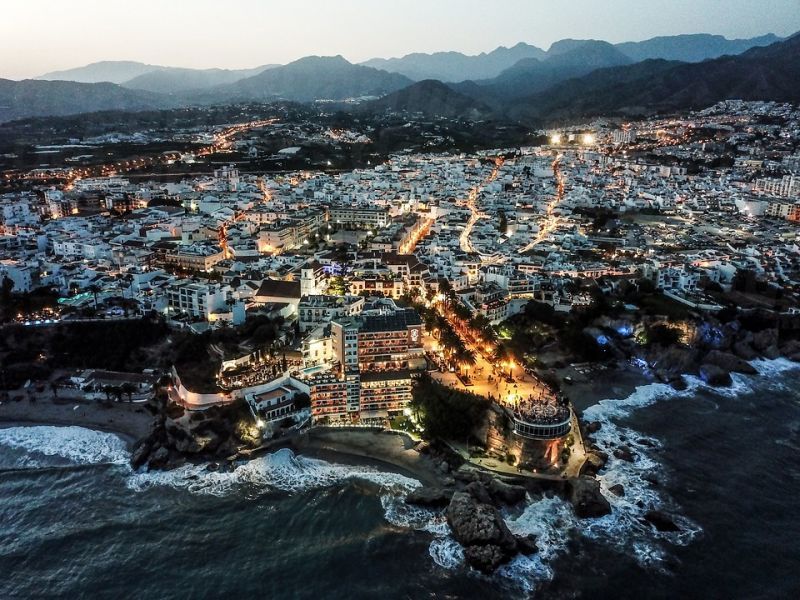 Why Consider Dental Work in Malaga?
Malaga province is home to many popular holiday locations, particularly for the Brits and Irish.
Malaga airport is one of Spain's busiest, which is hardly surprising given Torremolinos, Benalmadena, Fuengirola, Marbella and Estepona are among the nearest resorts. If you are familiar with the region, it is a wonderful opportunity to get the dental treatment you need in surroundings you adore. If you are not acquainted with the area, find reassurance in the fact that Spain receives scores of visitors every year so is doing something right!
Dentists in Spain work privately and the World Health Organization ranks private healthcare in Spain very highly. Furthermore, being in private practice means that dentistry is competitive, which is an advantage to patients by keeping the standards high and the costs down.
How Much Can I Save on the All-on-4® Treatment Concept in Malaga?
In Malaga, treatment prices are substantially lower than at home, as shown in the table below:
| | | | | | | |
| --- | --- | --- | --- | --- | --- | --- |
| | UK £ | EUR € | US $ | CAN $ | AUS $ | NZ $ |
| Prices at home | 23,000 | 27,000 | 30,000 | 40,000 | 39,000 | 42,000 |
| Prices in Malaga | 6,197 | 7,000 | 8,000 | 10,700 | 10,500 | 11,200 |
[Please note: these are prices estimated calculated at the time of writing.]
How Can I Find a Dental Clinic I Can Trust?
While the general standard of dentistry across Spain is first-class, it is prudent to do a little research yourself, or you can leave it to Dental Departures. We do not list clinics on our site that we have not verified ourselves. This includes looking at legal and criminal records, confirming dentist qualifications and authenticating professional memberships, for example, with the International Congress of Oral Implantologists (ICOI).
We also verify and publish former patient reviews, show clinic photos and list the fees, providing all the information you need to make an educated conclusion.
Have a peek at some of our clinics in Malaga:
Is Malaga a Good Location to Visit as a Dental Tourist?
Absolutely. The Province of Malaga is well established as a tourist destination and the infrastructure you need is already in place. By that, we mean accommodation options, good services and spaces to dine. If you are going to Malaga to combine your dental care with a holiday, there are more than enough places and opportunities to relax and enjoy yourself as well as other entertainment and activities.
Malaga has 161 km of coastline known as the Costa del Sol, also referred to as the Costa del Golf, which suggests one of the popular activities in the area.
The City of Malaga is in the middle of the coastline that stretches from Nerja in the east to Estepona in the west and while the beaches are the focus of many visitors, there are different options to suit everyone. From lively beaches with bars, dining, water sports, to quiet hidden coves where only the sounds of nature can be heard – there's something for every person.
Although many visitors don't bother going to Malaga, the city has wised up over recent years. Indeed, the high-rise developments are still there but this underrated metropolitan area is becoming a trendy place to visit.
The city's Renaissance, Modernist and Moorish architecture provide a classy backdrop to eclectic and stylish restaurants, shops and bars that buzz with life, particularly after sunset.
The imposing Moorish fortress, Alcazaba, is perched high on a hill and dominates the skyline. There is a lift on Calle Guillen Sotelo, which is the easiest way of getting up there, although you can also take a bus or taxi–or even walk, if you feel particularly energetic. The summit views across the Mediterranean are worth the effort.
Other places worth driving to are Granada, Seville and Cadiz–all less than two and a half hours away.
How Do I Get Started?
For convenience, affordability and a great holiday location, consider booking your dental treatment in Malaga with Dental Departures. Get in touch with our Customer Care Team if you would like to learn more, or to arrange an appointment or free quote.
Sources:
All-on-4® treatment concept. Nobel Biocare. Website accessed: 2 February 2021. https://www.nobelbiocare.com/en-us/all-on-4-treatment-concept
World Health Organization. Website accessed: 2 February 2021. https://www.who.int/
International Congress of Oral Implantologists. Website accessed: 2 February 2021. https://www.icoi.org/
Full Arch Rehabilitation: All-on-4™ Restorative Steps, Roadmap for Success. Nobel Biocare. PDF accessed: 2 February 2021. http://iddentallab.com/wp-content/uploads/2017/02/Nobel-Biocare-All-on-4-Restorative-Steps-Roadmap.pdf