Replace all your teeth with an affordable All-on-6 in Spain . Restore your smile to its former glory while you enjoy a holiday and save thousands.
For years, dentures have been the only replacement for someone who has lost most of their teeth. Nevertheless, they have their limitations – they can become loose and at the most inopportune moments slip, or even worse, fall out. Now, there is the All-on-6 procedure that provides permanent teeth replacements that do not move or fall out. Therefore, you can eat exactly what you like, engage in sports, talk, laugh and abandon the messy adhesives forever.
What is the All-on-6 procedure?
The All-on-6 is a dental implant treatment. Essentially, six dental implants are placed in the jawbone at strategic points. This enables a complete arch of false teeth to be attached, which is fully supported by the implants.
What are the benefits of the All-on-6?
It may be suitable for patients with some bone loss without having to undergo a bone graft or sinus lift;

Since there is only one procedure rather than several, surgical time is minimal, as is recuperation time, which is sometimes the case with traditional dental implants;

Less treatment time makes it more suitable for individuals with dental phobia;

The implants can be inserted at the same time that teeth are extracted;

Teeth in a Day!
What is involved in the treatment process for All-on-6s?
A thorough consultation with x-rays and scans of your mouth, teeth and jaws will be taken by your dentist to assess whether you are a suitable candidate for the procedure.
For the actual process, you will be given pain-free anaesthesia to numb the mouth, or conscious sedation. The dentist will open up the gum at the places where the implants are to be inserted. Holes will be drilled into the jawbone and the implants placed before your new teeth are set on top. The method only takes hours – and you can be having dinner with your new teeth the very same day.
Why should I get my All-on-6 treatment in Spain?
1: Spain is a good option if you want to go somewhere near to home that offers great savings on All-on-4s. It is only a few hours flight away from the UK and there are airports all over the UK that fly to towns and cities across Spain and its islands.
2: Spain's dentists offer private healthcare services. This means they compete with each other to attract clients, and in order to do that they must deliver great quality, or the patients will go elsewhere.
3: Spain is a European Community member, and adheres to all European regulations.
4: Dentists are highly-qualified and likely to be members of international professional organizations like the International Congress of Oral Implantologists (ICOI).
5: Dental clinics that treat international patients are contemporary, often equipped with the latest, state-of-the-art technologies.
6: Low prices compared to the cost of All-on-6 in UK dental clinics.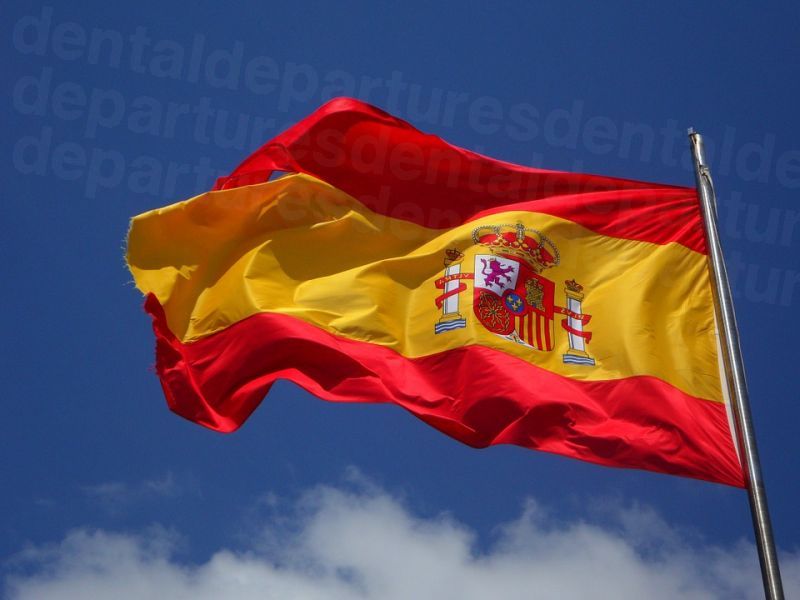 What is the price of All on 6 in Spain?
All on 6 costs in Spain are low compared to other countries and allow you and a companion to have a great holiday with all the money you save.
| | | | | | | |
| --- | --- | --- | --- | --- | --- | --- |
| | UK £ | EUR € | US $ | CAN $ | AUS $ | NZ $ |
| All-on-6 costs – at home | 23,000 | 27,000 | 30,000 | 40,000 | 39,000 | 42,000 |
| All-on-6 costs – Spain | 6,197 | 7,000 | 8,000 | 10,700 | 10,500 | 11,200 |
How can I find good quality All-on-6 clinics?
Dental Departures has many years of experience collaborating with outstanding dental clinics offering the All-on-6. Spain's dental clinics are capable of delivering exceptionally good care, if you know where to look, which is why we can help.
We don't just partner with anyone. We team up with clinics and dentists who are trustworthy, reliable and provide standards of care that surpass expectations. How do we know? Because we do our own background investigations. There is no easy way to find out if a particular facility is good. Research involves examining a number of concerns and creating an overall picture. Therefore, we evaluate legal and criminal records, confirm dentist qualifications, verify professional memberships and collect real past patient reviews that are published on our site. We also do onsite visits and the bottom line is that if we are not satisfied you will not find the clinic listed on our site.
Where in Spain are the locations of clinics for All-on-6?
Clinics in Spain that cater to international patients tend to be in popular tourist areas – ideal for your dental holiday. Check out some of our popular clinics in Spain that you can consider for your All-on-6:
Clinica Dental Alberto Fernandez & Ayora , Almeria
Almeria is a province and has a state capital of the same name in the Andalucian region of southern Spain. The Costa de Almeria (Almeria Coast) is around 200 km long and relatively unspoilt with a hot, desert climate, which is unusual for Europe.
Along this part of the coast are Moorish, Roman and Greek archaeological sites and the Moorish fortress in Alcazaba is the second largest in Andalucia. The coastline around Almeria is natural and rugged and you can find secluded bays just perfect for bathing and diving. Some beaches, like Pulpi are undiscovered by tourists and have fine sand and crystal clear water. There are underwater caves and plenty of marine life to observe.
The City of Almeria is very Spanish but lively and you can take a trip over to North Africa from the ferry port.
Clinica Dental Crooke Marbella , Malaga
In the foothills of the Sierra Blanca Mountains, Marbella is on the Costa del Sol (Sunshine Coast) in the province of Malaga. It has been a favourite haunt of the rich and famous since the 1970s due to its beaches, golf courses, Michelin-starred restaurants, luxury shopping and vibrant nightlife.
In the centre of town at Plaza de Naranja "Orange Square" you can take in the scenery and people while indulging in the local Sangria. The labyrinthine streets surround the square house boutique shops and a fine array of restaurants for leisurely shopping and eating. Likewise, the Promenade is a popular spot for dining with its restaurant terraces looking out over the Med.
Velez and Lozano Dental Office , Murcia
Murcia occupies the region between Andalusia and Valencia. It has over 170 km of coastline with beaches, coves, cliffs and of interest to lovers of nature. The cities in the region contain examples of Moorish and Spanish architecture and there are various archaeological sites around the area.
There are plenty of wide-open spaces here and walkers and cyclists will enjoy miles of footpaths and quiet roads. For those looking for a little more adventure there is horseback riding, canoeing, climbing, and plenty of other activities to get the adrenaline rushing.
For further information about All-on-6s in Spain our Customer Care Team is always on hand to help. Use the toll free number or chat online if you have questions, would like to book an appointment or get a free quote.