Replace loose or ill-fitting dentures with an All-on-6 in Malaga . If you're seeking a lasting alternative to dentures, this procedure could be for you. All-on-6 is a dental implant procedure that is permanent, secure and as near as you'll get to feeling like you have your own teeth.
You can do away with messy denture adhesives, eat what you like, take part in sports, laugh and talk, all without fear of your dentures slipping–or even worse–falling out. These are just some of the benefits of All-on-6's.
Why Malaga?
Malaga makes sense as a dental tourism destination for British patients. It is one of the busiest airports in Spain situated in the middle of the Costa del Sol. Malaga Province offers British guests exactly what they want–sun, sea, sand and fun. While many are quite content to head straight to the coastal resorts of Fuengirola, Torremolinos, Estepona and Marbella, you can also find plenty of popular Spanish locations offering an more authentic experience.
The city of Malaga has a quaint Old Town where boutique shopping, quirky bars and tapas restaurants make for an interesting walkabout. Or visit the busy port where the incredible Moorish fortress overlooking the city is one of the region's best-kept secrets.
Away from the coast, but only a short drive inland, Andalucia offers mountainous scenery and the picturesque Pueblos Blancos (White Towns). Narrow, cobbled streets, colourful pots of flowers, al fresco dining and magnificent views are features of these lovely towns, which make for great day trips, or you can hire a car and make a road trip of it and stay overnight.
There's snorkelling, diving, boat trips and other water sports, and if you prefer your activities terra firma you will be spoilt for choice for decent golf courses, including Torrequebrada, Alhaurin Gold and the Marbella Golf and Country Club.
What is All-on-6?
An All-on-6 is a procedure that places six dental implants into the jaw bone. They are placed at strategic points which enables a complete arch of false teeth to be attached securely.
What are the Benefits of an All-on-6?
Even patients with bone loss may be able to have the All-on-6 treatment without needing an additional bone graft or sinus lift procedure

Extractions, implant insertion and new teeth are all performed on the same day

As there is only one procedure, rather than several, surgical time is minimal, with reduced recuperation time

Implants can be inserted at the same time teeth are removed
Why Should I Get an All-on-6 Procedure in Malaga?
1: Dentists in Spain provide private healthcare services and are in direct competition with each other to attract patients. They must offer high-quality and affordability to be competitive; otherwise patients can easily choose another dentist.
2: Spain is a member of the European Union and follows the same rules and regulations as other EU countries. Dental training is reasonably similar throughout Europe, and indeed the world. Dentists are just as likely to be members of global professional organizations, such as the Oral Congress of Oral Implantologists (ICOI) , as dentists from other countries.
3: The best dental clinics throughout Spain are modern, well-regulated and equipped with the latest diagnostic instrumentation and therapeutic technologies, including CAD/CAM (computer-aided design/computer-aided manufacture) that allows dental clinics to make prosthodontics (false teeth, veneers etc) onsite; also 3D CT scanning for accurate diagnoses and implant placement.
4: Malaga Airport is one of the busiest in Spain, with plenty of low-cost flights from across the UK and Ireland that arrive and depart Malaga every day.
5: In Malaga, All-on-6 costs are exceptionally low compared to All-on-6's in London, Manchester and other major cities in the UK.
What are the All-on-6 Prices in Malaga compared to UK All-on-6 Prices?
| | | | | | | |
| --- | --- | --- | --- | --- | --- | --- |
| | UK £ | EUR € | US $ | CAN $ | AUS $ | NZ $ |
| All-on-6 prices at home | 23,000 | 27,000 | 30,000 | 40,000 | 39,000 | 42,000 |
| All-on-6 prices in Malaga | 7,600 | 9,100 | 9,700 | 13,100 | 12,900 | 13,800 |
How Can I Find Good-Quality Clinics in Malaga for All-on-6's?
Although the standard of dental care in Malaga is high for dental tourists, the All-on-6 is a specialized procedure that requires some diligent research to find clinics that offer the most qualified dentists.
This is where Dental Departures can help. We have been working with dental providers overseas for years and we only partner with clinics and dentists that we feel comfortable with. When you look through our listings, you will only find clinics that we have vetted. Our background checks encompass a number of areas that provide you sufficient data to make an informed decision on whether a particular provider is right for you.
Our background checks include checking legal and criminal records, confirming dentist qualifications and verifying professional memberships. Our website also includes clinic photos, real patient reviews and prices–all available at your fingertips, for free.
To learn more about where to find good-quality dental clinics in Malaga, check out Dental Departures' listings:
Is an All-on-6 Procedure a Good Treatment to Have as a Dental Tourist?
Obviously, the low cost of All-on-6s in Malaga makes it an extremely good proposition for dental tourists from the UK, Ireland or any other nearby country. For those planning to remain in-country for the few days of recommended recovery time, Malaga offers a range of leisurely activities and events to pass the time.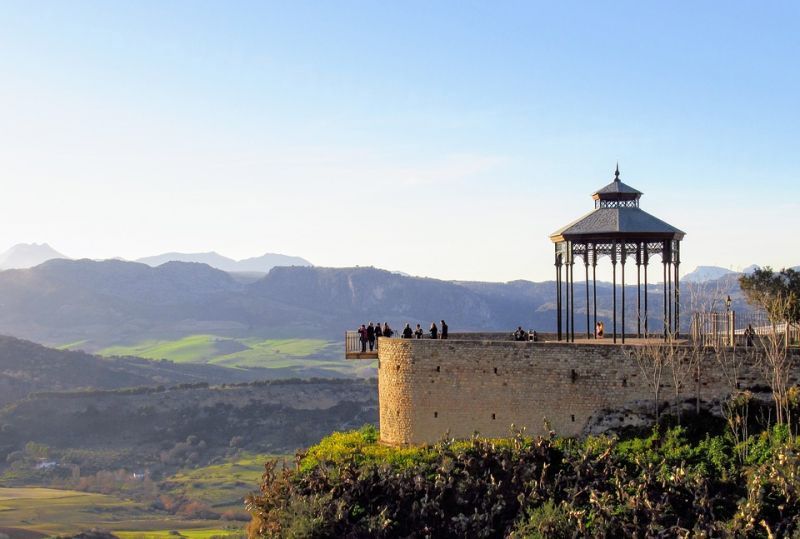 What is involved with the procedure for an All-on-6?
First, you will be assessed to make sure you are a suitable candidate for the All-on-6 procedure. Although it can be performed on patients with some bone loss, a viable amount of bone is required in order to attach the implants. X-rays and scans of your mouth, teeth and jaws will be taken, as well as a thorough examination by your dentist.
If you are considered a suitable candidate, an appointment will be arranged for you to have the procedure. Local anaesthetic to numb your mouth, or conscious sedation, are both options. If you need any teeth extracted, these will be removed first. Then, your gums will be opened up at the appropriate points and a drill used to make the six holes required in the jaw. The implants are then inserted, the gum stitched back and the arch of teeth attached. The procedure only takes a matter of hours, and most patients can return to their normal activities the same day.
For affordable, high-quality All-on-6s, Malaga should be on your shortlist. Book an appointment online today or if you need to talk it over, contact Dental Departures and speak to our Customer Care Team, who are always happy to help.