Last fact-checked: 5 April 2020
Book an appointment for your dental crown in Singapore with one of Dental Departures' quality-checked dentists. Not typically renowned for its low prices, you can still save a significant amount on dental treatments compared to home, and take comfort traveling to one of the world's most highly regarding healthcare hubs. So, if you are planning a trip to Lion City, it could be a great time for you to sort out that dental problem.
Why Would I Need a Dental Crown?
Also known as 'caps,' there are a number of reasons why a dental crown may be required. Shaped just like a hollowed-out tooth that fits over your existing tooth, crowns are made from a range of hard-wearing materials and are suitable for a number of circumstances:
● To strengthen teeth weakened by decay or damage
● To strengthen teeth weakened by large fillings or root canals
● Restore missing teeth as part of a dental implant or bridge
● For cosmetic reasons to improve the appearance of a discoloured or misshapen tooth
What Is the Procedure for a Dental Crown? How Long Will it Take?
The dental crown procedure typically requires two visits to the dentist—the first to prepare the tooth and the second to install the new crown. Each visit to the dentist will a few days apart while your dentist waits for your made-to-measure crown to be sent back from an external laboratory. However, more dental providers are now offering CAD/CAM dental restorations, which means they can make the crown in an onsite laboratory. Under these circumstances, you can usually receive the crown in one day, sometimes while you wait, which is a huge advantage for international patients who have a limited amount of time.
The procedure in both circumstances is the same:
Tooth preparation: Your dentist first needs to prepare the tooth receiving the crown. This involves paring the tooth down so that a crown will fit comfortably on top. Once the tooth is prepared, impressions are taken of the mouth. These will be taken digitally if your dentist is using CAD/CAM technology. You will be able to see a mock-up of how the crown will look on a computer screen, and once you and your dentist are happy with how it looks, the image files are sent to an onsite lab where a milling machine makes the crown in a matter of minutes.
If your crown is being manufactured by an onsite laboratory, then impressions of your mouth are taken using a model, which will involve the dentist making a cast of your teeth by putting a semi-solid material into a tray that fits over the complete arch of teeth. Once this has hardened, the tray is removed and the resulting model sent to the laboratory where this is used to design your crown. A temporary crown will be placed over your tooth if you are not having it fitted the same day.
Fitting of the crown: The dentist will place the crown over your tooth to ensure its fit, making any minor adjustments before using a light-activated adhesive to bond it securely to the tooth.
What Material Should I Choose for My Crown?
To some extent, the choice of material may be dictated by where your tooth is situated and how much stress it will need to bear. Your dentist will present to you a number of different options for the material for your crown, but they all have their pros and cons. For example:
● One of the most natural-looking is porcelain, but this is prone to chipping.
● Porcelain-fused-to-metal is stronger, but you may be able to see the grey tinge of the metal through the porcelain.
● Zirconia is a very strong, natural-looking materials, but tends to be more expensive.
● Precious metals are also available, like gold, but these are the most costly option and not a look most people tend to go for.
Your dentist is always the best person with whom to discuss these options.
How Much Do Dental Crowns Cost in Singapore?
Compare the cost of a dental crown in Singapore to home in the table below:
| | | | | | |
| --- | --- | --- | --- | --- | --- |
| | AUS $ | NZ $ | UK £ | EUR € | US $ |
| Dental Crown Costs at home | 1,700 | 1,775 | 1,015 | 1,200 | 1,300 |
| Dental Crown Prices in Singapore | 800 | 835 | 442 | 493 | 561 |
Note: the prices above are approximate. Please check our current prices for your selected clinic for estimated costs of treatment.
You can make good savings and with the Dental Departures' Best Price Guarantee, to ensure you will always get the best deals.
Can I Rely On the Quality of Dental Crowns in Singapore?
Singapore is a modern country, one of Asia's economic powerhouses, and also has top-quality dental care. Dentists are well-trained and qualified, while clinic facilities are equipped with the latest state-of-the-art technologies and every comfort for patients.
Nevertheless, we always stress how important it is to choose a facility you can rely on, which may be harder to do when you are going abroad. This is why Dental Departures has already carried out background checks for you, so you can be confident in choosing a trustworthy facility.
We carry out a number of checks that include onsite visits, legal/criminal records and dentist qualifications/professional memberships. Our website also includes real patient reviews, prices, location maps and clinic photos so you can have a clear idea of the clinic you have chosen before you book.
Three of the leading clinics in Singapore you might consider for your dental crowns include:
● Royce Dental Surgery Kovan
● Royce Dental Surgery Woodlands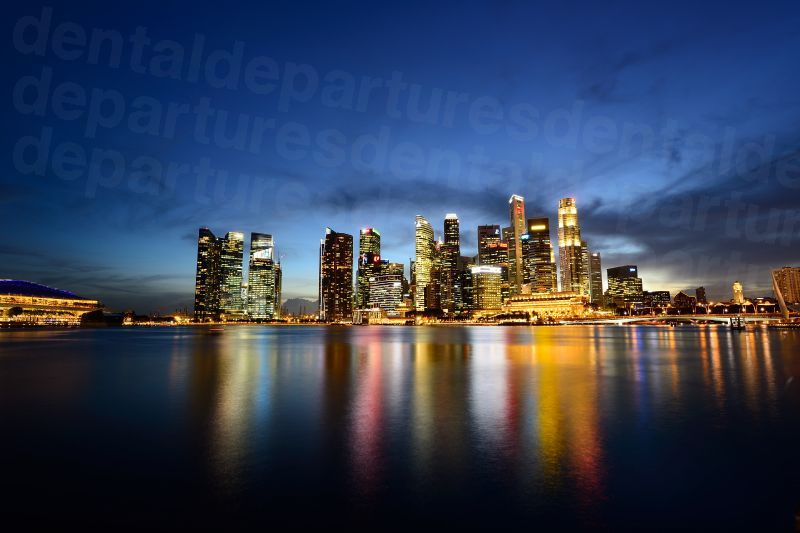 What's Next?
Dental Departures' Customer Care Team is available around the clock if you'd like to find out more about going to Singapore for dental crowns. They can also book your appointment, obtain a free quote and help with other aspects of dental care overseas, such as insurance and accommodation.
Alternatively, you can conveniently book directly online through any of our clinic listing pages, at no charge to you. We look forward to hearing from you soon.
Sources:
Dental Crown Procedure. Health Direct. Website accessed 12 June 2019. https://www.healthdirect.gov.au/dental-crown-procedure" target="_blank
What are Dental Crowns and Tooth Bridges? Colgate. Website accessed 12 June 2019. https://www.colgate.com.au/oral-health/cosmetic-dentistry/bridges-and-crowns/what-are-dental-crowns-and-tooth-bridges" target="_blank
Burhenne, Mark. Dental Crowns: What are They? Ask the Dentist. 18 February 2019. https://askthedentist.com/dental-crown/" target="_blank
Puri, Sameer. Material Choices for CAD/CAM Dentistry. Dentistry Today. 1 February 2018. https://www.dentistrytoday.com/technology/10396-material-choices-for-cad-cam-dentistry" target="_blank