If you need dental work then do what savvy people are doing and take advantage of lower prices overseas in well-regarded dental destinations like Spain. If you're off to Marbella, dental crowns are less than half the price you are likely to be quoted in the UK or Ireland. For a few hours out of your holiday time you can save yourself several hundred pounds—which you can put toward something more enjoyable than your dentist's bank account at home.
How Can I Find a Reliable Clinic in Marbella for Crowns?
Spain's dentists are all in private practice, which generally means that standards are good—else dentists would soon go out of business as they just wouldn't get the patients. This is also true of clinics offering services to dental tourists: skilled medical staff, state-of-the-art instrumentation in modern, comfortable surroundings.
Furthermore, Spain is a member of the European Union and follows EU regulations on hygiene and safety, so there's no need to worry that standards will be different than in the UK. The World Health Organization ranks Spain highly in terms of healthcare.
We understand anyone's misgivings about receiving treatment abroad, which is why we have pulled together clinics and dentists from around the world who offer reliable services you can trust. Given that at home we rely on recommendations from neighbours, family and friends, it's not quite so easy to find someone that's seen a dentist in your chosen destination.
We help take the work and worry out of your search. Our listings include verified patient reviews, clinic photos and prices, and we have also done our own background checks, carried out onsite visits, confirmed dentist qualifications and professional memberships. You can check out this information for yourself and make an informed choice knowing those essential clinical and service benchmarks have been covered.
Booking with Dental Departures also gives you extra benefits. All our clinics offer warranties and guarantees on their treatment and any lab work. In the rate event you have a problem after your treatment, you can return and get it set right at no extra cost.
Take a look at some of our listings for dentists in Marbella offering crowns: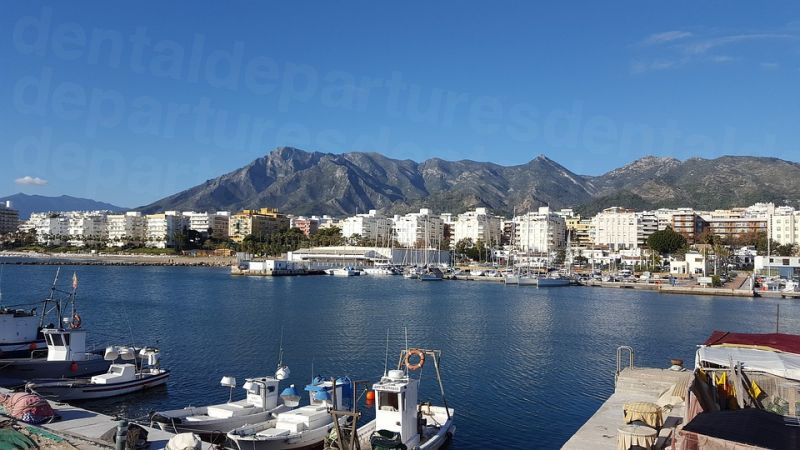 What is the Procedure for Crowns?
Typically, you will need two visits to the dentist for a dental crown. At the first visit, the dentist will examine your mouth and assess if a crown is required. If confirmed, then your tooth is prepared to receive the new crown. This involves filing down the tooth so the crown can fit comfortably on top. Impressions are made of your mouth and sent to a laboratory where your crown is made-to-measure. In the meantime, a temporary crown is placed in your mouth and you will be asked to return a few days later to have the permanent one fitted. This session is straightforward: the dentist first ensures the crown fits, making minor adjustments if need be, then cements it permanently in place.
In some cases, it may be possible to have your tooth prepared and permanent crown fitted all in one visit. It is becoming more common for dental clinics to have their own onsite labs. Using CAD/CAM technology (computer-aided design/computer-aided manufacture) your new crown can be designed on a computer screen using 3D scans instead of impressions. This information is then sent to the onsite lab where a machine mills your crown while you wait. Once finished, the dentist can then fit your crown and you can be on your way.
How Much Can I Save on Dental Crown Prices in Marbella?
You can expect to save up to 60% having dental crown work done in Spain:
| | | | | | | |
| --- | --- | --- | --- | --- | --- | --- |
| | UK £ | EUR € | US $ | CAN $ | AUS $ | NZ $ |
| Dental crowns prices at home | 1000 | 1200 | 1300 | 1700 | 1700 | 1800 |
| Dental crowns prices in Marbella | 415 | 500 | 535 | 725 | 710 | 764 |
What Else Should I Know About Getting Dental Crowns in Marbella?
If you are a little afraid of going to the dentist then there is no need to be worried. The procedure is painless and like other dental work of this kind, the sound of the dental equipment strikes more fear than the actual procedure!
Dental crowns are a good procedure to have as a dental tourist because they are fairly quick to carry out and you won't experience downtime afterward. In fact, you can usually leave the dental clinic and get on with your holiday as if nothing has happened.
Marbella is a great location for a holiday either as a traditional tourist or a cross-border dental patient. Slightly more upmarket than some other resorts along the Costa del Sol, you will want to take in Marbella's stunning shorelines. The sophisticated Puerto Banus Marina has plenty of waterside restaurants and bars, as well as designer shopping and a great nightlife. The Old Quarter's quaint streets offer leisurely strolls and al-fresco dining options.
How Do I Make Arrangements to See a Dentist in Marbella?
Search our listings to find clinics offering crowns in Marbella. When you've chosen a clinic, you can book an appointment online, or ask for a free no-obligation quote. Alternatively, our Customer Care Team is always available; you can contact them by calling the free phone number, or use our online chat.