Last fact -checked: 11 February 2020
Discover the massive savings you can make by heading to Bali for your dental care. Dental implants in Ubud cost thousands less than at home, saving you more than enough to pay for a holiday on this stunning Indonesian island and still have change leftover.
Why Choose Bali?
The island of Bali is popular with Aussies, Kiwis, Brits and Americans, with good surf and miles of beaches part of its attraction.
Bali has also come to be known for its spiritual side, with Ubud considered to be the cultural heart of the island. Located up in the cool mountains, it seems a million miles away from the more touristy, built-up coastal resorts down below. Sea and sand are replaced with forests and rice terraces, creating a verdant tapestry as far as the eye can see. The area has an almost mystical aura around it and there is ample to explore, including hidden temples and artisan workshops. But, it is Ubud's combination of traditional Balinese culture , wellness facilities, arts and cuisine that are so alluring to visitors and why it is such a good location for dental tourists.
Why Should I Get Dental implants in Ubud?
Being cautious about going overseas for an expensive dental procedure, such as a dental implant, is understandable. However, dental tourism is fairly prolific on the island of Bali with many thousands of holidaymakers taking advantage of the good-quality facilities and low prices. However, Bali's low costs don't equate to lower quality. The prices are kept down simply because the cost-of-living across Indonesia is relatively low compared to more developed countries. Thus, wages, office rents, materials and utility bills are all less and the savings are passed on to you.
One of the positives of globalisation is that it standardises techniques and training across the world. Cross-border training for medical staff is not unusual and any new techniques are quickly disseminated across the world. In effect, this means fewer differences in medical education wherever you obtain dental care in the world (with, of course, a few exceptions that wouldn't make it onto our site). In addition, international professional organisations for specialists, like the International Congress of Oral Implantologists (ICOI) further set standards at a global level.
The top dental facilities on the island are excellent. Our best clinics are contemporary and modern, equipped with the latest technologies, such as digital x-rays, 3D/CT scanning and computer-aided design/computer-aided manufacture (CAD/CAM).
The low prices. You can make savings of well over 50 percent on most procedures, if not more. You can get a better idea of these savings in the section below.
How Much Can I Save on Dental Implants in Ubud?
Dental implants in Ubud cost thousands less than in your home country; that goes for US, AUS and NZ Dollars, as well as Pounds and Euros, as the table below shows. Plus, with Dental Departures' best price guarantee, you will always pay the best prices available.
| | | | | | |
| --- | --- | --- | --- | --- | --- |
| | AUS $ | NZ $ | UK £ | EUR € | US $ |
| Dental Implant Prices – at home | 5,100 | 5,500 | 3,000 | 3,600 | 3,900 |
| Dental Implant Prices – Ubud | 1,900 | 2,000 | 1,100 | 1,300 | 1,400 |
What About Recommended Clinics in Ubud for Dental Implants?
The dental providers Dental Departures' partner with are trustworthy and reliable so you can book an appointment with confidence. And how do we know that? Simple: we personally conduct a number of background checks that include legal/criminal records, onsite visits, confirmation of dentist qualifications, verification of professional memberships and collection of patient reviews. If we're not satisfied with any aspect, you won't find the name of the facility on our website. You can find much of this information under each clinic listing, alongside clinic photos, prices and location maps, to help you make your own choice of where is best for you.
Here are some of our popular clinics for dental implants in Ubud:
● Bali Dental & Implants Centre
What Is the Procedure for Dental Implants? Is it a Good Procedure for a Dental Tourist?
Implants are suitable for dental tourists coming to Bali, but you should be aware that it is a two-stage process. So, unless you are based on the island, you will have to factor in two trips to Ubud to complete the procedure.
Another consideration is that if you have lost your tooth through periodontal disease, then it may well be that you have a degree of bone loss meaning you won't be a good candidate for dental implants, unless you have a bone graft procedure beforehand.
If you are considered to be a good candidate for the dental implant procedure, your first visit to the dentist will entail inserting the implant into your jaw. Scans, x-rays and any other diagnostic tests are run before this in order to confirm that you have enough bone in your jaw to accommodate the implant. For the insertion of the implant, you will be given a general anaesthetic to numb the area where the implant is to be placed. The surgeon will first make an incision in the gum to allow access to the jaw bone. A small hole is drilled into the jaw, and the implant put in place. The gum is stitched back over so no trace of the implant is seen. This must then be left for the tissue to heal and the jaw to integrate with the implant (called osseointegration), usually for at least three months, although it can be longer.
As far as downtime, most people report minor after-effects, although everyone is different. You will probably experience a little swelling and possibly some bruising. It's probably best if you don't arrange to do much on the days immediately following the procedure, but rather listen to your body (or in this case, your jaw and teeth), and keep plans flexible. Soft foods are likely to be the order of the day, too, and could well be for several days.
The second part of the procedure is when the replacement tooth (crown) is attached to the implant. After a local anaesthetic has been administered, the dentist opens up the gum above the implant. An abutment is attached to the implant, which allows the crown to be placed on top, thus joining the implant to the false tooth. The abutment sticks out of the gum line, and the crown is attached to complete the procedure.
There shouldn't be much (if any) downtime after this part of the procedure. The implant and jaw will have well healed, and opening the gum is a minor procedure that won't cause you too much trouble.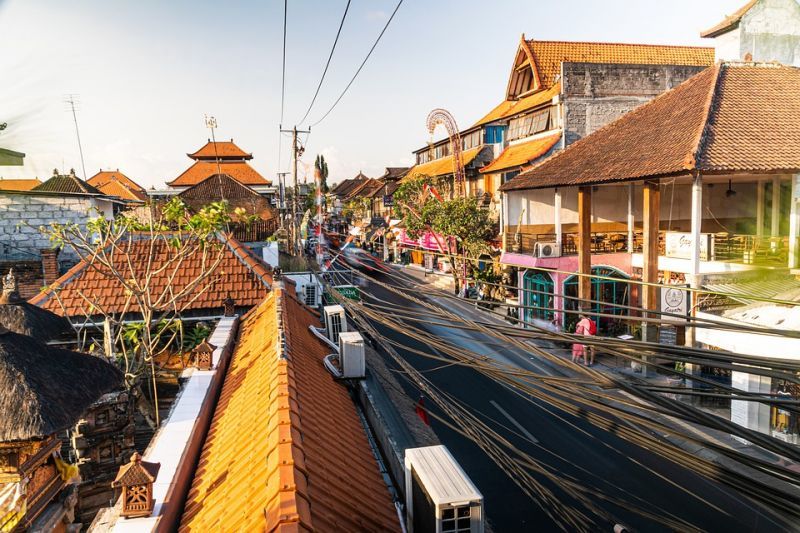 How Do I Arrange a Trip for Dental Implants in Ubud
Book your appointment directly online or simply call our Customer Care Team. Feel free to ask them anything about dental implants in Ubud or any other aspect of your trip, such as accommodation options, financing and insurance.
Sources:
Sutcliffe, T. Ubud: Inside Bali's Cultural Epicenter. CNN Travel. 14 February 2018. https://edition.cnn.com/travel/article/ubud-bali-things-to-do/index.html" target="_blank
The International Congress of Oral Implantologists. Website accessed: 5 February 2019. https://www.icoi.org/" target="_blank
Krans, Brian. Bone Graft. Healthline. 6 November 2018. https://www.healthline.com/health/bone-graft" target="_blank
Burhenne, Mark. Your First Dental Implant Procedure: What to Expect. Ask the Dentist. 18 January 2019. https://askthedentist.com/dental-implants/" target="_blank
Tooth Implant Surgery Recovery Period: Diet, Fighting Pain & Other Tips. Authority Dental. 9 February 2018. https://www.authoritydental.org/dental-implant-recovery" target="_blank