Last fact-checked: 14 February 2020
Do you want to restore your smile with affordable dental implants? In Kuala Lumpur – the capital city of Malaysia – our dentists offer superior quality treatment at a low price. You'll receive skilled treatment in one of Asia's top value destinations for leisure and medical tourism.
Dine, shop, stroll or unwind in Kuala Lumpur. Savor a sumptuous Malaysian meal in one of KL's many fine eateries. Visit the stunning Petronas Twin Towers, shop in the ultra-modern megamalls or the old-time markets. Or, simply unwind at a nearby beach town. With its modern skyline, affordable cost of living and safe surroundings, KL is an exciting place to visit while getting your dental treatment, and with Dental Departures, you can rely on the quality of the dental clinics in Kuala Lumpur as all of those listed with us have been quality-checked.
Tell Me More about Dental Implants.
A dental implant is an artificial tooth root that is inserted into your jawbone to hold a replacement tooth (crown or bridge). It consists of an implant, abutment, and a crown. The implant is a cylindrical post, usually made of titanium. An abutment connects this to the crown.
If you have multiple missing teeth, implants are an important alternative to dentures. Since implants are firmly secured into your mouth, you can smile, talk, and eat confidently. The replacement tooth (or teeth) feel and mimic your natural teeth. Implants are light, sturdy, and biocompatible (safe.). Once the procedure is complete, implants don't require additional care, as do dentures.
The only downside is that implants are generally more expensive than dentures, prohibitively so in countries where dental costs are high. This is one reason why thousands of travelers opt for implantology work in affordable medical destinations, and why Kuala Lumpur is such a popular choice.
The procedure for dental implants involves several stages and will entail two trips to the clinic in KL, typically six months apart, which you will want to factor into your plans if you are considering travel to KL for your implants.
How Do I Plan for Dental Implants in Kuala Lumpur?
Dental Departures can help you find the best implantologists in and around KL. During your consultation, your dentist will evaluate if you're a suitable candidate for implants. This involves a complete examination of your teeth, gums, mouth, and jawbone. Patients with healthy gums and bones are ideal candidates for implants, but if there is bone loss in the jaw then a bone graft may be possible to make the bone acceptable for an implant procedure.
Once it is confirmed that you're a good candidate for implants, the implants will be inserted in the jawbone. Your gum will be stitched over. Then, you will wait three to six months for the implant to fuse with the bone (a process called osseointegration). After the healing period, you will return to the clinic for the fitting and placement of the crown or bridge. The treatment period depends on your condition.
After the procedure, you need only keep up with your daily oral hygiene, and schedule regular checkups with your dentist.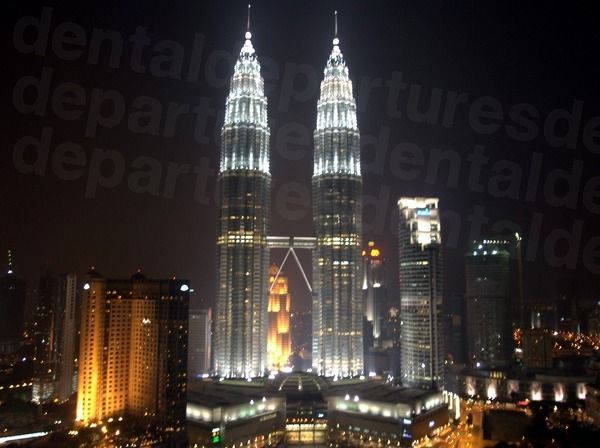 What about the Quality of Dentists in Kuala Lumpur?
Malaysia has a good reputation for medical tourism, having won several awards for Best Medical Travel destination.
The best dentists in KL are highly trained – many of them abroad – use state of the art instrumentation and brand name materials, and continue to stay abreast of industry trends. All Malaysian dentists must register to practice with the Malaysian Dental Association and Malaysian Dental Council, and many have international affiliations with professional organizations like the International Congress of Oral Implantologists.
Our best dentists warranty their treatment and lab work. If you book your appointment with us, Dental Departures is here to work on your behalf in the rare event you experience complications or have any other concerns.
How Much Can I Save on Dental Implants in KL?
The price of dental implants depends on many factors such as the material used and additional treatment required, such as a bone graft. Treatment price for implants in Malaysia typically starts at USD $1,792.71 (CAD $2,336.32; AUD $2,334.90; NZD $2,595.68; UK £1,251.59).
Our patients have enjoyed excellent outcomes and favorable customer experiences at clinics such as Imperial Dental Specialist Centre, Firdaus Dental Clinic and Smile Avenue Dental Surgery, to name a few.
How Do I Book an Appointment?
It's simple. You can book an appointment online, or our Customer Care Team will be happy to help you find a KL dentist who specializes in dental implants. Browse our clinic photos, read dentist profiles, compare prices and check out special discounts. If you have any questions, please don't hesitate to call, email, or use our new online chat feature to get started today on that new smile.
(Image by Bernardhoa)
Sources:
Hinson, Tamara. Why Kuala Lumpur is so much More than a Stopover City. https://www.independent.co.uk/travel/asia/kuala-lumpur-malaysia-city-break-stopover-cycling-tour-best-restaurants-hotels-a8501131.html. The Independent. 21 August 2018.
Burhenne, Mark. Your First Dental Implant Procedure: What to Expect. https://askthedentist.com/dental-implants/. Ask the Dentist. 27 June 2018.
Krans, Brian. What is a Bone Graft? https://www.healthline.com/health/bone-graft. Healthline. 6 November 2018.
Malaysia Wins Best Medical Travel Award. https://www.thestar.com.my/news/nation/2017/04/27/malaysia-wins-best-medical-travel-award-for-third-consecutive-year/. The Star. 27 April 2017.