Last fact-checked: 14 March 2020
Discover a world of low-cost dental implants in Alicante . The procedure costs thousands less in Spain than at home—so why not make the most of it and enjoy a Mediterranean holiday before your visit to the dentist, or a chill destination for recovery after your treatment?
Alicante is a major destination for British and Irish holidaymakers heading to Spain. Its international airport receives daily flights from all over the British Isles and is the main entry point for visitors to the city of Alicante, as well as other major resorts along the Costa Blanca, like Benidorm.
Overlooked by the imposing Santa Barbara Castle, the attractive city of Alicante is blessed with stunning Mediterranean views. Around the castle is the old town district of Santa Cruz, where winding, narrow streets lead you to quaint tapas bars and restaurants; you can indulge in some refreshments and take in the views. The town is home to plenty of parks, which are great for a respite from the hot sun, and you can even hire a small boat to get around the lake in El Palmeral.
With a plethora of Blue Flag beaches, plus activities like golfing and zip-lining (definitely one for your pre-surgery-itinerary rather than after), there really is so much to do in Alicante. If food is your thing, the Costa Blanca has the highest concentration of Michelin-starred chefs in Spain , as well as some great-tasting local wines.
Why Should I Consider Going to Alicante for Dental Implants?
While cost is obviously an important factor, so too is quality. Dentists in Spain are well-trained and qualified, and take further qualifications to specialise in areas such as implantology. Many are affiliated with professional organisations, such as the International Congress of Oral Implantologists. Booking with one of Dental Departure's pre-screened listed dentists in Alicante ensures you will receive professional care on a par with what you would expect at home.
Because dentists in the country treat patients privately, there is healthy competition between dental providers to deliver the best care. This means that standards remain high, with investment in dental facilities that equips them with state-of-the-art technologies and the latest innovations, including CAD/CAM, 3D/CT scanning and digital x-rays. Clinic premises tend to be welcoming, modern and are geared toward patient comfort.
However, that is not to say you shouldn't do your own research into finding a suitable facility for your dental work, which is where Dental Departures helps. All the dental providers listed on our website have all been checked by us. Our pre-screening includes onsite visits, dentist qualifications, professional memberships, and verified patient reviews. If we don't like what we see, we don't partner with that facility and you won't see their name on our site. So, you are assured that all the facilities listed with us are reliable and trustworthy and all you have to do is make your choice. Our listings include location maps, prices, clinic photos and other information to make it even easier.
Take a look at some of the dental clinics in Alicante where you can head to for your dental implants:
● Gardents
How Much Can I Save on Dental Implants in Alicante Compared to the UK or Ireland?
A substantial amount—enough to pay for return flights, accommodation, general expenses and still return home with money leftover. The table below shows the average dental implants prices in Alicante compared to home.
| | | | | | |
| --- | --- | --- | --- | --- | --- |
| | UK £ | EUR € | US $ | CAN $ | AUS $ |
| Dental Implant Prices At Home | 3,000 | 3,600 | 3,900 | 5,200 | 5,100 |
| Dental Implant Prices in Alicante | 1,000 | 1,168 | 1,321 | 1,773 | 1,865 |
What Is the Procedure for Dental Implants? How Long Will I Need to Stay in Alicante?
The first thing to note is that the procedure for dental implants will usually require two trips to the dentist in Alicante—typically three months apart, although there is no harm if you leave it for longer. As flights are so inexpensive, this may not be a problem to have to return to Alicante for a second time—after all, who needs an excuse for an extra holiday?
Prior to going to Alicante for treatment, you can send digital x-rays to the dentist in Alicante so they can assess whether you are suitable for the treatment. If you have lost your tooth because of periodontitis (an advanced form of gum disease where the jaw bone becomes eroded), you may not have enough viable bone to hold an implant. In these circumstances, you will not be able to have the treatment.
However, all is not lost, but the treatment will require a bone graft, another surgical procedure, to be carried out successfully to augment the jaw bone. Unfortunately, this is not a quick process and three to six months are required after the bone graft before the implant can be inserted.
If your jaw bone is healthy then you can go ahead with the dental implant. The procedure is carried out under a local anaesthetic or conscious sedation. The dentist will first make an incision into the gum line where your tooth was. From here, the jaw bone is accessed and a small hole is made. The implant is inserted and the incision in the gum stitched back in place, usually with dissolvable stitches.
Once the stitches dissolve, you won't see any evidence of the implant because it is underneath the gum. The dentist will make a check that everything is fine before you go back home and the implant is left to fuse with the jaw bone (a process called osseointegration), which provides a firm base to attach the false tooth.
When you return to the dentist in Alicante, the next part of the procedure is carried out. This step won't take long and can easily be carried out under a local anaesthetic. Once the anaesthetic has numbed your mouth, the gum is opened up to reveal the implant. A false tooth is attached by way of an abutment—one part of it is screwed into the implant below the gum line and the other part sticks out through the gum. The false tooth is attached to the part of the abutment that protrudes through the gum, completing the procedure.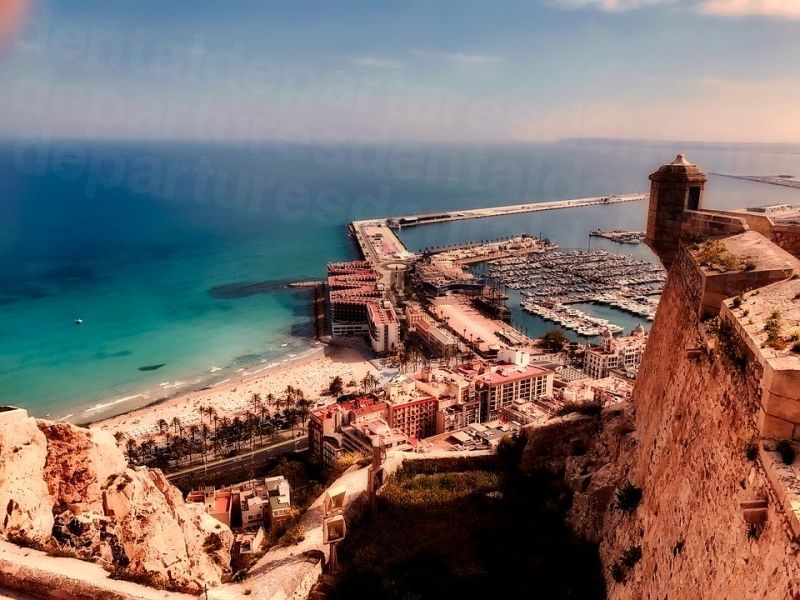 How Do I Book My Dental Implants in Alicante?
You can book your appointment directly online or connect with Dental Departures' Customer Care Team for further information about dental implants in Alicante. You can also ask for a free quote to get the ball rolling on replacing your missing tooth with a low-cost dental implant. There is never a charge to you for our services. We look forward to serving you soon!
Sources:
The 14 Best Places to Visit in Spain—And Where to Stay. The Telegraph. 8 January 2019.
https://www.telegraph.co.uk/travel/destinations/europe/spain/articles/best-places-and-cities-to-visit-in-spain-and-where-to-stay/" target="_blank
Burhenne, Mark. Your First Dental Implant Procedure: What to Expect. Ask the Dentist. 18 January 2019.
https://askthedentist.com/dental-implants/" target="_blank
Advanced Credentialing. The International Congress of Oral Implantologists. Website accessed: 8 March 2019.
https://www.icoi.org/advanced-credentialing/" target="_blank
Krans, Brian. Bone Graft. Healthline. 6 November 2018.
https://www.healthline.com/health/bone-graft" target="_blank