Get a free quote from Dental Departures for dental implants in Malaga. Our quality-verified dentists can help you save around two-thirds on the cost of dental implants in Spain compared to the prices at home. Find out more about arranging a dental tourism trip with Dental Departures to get the Rolls Royce of tooth replacement treatments but at a Skoda price.
Malaga is one of Spain's most popular airports to arrive at. The Province of Malaga stretches from Nerja in the east to Estepona in the west, and between are the popular resorts, including Marbella, Fuengirola, Torremolinos and Malaga, the City. This stretch of coast is referred to as the Costa del Sol (Sunshine Coast) and is a favourite destination for tourists from other European countries, but particularly the British and Irish. It has been maligned for catering to holidaymakers who want all the comforts of a home-from-home rather than experiencing the Spanish culture. However, scratch the surface and you will find plenty of authentic Spain around the area – you just need to know where to look.
Should I get dental implants in Malaga?
Dental implants look and feel exactly like real teeth, but it is worth bearing in mind that you may need two or three trips to complete the procedure. Since it is effortless to get inexpensive flights to Malaga from the UK and Ireland, this shouldn't be a problem. In fact, sometimes it is cheaper to fly to Spain than a train ride from Manchester to London.
The standards of dental care in Spain are comparable to what you would expect in another European country. In fact, there should not be a noticeable difference in the professionalism or expertise of your dentist in Spain from a dentist at home. Actually, as Spanish dentists operative privately, you may find the care you receive is superior, particularly if you are used to NHS dentistry where waiting lists and dated facilities are routine. Private practices benefit patients because the dentists compete with each other for clients, meaning they deliver good-quality, cost-effective services or their customers will go elsewhere.
Given the lack of access to affordable dental services in the UK, it makes sense that dental tourism is a growing industry in Spain, particularly in locations that are already popular with holidaymakers. International visitors who are already familiar and comfortable with going abroad should have no qualms about saving vast sums on their dental care; the dentists have training that is up to par with their home country, also are members of international professional organizations, such as the International Congress of Oral Implantologists (ICOI).
When choosing a dentist in Malaga, for extra protection, you can book through Dental Departures. All of our dentists provide warranties and guarantees. That means in the rare event that something is not accurate with your treatment it will be repaired free of charge. You only need to speak to our Customer Care Team and we will arrange the details on your behalf.
The other advantage about booking with Dental Departures is that we conduct our own background checks of all the listings on our site. We perform onsite visits and examine legal and criminal records; we verify dentist qualifications and professional memberships and we publish reviews from past patients. There is a lot of information on each listing to help you make an informed choice on what dentist to opt for, making your dental implants procedure in Malaga completely poised.
What is the procedure for dental implants? How long will I need to stay in Malaga?
For most people the dental implants procedure will necessitate two trips to Malaga. This is providing they have enough healthy bone in the jaw to attach the implants. If not, you may still be able to get a dental implant, but you will need a bone graft or sinus lift prior to the implant treatment. This separate treatment includes a third trip and additional expenses. The table below shows the prices for this procedure in Malaga, compared to other countries:
| | | | | | | |
| --- | --- | --- | --- | --- | --- | --- |
| | UK £ | EUR € | US $ | CAN $ | AUS $ | NZ $ |
| Bone graft cost – home | 1,171 | 1,398 | 1,500 | 2,025 | 1,988 | 2,133 |
| Bone graft cost – Malaga | 501 | 600 | 642 | 867 | 851 | 913 |
If you need a bone graft, you have to wait for 6-12 months for the area to produce more bone and to heal. Then you can return to continue your dental implant treatment. The dental implant consists of three parts – the implant itself, which is fixed into the jawbone; the abutment (which joins the implant to the false tooth) and the false tooth (crown). The implant is fitted in one visit and the abutment and crown on another visit.
During the implant procedure, the dentist will make an incision along the gum to make a flap that is opened to reveal the jawbone underneath. A small hole is drilled into the bone and the implant placed inside. The gum is stitched back and the area is left for at least 3 months (although it could be longer) for the implant to fuse with the bone. This process is called osseointegration and provides a strong and stable base for the attachment of the tooth.
On the following dental visit, the abutment and crown are attached and your new tooth is complete. Keep in mind that at every stage of the treatment you will not be left without a tooth as you will be given a temporary denture.
Each visit requires you to be available for 7 to 10 days, enabling the dentist to follow-up to ensure that everything is fine before you go back home. Subsequently, give yourself plenty of time if you plan the trips to overlap with your holidays.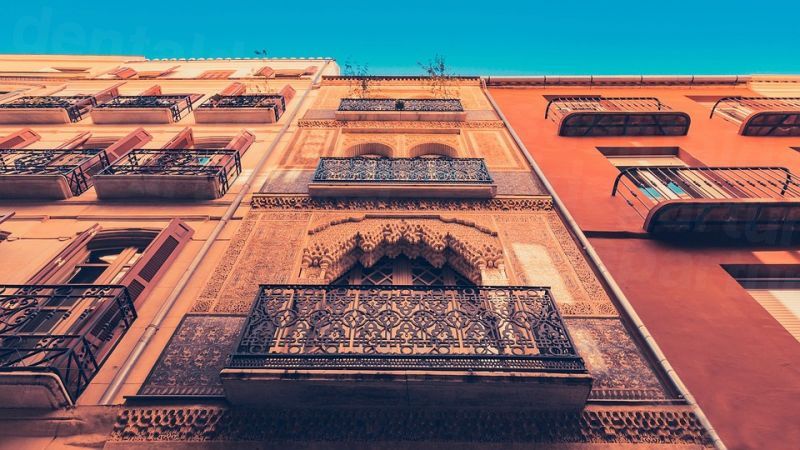 What are the dental implant prices in Malaga?
You might wonder about the prices are in Malaga and how they compare to, say, the cost of dental implants in Manchester, London or Dublin? Below is a table showing the average costs, where evidently in Malaga, dental implants cost around a third of the price.
| | | | | | | |
| --- | --- | --- | --- | --- | --- | --- |
| | UK £ | EUR € | US $ | CAN $ | AUS $ | NZ $ |
| At home – Dental Implant Cost | 3,000 | 3,600 | 3,900 | 5,200 | 5,100 | 5,500 |
| Malaga – Dental Implant Cost | 1,086 | 1,300 | 1,391 | 1,878 | 1,844 | 1,978 |
Overall, is Malaga a good location for dental tourists?
Indeed. You may be apprehensive about the language barriers if you don't speak Spanish but English is spoken widely. Additionally, we certify that the clinics listed on our site, such as Clinica Dental Crooke have fluent English speakers so you can communicate effortlessly.
The dental implants procedure is not painful, although you may have some swelling after the implant is inserted, which should not interfere much with taking pleasure in your holiday. There are no side-effects or downtime subsequent to the second part of the procedure where the abutment and crown are attached and can continue your usual activities as you would normally.
Learn more about dental implants in Malaga by contacting our Customer Care Team. You can also book an appointment online, via the phone or online chat.