Last fact-checked: 5 April 2020
If you thought you couldn't get low-cost dentures in Singapore, it might be time to think again! With Dental Departures, the process of booking in with a trustworthy dental facility (where you won't pay over the odds) is made simple.
Whether you're heading to Singapore for business or pleasure or planning a trip especially to receive dentures, it's possible to save over 65% compared to prices in countries like Australia, New Zealand and the UK.
How Much Do Dentures Cost in Singapore?
The table below shows the cost of dentures in Singapore compared to home:
| | | | | | |
| --- | --- | --- | --- | --- | --- |
| | AUS $ | NZ $ | UK £ | EUR € | US $ |
| Full Acrylic Dentures Prices - at home | 2,400 | 2,500 | 1,300 | 1,500 | 1,700 |
| Full Dentures Prices – Singapore | 826 | 863 | 456 | 509 | 579 |
Note: the prices above are approximate. Please check our current prices for your selected clinic for estimated costs of treatment.
Are Receiving Dentures a Good Option as a Dental Tourist?
Whether you are already a denture wearer or completely new to dentures, the time visiting your dentist in Singapore can be managed in a couple of two-hour sittings—and you won't experience recovery downtime (like you would after certain other dental procedures). Your new dentures may take a little getting used to, but they won't stop you enjoying your time in Singapore to the full.
Singapore is a major destination for business travellers and also welcomes millions each year who use the city-state as a stopover en-route to other parts of the world. But the Lion City has more than enough to see and enjoy. Marvel at spectacular architectural feats, like the Gardens by the Bay; explore vibrant neighbourhoods, like Chinatown and Little India; venture into the Bukit Timah rainforest for hiking and biking trails; chill by the beach at Sentosa Island; discover cultural attractions, such as temples and museums… and that's all before you've even scratched the surface of Singapore's vibrant shopping, dining and bar scenes.
There's more than enough to get your teeth into while you are waiting for your new teeth!
Can I Trust the Quality of Care in Singapore?
As with Singapore's medical care infrastructure, the city-state's dental healthcare facilities are generally excellent. Dentists are well-trained and qualified; clinics contemporary and modern while dental laboratories employ technicians who are experts in their craft, both technically and artistically.
The key to receiving reliable care is to research the doctors and facilities you are considering—and this includes at home, not just abroad. The difference at home is that you can get recommendations from other dental professionals, friends and family—a luxury that you probably won't have in Singapore.
At Dental Departures, we make sure you aren't at a disadvantage when you go abroad, providing you with quality-checked dental clinics on our website that you can rely on. We pre-screen all the facilities listed with us, so if there is something we aren't happy with, we simply don't partner with them.
Our checks include onsite visits, confirmation of dentist qualifications, verification of professional memberships and searching legal/criminal records. Our listings make it easy for you to make a choice with location maps, prices, patient reviews and clinic photos all available for each clinic listing.
Take a look at three leading clinics in Singapore for dentures:
● Royce Dental Surgery Kovan
● Royce Dental Surgery Woodlands
What Is the Procedure for Dentures? How Long Will I Need to Stay in Singapore?
Typically, it will take around a week to receive your new dentures in Singapore (both for full dentures, if you have no teeth or partial dentures if you have just some missing teeth).
It's worth bearing in mind that if you have recently had extractions, or are planning to get teeth taken out in Singapore, then you will be given a temporary, healing denture to wear for three months. This is lighter than a permanent denture and gives the soft tissues in your mouth the chance to heal. During the healing process, your gums will shrink, which means that your denture won't fit as well at the end of the healing period—another reason for getting a temporary denture first.
This means you will return to Singapore to have your permanent dentures fitted. If this is an issue, make sure you have any teeth extracted at home at least three months before you travel to Singapore.
At your first visit to the dentist in Singapore, you will receive a thorough consultation and examination of your mouth. Tests and scans may be carried out, and impressions made of your mouth to send to the laboratory where your dentures are made.
Once the dentist receives the dentures from the laboratory (after a few days), you can return to have them fitted. Minor adjustments are made by your dentist for a secure and comfortable fit.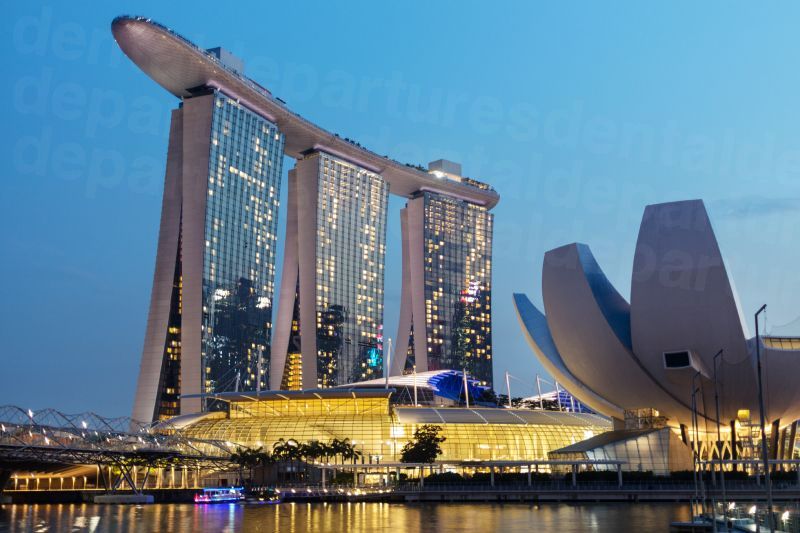 Booking an Appointment in Singapore
Book online (via any of our listing pages) or contact Dental Departures' Customer Care Team for more information. They can help you book an appointment for your dentures in Singapore and assist with other aspects of your trip, like insurance and hotel bookings. Or you can schedule your appointment online at any time of the day or night, at no charge to you.
Sources:
Burhenne, Mark. Dentures: Costs, Concerns and Considerations. Ask the Dentist. 14 June 2019. https://askthedentist.com/what-to-know-about-dentures/" target="_blank
Sim, Megan. 48 Hours in Singapore. Time Out. 14 September 2018. https://www.timeout.com/singapore/things-to-do/48-hours-in-singapore" target="_blank
Parker, Sid. Removable Full Dentures. Dear Doctor. Website Accessed 7 February 2019. https://www.deardoctor.com/articles/removable-full-dentures/page3.php" target="_blank
Full Dentures, Partial Dentures, Denture Care—Learn More. Colgate. Website Accessed 7 February 2019. https://www.colgate.com/en-us/oral-health/cosmetic-dentistry/dentures/full-dentures-partial-dentures-denture-care-learn-more" target="_blank