Last fact-checked: 11 February 2020
Did you know dentures in Thailand are made and fitted for up to 75% less than the cost of your procedure at home? Find a quality-checked dentist with Dental Departures, compare prices and book an appointment online.
Thailand offers dental patients an array of destinations and activities to create a memorable holiday while you wait for lab work on your new dentures to be completed.
Why Have Dentures in Thailand?
Despite advances in dental care, tooth loss is a problem for people of all ages – whether caused by decay, gum disease or through trauma. The loss of a tooth or multiple teeth often causes embarrassment and a lack of self-confidence. Dentures can provide an affordable solution, allowing you to return to a state of improved physical and oral health, not to mention an improved smile!
Most international denture patients come to Thailand for the quality of care and cost savings. Our best clinics offer a quality of care equal or superior to denture work you would receive at home, with dentists and labs using the same high-quality dental materials and brands. Because dentures prices are so much lower in Thailand, you may be able to afford a better quality material than you would at home, so your outcome may well be superior.
Cost considerations also bring smiles to patients' faces in the Land of Smiles: savings on dentures range 40-75% over what you might have been quoted at home.
With Dental Departures we also guarantee you will always pay the lowest price possible, putting additional money in your pocket for your stay in Thailand.
How Long do Dentures Take in Thailand?
If you have recently had extractions or surgery you will wait for your gums to heal, usually three months, before traveling for dentures treatment. Otherwise, your dentures can be measured, made and fitted in a matter of days.
Having dentures fitted after extractions: After extractions, you will be fitted with a non-permanent 'healing denture' so you won't have to go around toothless! Healing dentures are lighter than permanent dentures and enable your gums to heal. Although they are designed to be worn for a period of weeks or months, many patients wear them for years with no ill-effects.
Porcelain vs acrylic dentures: You have a number of different options for materials, depending on your preferences and budget. Your dentist will discuss your choices with you on your first appointment.
For budget-conscious patients, acrylic dentures are the most suitable option. They are also lighter than porcelain dentures and will place less stress on your gums and bone.
Porcelain dentures are much harder-wearing and have a more natural appearance than acrylic.
The ultimate choice is yours, and your dentist can help guide your decision.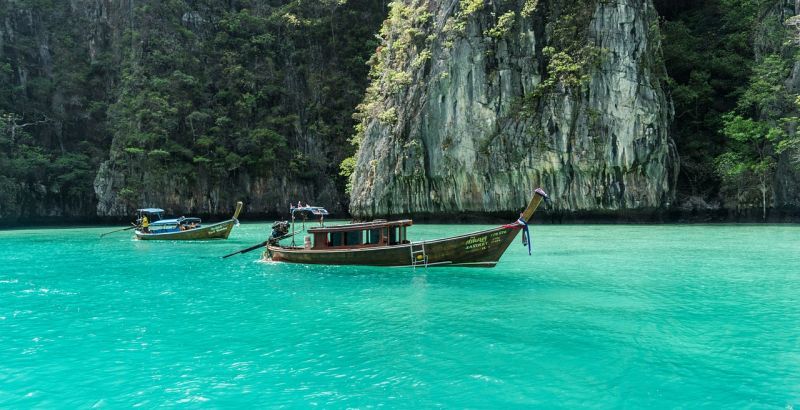 How Much Can I Save on Dentures in Thailand Compared to Australia or New Zealand?
For a full acrylic denture in Australia, the cost can be around AUD $1,800, whereas in Thailand you can get the same for less than AUD $700. Full porcelain dentures will set you back around AUD $800 in Thailand, hefty savings over what you might pay in Australia or New Zealand.
Our past patients have given high praises to Bangkok International Dental Center and Ivory Dental Clinic in Bangkok, Sea Smile Clinic in Phuket, and Dental World Clinic in Chiang Mai.
Can I Book Online?
Yes – you can book your appointment for dentures in Thailand directly via our website. With Dental Departures, you can compare prices, check out our verified patient reviews, view photos, see clinic location maps and much more. You also have access to our exclusive discounts and Best Price Guarantee.
Feel free to contact us if you have any questions. We're available 24/7 by e-mail, free phone or online chat and we're always happy to talk help you connect with the best dental care in Thailand.
(Image by Dan Taylor)
Sources:
Sandilands, Tracey. What Are Dentures Made Of? Colgate Oral Care Center. https://www.colgate.com/en-us/oral-health/cosmetic-dentistry/dentures/what-are-dentures-made-of-0415
Full Dentures, Partial Dentures, Denture Care—Learn More. https://www.colgate.com/en-us/oral-health/cosmetic-dentistry/dentures/full-dentures-partial-dentures-denture-care-learn-more. Colgate. Website accessed 4 December 2018.
Holden, Alexander. Dental Tourism: Things to Consider Before Going that Extra Mile for Your Smile. https://sydney.edu.au/news-opinion/news/2018/11/06/dental-tourism--things-to-consider-before-going-that-extra-mile-.html. The University of Sydney. 6 November 2018.