Last fact-checked: 19 February 2020
Receive new dentures in Izmir while enjoying a holiday in Turkey with the help of Dental Departures. It's possible to save more than two-thirds compared to the price back home simply by booking in with one of our quality-checked clinics—all while taking in the sights of this laidback city on the Aegean Coast.
Let's face it: if you don't already have access to an NHS dentist, the cost of dental care in the UK can be beyond the means of many of us. For Brits, this unfortunate situation is becoming more common with estimates of over 1 million people now unable to get NHS dental care.
Dental tourism offers an alternative to the high private costs at home (and not much more than NHS prices). Among the list of procedures available, having new dentures made and fitted abroad is one of the most popular.
How Much Do Dentures Cost in Izmir?
With dentures in Izmir, you can make substantial savings compared to the prices at home, as you can see from the table below:
| | | | | | |
| --- | --- | --- | --- | --- | --- |
| | UK £ | EUR € | US $ | CAN $ | AUS $ |
| Full Dentures Prices at home | 1,171 | 1,398 | 1,500 | 2,026 | 1,988 |
| Full Dentures Prices in Izmir | 343 | 396 | 445 | 598 | 636 |
Can I Rely On the Quality of Dentures in Izmir?
If you've never considered dental care abroad, then the quality of the treatment in Izmir is something to consider. Fortunately, many of the dental clinics in Izmir are geared up for international tourists, especially those listed with Dental Departures, offering high-quality services just and safe and reliable as you would experience at home.
In fact, if you have ever visited an NHS dentist, you may be surprised by just how contemporary the facilities abroad can be. The best clinics in Izmir are clean and modern and provide inviting spaces that are bright, airy and equipped with the latest technologies for accurate diagnoses and reliable treatment outcomes.
Dentists in Turkey receive top medical training and have the same skills as your dentist at home. They are equipped to deal with every aspect of general and specialist dental care that required in modern dentistry today.
Of course, like anywhere else, there are good and not-so-good clinics in Turkey. The key to receiving high-quality care is to choose a facility that is trustworthy; this isn't so easy to discern when you are in a foreign country. This is where Dental Departures can be useful. All the clinics listed on our site have all been pre-screened, with dentist qualifications, professional memberships and licenses all verified. You can see all of this information under each clinic listing on our site, along with past patient reviews, clinic photos, prices, location maps and much more—making it easy for you to make an informed decision on which clinic is for you.
Here are popular, well-reviewed clinics you may want to consider for your dentures in Izmir:
● Dent KM
How Long Will I Need to Stay in Izmir for Dentures? What Does the Procedure Entail?
The procedure and length of stay in Izmir will be the same regardless of whether you have no teeth (requiring full dentures) or only some missing teeth (requiring partial dentures ).
However, if you are having some teeth removed while you are in Izmir, the denture you will receive will be a lighter, healing denture, which is temporary and only intended to be used for a few months (although some people have worn them much longer). If you receive this denture, you will need to return to receive your full dentures. If this isn't a viable option, opt to have your teeth removed at home, several months before you travel to Izmir. This will give your gums time to heal so that you can be fitted with your permanent denture.
Your trip to the dentist in Izmir usually involves two visits to the dentist. During the first trip, you will receive a complete examination, diagnostic tests such as x-rays and impressions of your mouth will be taken to send to the lab where your new denture is made. A few days later, you can return to the dentist who will fit your new denture. Any minor adjustments will be made at this appointment, but it may be worth sticking around for a few days afterward in case you need any further adjustments before you head back home.
Clinics that use new CAD/CAM equipment can shorten your wait time to a couple of days.
Is Getting a New Denture in Izmir a Good Option for Dental Tourists?
No-one really likes going to the dentist, but it will be a much more joyous experience if you can enjoy a holiday before your treatment, or spend some time chilling after the procedure.
Turkey is renowned for its friendly, welcoming locals—and if you enjoy a bit of banter and bartering then you'll certainly find it in the bazaars and markets of Izmir. You can easily spend a day exploring the labyrinthine Kemeralti bazaar where, alongside hundreds of stores, you'll find artisan workshops, tea gardens, eateries and places of worship. Izmir is also renowned for its healing hydrothermal baths a perfect way to relax and rejuvenate after your treatment.
As an ancient city, some of the most interesting ruins to explore around town include the Agora, built by Alexander the Great and finished by the Roman Empire. Another option is Kadifekale Castle which affords wonderful views of the city and harbour—just as long as you can manage steep trek up.
Izmir is on the coast and while it doesn't have any beaches, a pretty harbour area more than makes up for this with plenty of restaurants and bars to watch the world go by. Elsewhere, take a leisurely stroll along the 'Lordon'—a winding promenade that takes in plenty of the city's sights.
Further afield, the UNESCO World Heritage Site, Ephesus, is a day trip from Izmir and well worth the effort to see the stunning ruins of this once-great city.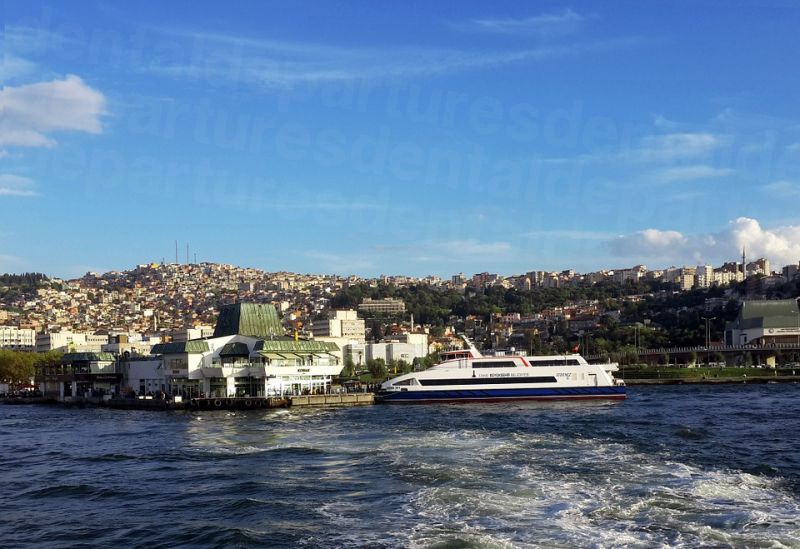 Booking Your Appointment in Izmir
You can conveniently book your appointment online with us, or get in touch with Dental Departures' Customer Care Team, who are on hand to answer any questions about dentures in Izmir.
Sources:
Matthews-King Alex. More than 1 Million Patients Unable to Get NHS Dentistry Amid Rising Tooth Decay Crisis. The Independent. 2 February 2019. https://www.independent.co.uk/news/health/nhs-dentist-appointments-tooth-decay-sugar-oral-health-a8759546.html" target="_blank
Parker, Sid. Removable Full Dentures. Dear Doctor. Website Accessed 7 February 2019. https://www.deardoctor.com/articles/removable-full-dentures/page3.php" target="_blank.
Full Dentures, Partial Dentures, Denture Care—Learn More. Colgate. Website Accessed: 7 February 2019. https://www.colgate.com/en-us/oral-health/cosmetic-dentistry/dentures/full-dentures-partial-dentures-denture-care-learn-more" target="_blank.
Ephesus. UNESCO. Website accessed: 26 April 2019. https://whc.unesco.org/en/list/1018" target="_blank