Last fact-checked: 14 March 2020
Be savvy with your dental health and save money by heading to the dentist while on holiday. It might not be the most exciting of activities, but having those long-overdue fillings in Almeria on your next trip to Spain can save you over 60%, which you can put toward your holiday treats. Plus, you'll be taking an important step in maintaining your dental health until your next check-up.
Dental tourism is becoming an increasingly popular option for the British and Irish who are struggling to pay for affordable dental care. A dental filling may not cost a lot in the grand scheme of things (at least, not compared to other dental procedures), but for the sake of an hour or two out of your holiday, why not save your money and pay less to maintain your dental health? It's worth it for the peace of mind it will bring you, and it is something you can easily incorporate into your annual trip abroad.
Along with dental check-ups and professional teeth cleaning, fillings are an essential part of a preventive care regime. In Almeria, you can save hundreds of pounds or Euros compared to going to a private dentist at home.
Why Are Dental Fillings so Important to Dental Health?
Bacteria are always present in our mouths. It feeds off sticky, sugary foods and drinks which provide a perfect environment for it to thrive. The bacteria produce acid that erodes our teeth. Brushing and flossing help keep the mouth free of debris and the surfaces of the teeth smooth and squeaky-clean (which means bacteria find it more difficult to stick).
Once tooth decay has started, the bacteria can advance further into the tooth; unless the decay is removed and the resulting cavity filled, the soft pulp in the centre of the tooth will eventually be breached, which may necessitate more complex treatment, like a root canal, if the function of the tooth is to be saved.
A filling is a fairly minor, straightforward procedure, but it is so important in keeping our dental health in check.
How Much Do Dental Fillings Cost in Almeria Compared to the UK and Eire?
The table below shows the price of fillings in Almeria compared to your home country:
| | | | | | |
| --- | --- | --- | --- | --- | --- |
| | UK £ | EUR € | US $ | CAN $ | AUS $ |
| Dental Fillings Prices at home | 133 | 158 | 170 | 229 | 225 |
| Dental Fillings Prices in Almeria | 50 | 59 | 66 | 89 | 87 |
How Long Will the Filling Procedure Take?
The procedure for dental fillings doesn't take long—you should be in and out of the dental clinic in less than an hour.
A local anaesthetic is first administered into the gum around the tooth by the dentist. While the anaesthetic is taking effect, the dentist will prepare the filling material. These days, most people opt for tooth-coloured fillings provided by composite or porcelain filling material, rather than the silver amalgam fillings. There is also some controversy over the mercury content found in amalgam fillings, although whether amalgam is considered to be harmful depends on which publication you read. Your dentist will discuss with you the various materials, the pros and cons and their prices—and the decision will be entirely yours.
Once the anaesthetic has taken effect, the dentist will begin removing the decayed areas on the tooth. This should only take a few minutes, following which the area is cleaned and the filling material applied to the cavity. After a few minutes, the filling will set and your dentist can start to shape the filling, filing it down so it is smooth and feels comfortable to you. Once you are both satisfied, the tooth will be polished and the procedure is complete.
The anaesthetic may take an hour or two to wear off, but once it has you should experience no ill-effects after the procedure.
Are the Dentists in Almeria Reliable?
● Dentists in Spain listed with Dental Departures provide services on a private basis. This generally means that they are of a high standard because there is stiff competition between clinics for patients. It also means that clinics tend to be modern and equipped with the latest technologies.
● Europe-wide regulations set by the European Union on health and safety are adhered to throughout Spain as it is an EU member state.
● The clinics listed with Dental Departures have all been pre-screened. We verify dentist qualifications and their professional memberships, collect real patient reviews and publish them on our website. We also carry out onsite visits to clinics and you can see clinic photos, prices and location maps on our site too—all of which you can use to help you make an informed choice about what dentist to go to.
Popular clinics to check out in Almeria include:
● Clinica Dental Alberto Fernandez & Ayora
Is a Filling a Suitable Treatment for Dental Tourists in Almeria?
Absolutely. The procedure takes little time and there are no after-effects that will spoil your holiday. This means you will have plenty of time to enjoy the sights and attractions of Almeria, including the Sorbas Caves, film sets in the Tabernas Desert, ghost towns and miles of beaches and rocky coastlines. Take advantage of the delicious tapas that come free when you order a drink in many of the bars, and don't forget to book a table for dinner at a restaurant with a view across Almeria's stunning coastal or mountainous scenery.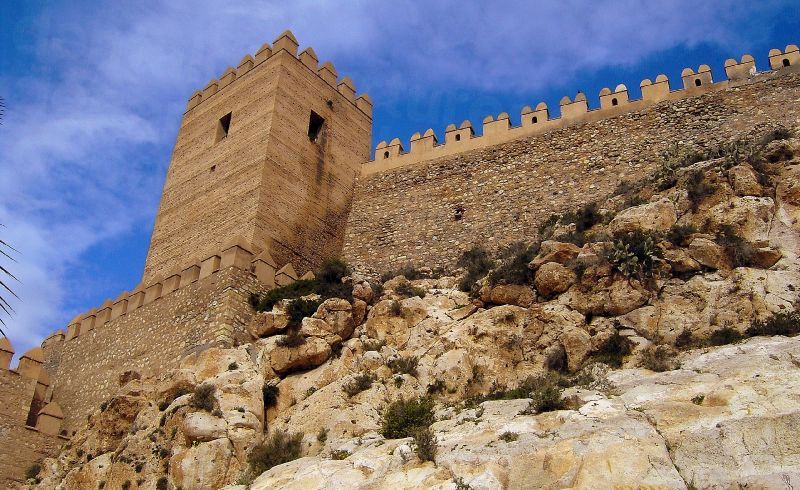 How Do I Book a Filling or Other Dental Work in Almeria?
Book online via any of our clinics' listing pages or contact Dental Departures' Customer Care Team to schedule your appointment for dental fillings in Almeria. This is the perfect opportunity to start maintaining your dental health as part of your holiday to-dos.
Sources:
Dental Check-Ups. National Health Service. 17 September 2018.
https://www.nhs.uk/live-well/healthy-body/dental-check-ups/" target="_blank
Burhenne, Mark. Know Before You Go: Teeth Cleanings. Ask the Dentist. 18 January 2019.
https://askthedentist.com/know-before-you-go-teeth-cleanings/" target="_blank
Smith, Y. Dental Filling Procedure. News Medical. 26 February 2019.
https://www.news-medical.net/health/Dental-Filling-Procedure.aspx" target="_blank
Dental Amalgam Health Risk. Colgate. Website accessed 25 February 2019.
https://www.colgate.com/en-us/oral-health/procedures/fillings/dental-amalgam-a-health-risk" target="_blank
Luzi, Giulia. 10 Amazing Things To See & Do in Almería. The Culture Trip. 9 February 2017.
https://theculturetrip.com/europe/spain/articles/10-amazing-things-to-see-do-in-almeria/" target="_blank