Last fact-checked: 20 February 2020
Save an infected tooth with a root canal in Medellin. If the price at home is too expensive then a trip to Colombia may prove more palatable. Plus, you get to enjoy a vacation in this much-improved location which has fast become an attractive destination for visitors from all around the world.
What is a Root Canal?
A root canal treatment removes infected material from the soft center of the tooth. If the tooth has been compromised allowing bacteria to enter the pulp cavity (either through tooth decay, gum disease or injury), then a root canal can preserve the structure of the tooth, rather than pulling out.
Do I Need a Root Canal Treatment?
In most cases, if you need a root canal, you will know about it! There are usually some symptoms, including swelling in the gum, pain or discomfort, an unpleasant taste in the mouth and sometimes you may see pus oozing from the gum. While this is not always the case, it is rare to have no symptoms at all so it is unlikely that the root canal will only become apparent after an x-ray during a routine examination by your dentist.
If a root canal is indicated, then you will need to get the treatment carried out, or the tooth will need to be extracted.
What Happens if I Don't Have Root Canal Treatment?
The tissue surrounding the tooth may become infected and abscesses may form. The infection may spread to other parts of the body, for example the brain, where it may prove fatal.
Is a Root Canal Treatment Suitable for Dental Tourists?
A root canal treatment may need a couple of weeks to complete but it is suitable as a treatment for dental tourists. There may be several stages to the treatment, including:
Treatment of acute infection with antibiotics
Removal of the infected tissue from inside the tooth and root canals with endodontic therapy.
Measurement and fitting of the crown, if required.
You may not require the third step if your tooth still has a decent amount of structure to it after the root canal treatment. This will certainly reduce the length of the treatment process by a number of days. Another way of shortening your stay in Medellin (not that you should be in a huge hurry) is to commence antibiotics around 10 days before you travel so that you have completed the course within a day or two of seeing the dentist in Medellin. Once you arrive in-country, a root canal can be completed within two days.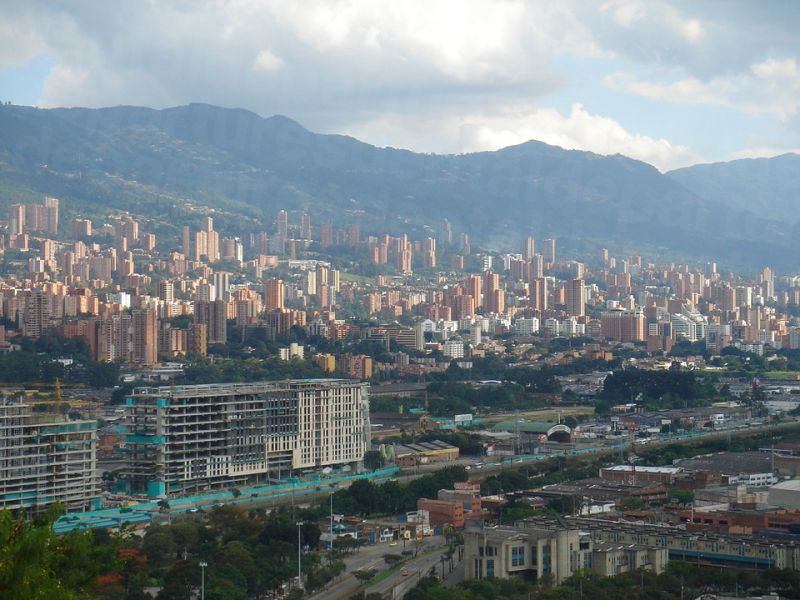 What Happens During the Root Canal Procedure?
The dentist begins the process by numbing your gums and other soft tissues. After a local anesthetic is given, a sterile rubber sheet is placed over the surrounding areas to keep the area clean and dry. A special tool is used to remove the damaged nerve and pulp, including the bacteria and debris. It will then be sealed and filled. The type of tooth restoration will depend on the extent of the damage. Some need only a dental filling while others require a crown to strengthen the tooth.
Many modern dental clinics now have CAD/CAM (computer-aided design/computer-aided manufacture) technology which allows the dentist to do impressions of your mouth via digital x-rays and a computer. The design of the crown can be carried out on a computer screen; when you and the dentist are happy with it, the final images are sent to an onsite laboratory where a milling machine makes the crown, often sam-day.
What Are the Prices for Root Canals in Colombia?
For a root canal, including post core and standard crowns, the price in Medellin is around a quarter of what you'd pay at home:
| | | | | | |
| --- | --- | --- | --- | --- | --- |
| Root Canal Cost (inc post core and standard crown) | US $ | CAN $ | UK £ | EUR € | AUS $ |
| Root Canal Cost - home | 2,200 | 3,000 | 1,700 | 1,900 | 3,000 |
| Root Canal Cost - Medellin | 600 | 800 | 460 | 520 | 840 |
Will the Quality of a Root Canal in Medellin Be As Good as it is At Home?
The quality of dental care in Colombia is good—particularly at clinics treating dental tourists. Dentists are skilled and well-qualified; clinics modern and equipped with state-of-the-art technologies, like CAD/CAM, digital x-rays and 3D/CT scanning. However, the caveat here—which applies to anywhere else in the world—is to do your due diligence. This way, you can be confident you have chosen a top-quality clinic.
Obviously, this is easier said than done if you are heading off overseas for your dental care, especially with a growing number of bogus (and often paid-for) online reviews, and the possibility of substandard clinics falsifying their credentials. This is where Dental Departures comes in. Thanks to our stringent, independent background checks, we can help you find the best dentists in Medellin that are trustworthy and reliable. So, no more trawling through your Google results pages trying to figure out who or what to believe.
A verification process includes a number of different criteria, including legal/criminal records and onsite visits. Dentist qualifications and professional memberships are listed on our site, as well as real patient reviews. You will also find maps, clinic photos and prices so that you can easily compare facilities and choose the one that suits you most. We also offer medical complications insurance, hotel bookings and finance packages—a truly one-stop-shop for your dental tourism trip.
Top clinics in Medellin for root canals include:
Why Should I Choose Medellin?
Medellin is a great destination for sightseeing, history, adventure or just as a place to kick back and soak up the vibrant culture and increasingly cosmopolitan atmosphere. It has Spring-like weather all year round, so you should be able to get out-and-about without worrying about the weather. It has all the 21st-century trappings that makes for a desirable tourist location, such as cool bars, fine dining and a range of shopping options.
Long a stop-off for backpackers making their way through South America via bus, Medellin has only recently started appearing on the more mainstream world tourist map. So, if you like being among the first of your friends to visit a new destination, this could be your chance. The city has great transport links and is easy to get around. Medellin has unique attractions both inside the city, like the Flower Festival, and further afield. For example, you can go paragliding in the mountains or take a four-day trek to the Lost City of Ciudad Perdida. Cheap domestic flights can also take you to other locations in Colombia for an extended stay.
How Do I Get Started From Here?
Click through to any of our listed clinics above and make your appointment online for your root canal in Colombia, any time of the day or night, at no charge. You can also talk to our Customer Care Team if you have any questions. They are available 24/7.
Sources:
Burhenne, Mark. Know Before You Go: Root Canals. Ask the Dentist. 7 January 2019. https://askthedentist.com/root-canals-know-before-you-go/" target="_blank
Lee, David. The Ultimate List of Things to Do in Medellin. Nomadic Matt. 29 November 2018.
https://www.nomadicmatt.com/travel-blogs/ultimate-list-medellin/" target="_blank
Ciudad Perdida. Lonely Planet. Website accessed: 7 January 2018. https://www.lonelyplanet.com/colombia/ciudad-perdida" target="_blank
Vincent, Jessica. What You Should Know about Colombia's Spectacular Flower Festival. Culture Trip. 30 May 2018.
https://theculturetrip.com/south-america/colombia/articles/what-you-should-know-about-colombias-spectacular-flower-festival/" target="_blank