Last fact-checked: 5 April 2020
Save your tooth with a root canal in Rijeka, Croatia if the prices at home seem a little excessive… which in many cases they really are.
Dental Departures will help you find a quality-checked clinic where you can enjoy reliable dental care while taking a break in this lovely city located in the northern Adriatic.
How Much Do Root Canals Cost in Rijeka Compared to UK and Eire?
You can make big savings on root canal prices in Rijeka. Take a look at the table below to compare prices:
| | | | | | |
| --- | --- | --- | --- | --- | --- |
| Root Canal Price | UK £ | EIRE € | US $ | CAN $ | AUS $ |
| Root Canal Price – at home | 900 | 1,000 | 1,100 | 1,400 | 1,600 |
| Root Canal Price - Zadar | 110 | 120 | 134 | 177 | 198 |
Note: the prices above are approximate. Please check our current prices for your selected clinic for estimated costs of treatment.
Do I Need a Root Canal?
Root canal treatment is needed to repair a tooth that has become infected. The inside of the tooth is composed of a soft centre where blood vessels and nerves are housed, and when these become infected, the only option is to remove them, clean the inside of the tooth and seal it with a root canal procedure.
Root canal treatments are preventable by following a regular oral hygiene regime of at least twice-daily brushing, flossing and regular check-ups with the dentist. A dentist can treat minor tooth decay or gum disease if symptoms are caught early enough before they progress to bigger problems that require, for example, a root canal procedure.
How Did My Tooth Become Infected?
A tooth damaged with cracks, chips, tooth decay, or advanced gum (periodontal) disease, potentially allows bacteria to get into the pulp chamber on the inside of the tooth. The bacteria produce acid that damages the pulp, breaking it down and causing infection. The infection may become painful, causing an abscess, which is a pus-filled pocket that forms around the tooth root. This may cause swelling in the gum, which can spread to other areas of the face, neck or head. It may also lead to bone loss around the root tip, which if untreated will eventually lead to tooth loss as more of the bone breaks down.
What is the Procedure for a Root Canal Treatment?
Root canal treatments potentially involve several different stages, which may not apply to every patient.
Infected Tooth: The first step in any root canal treatment is to get rid of any infection. So, a course of antibiotics will be prescribed, usually lasting around a week. The infection must be cleared before a root canal procedure is undertaken. Thus, if your tooth is infected and you want to reduce the amount of time you spend in Rijeka, you may need to see a dentist at home to get a course of antibiotics prior to travelling.
Root Canal Procedure: While many people dread it, a root canal procedure is nothing to be worried about; in fact, it is no worse than a dental filling, although it generally takes some time longer to complete. The length of time also depends on how many roots the tooth has, and how many root canals each root has. Teeth have between one and three roots, each one having one or two canals. If you're lucky, your tooth will have one root and one root canal. If you're unlucky it will have up to three roots and six root canals.
The treatment is performed under local anaesthetic, which numbs the area around the infected tooth. A hole is made in the top of the tooth which allows the dentist to access the pulp chamber. The dentist begins the process of removing the infected debris, first from the pulp chamber, then down each tooth root and root canal. Once all the infected material has been removed, the inside of the tooth is cleaned and sealed with a temporary filling. A temporary filling is placed as a precautionary measure to ensure no infection is left before the tooth is sealed permanently (as permanent fillings are much more difficult to remove).
Permanent Restoration: After several days, you will return to your dentist to have the tooth permanently restored with either a permanent filling or a dental crown (if there has been a large amount of decay removed from the tooth that has compromised its strength). The dentist will first check that there is no sign of infection before placing a permanent filling.
If you need a crown, impressions of your mouth will be taken and sent to a laboratory where the crown is custom-made. If you book your appointment at a clinic that offers CAD/CAM (computer-aided design/computer-aided manufacture), it is possible to have your crown made and fitted on the same day as the design and manufacture is all done at your dentist's office.
Can I Rely on the Quality if I Get a Root Canal in Rijeka?
As a European Union member, Croatia follows the same regulations as other EU countries which impacts quality standards, including water and medical devices. From a hygiene and safety perspective, there should be no difference between the standards in Rijeka and a dental clinic at home.
With regard to the quality of dental care, dentists are well-trained and qualified to carry out all manner of dental procedures, from simple to complex procedures. Furthermore, dental most clinics are well-equipped with the latest medical technologies and diagnostic devices, so you can rely on receiving an accurate diagnosis and predictable treatment outcome.
Dental Departures goes that extra mile to ensure that all the clinics we partner with have met the requirements of our background checks. We carry out onsite visits, look through legal/criminal records and confirm dentist qualifications/professional memberships. If there is something that's not quite right, we will not partner with that facility, and you won't find it listed on our website. A plethora of information on our site enables you to make an informed choice, including clinic photos, prices and location maps, as well as patient reviews.
Take a look and peruse our top-rated clinics in Rijeka for your root canal: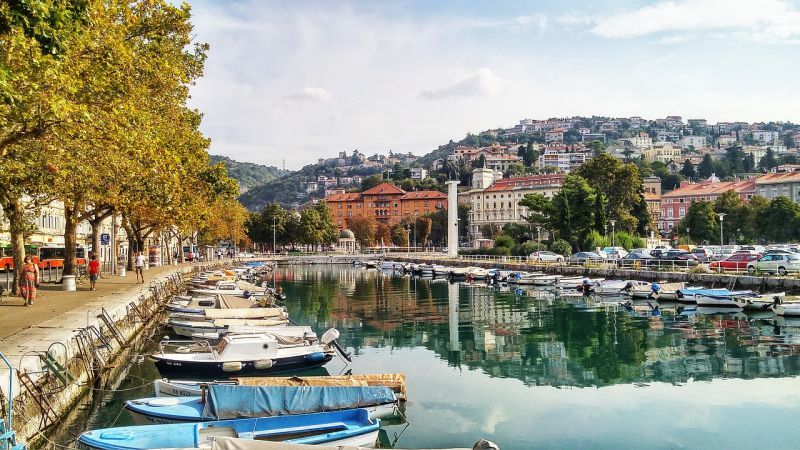 Further Information About Root Canals in Rijeka:
Dental Departures' Customer Care Team is available to talk to for further information about root canals in Rijeka. Get in touch to find out more, or ask us for a free, no-obligation quote. You can book your appointment online at any time of the day or night, at no charge to you.
See below for all available options in booking your appointment.
Sources:
Dental Check-Ups. NHS. 17 September 2018. https://www.nhs.uk/live-well/healthy-body/dental-check-ups/" target="_blank
Higuera, Valencia. Tooth Cavities. Healthline. 15 November 2017. https://www.healthline.com/health/dental-oral-health-cavities" target="_blank
Nordqvist, Christian. What is Periodontitis? Medical News Today. 18 January 2018. https://www.medicalnewstoday.com/articles/242321.php" target="_blank
Burhenne, Mark. Understanding the Root Canal. Ask the Dentist. 2 August 2019 https://askthedentist.com/understanding-the-root-canal/" target="_blank.
Sandilands, Tracey. CAD/CAM Dentistry: What is it? Colgate. Website accessed: 2 August 2019. https://www.colgate.com/en-us/oral-health/basics/dental-visits/cad-cam-dentistry--what-is-it-" target="_blank
ISO 13485 – Medical Devices. Organisation Internationale de Normalisation (ISO). Website accessed: 2 August 2019. https://www.iso.org/iso-13485-medical-devices.html" target="_blank