Last fact-checked: 5 October 2022
Save on Root Canals in Bali with Dental Departures.
If you are suffering from tooth pain and want to avoid extraction, a root canal treatment might be the only option. But instead of succumbing to the ever-rising prices at home, we have a smarter solution: enjoy a holiday of a lifetime in Bali and take advantage of low-cost dental treatment while you're there.
Bali is a renowned holiday destination. The eastern part of the island is great for families looking for gentle seas and white-sanded beaches, while some of the world's best surfing spots are located on the western part of the island.
The island also boasts resorts, luxury hotels and private villas, with some of these rooms costing about the same as a simple B&B back home - yes, accommodation is that cheap. Visit Bali's popular spas or try dining out, tasting both local and international cuisines. You'll enjoy your holiday so much that you might even forget that you're here to undergo treatment.
What Is Root Canal Treatment (RTC)?
Root canal treatment is a dental procedure that involves the removal of infected pulp tissue from the inner part of the tooth. It repairs and saves infected or badly decayed teeth.
The nerve tissue or pulp is not actually essential for maintaining the overall health and function of the tooth - its primary function is to sense temperature. When it is damaged, bacteria grow in the pulp chamber, which will cause infection and an abscessed tooth. An infection in the root canal of the tooth can cause swelling that extends to the face, head, and neck. Some of the signs that you have a diseased nerve or infected nerve include:
● Minimal to severe tooth pain
● Discoloration of the tooth
● Swelling of the gums
● Prolonged sensitivity to hot and cold food/drinks
● Persistent pimple in the gums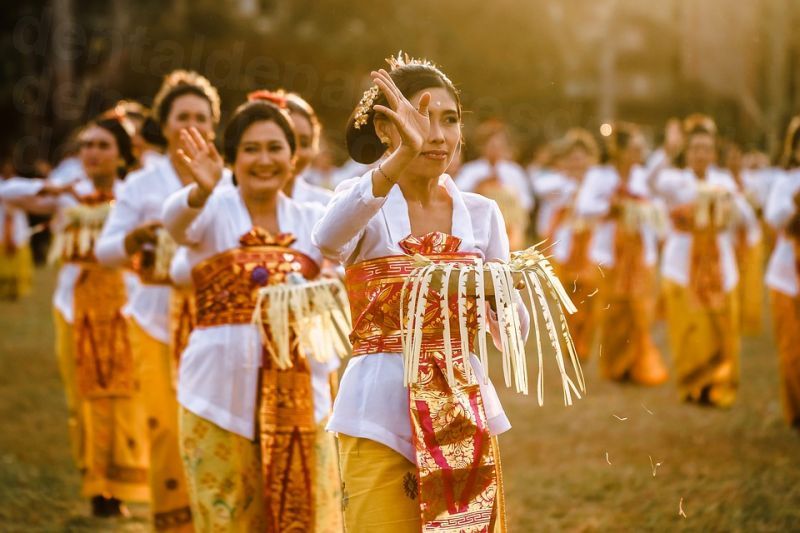 What Is the Process Involved in Root Canal Treatment?
The first step involves taking of x-ray to check if there are signs of infection and to look at the shape of the root canal. The dentist will use local anesthesia to numb the tooth and the surrounding area. The area is kept dry by placing a rubber dam around the tooth. Next, the decayed nerve tissue and debris are removed from the tooth. After cleaning the area, the dentist will place a temporary filling. Depending on your condition, you will need to wait for about one week before placing a permanent filling or restoring it with dental crowns or other materials.
After the treatment, continue to maintain good oral hygiene by brushing, flossing and rinsing with mouthwash. Don't forget to visit the dentist for professional teeth cleaning to keep your teeth and gums in tip-top shape.
How Much Do Crowns Cost in Bali?
The cost of the treatment depends on the extent of the damage, the type of material used and other factors. In Bali, the price of root canal therapy is approximately USD $214.73 (CAD 270.55; AUD $282.78; NZD $309.54; UK £147.59), representing significant savings compared to home.
Bali has become a mecca for dental travelers from all over the world, who visit for the sights and activities while saving significant money by spending an afternoon or two in the dentist's chair. Some of Bali's best include:
● Rejuvie Dental Clinic (Kuta)
● BIMC Hospital Dental Center (Nusa Dua)
● Bali Dental and Implants Centre (Ubud)
What About the Quality of Clinics in Bali?
Dental Departures makes your job of finding a suitable dentist easier. Check out our extensive listings and look at all the information we provide. Our clinics are background-checked by us, and these include onsite visits, verification of dentist qualifications & professional memberships and collating real patient reviews. You can easily search our site to find suitable facilities; our Customer Care Team is also on hand 24/7 to answer your questions and help with any other aspects of your trip, from transport links to hotel recommendations.
How Do I Book an Appointment?
Dental Departures can help you book an appointment with a dentist in Bali, Indonesia offering root canal treatment. Browse our listing and checkout clinic photos, dentist profiles, prices, and get exclusive discounts.
If you have any questions, feel free to contact us by phone, email or our online chat. Or you can schedule your appointment right here online at any time of the day or night, with no charge to you.
Sources:
ISO (International Organization for Standardization). Website accessed: 28 February 2019.
https://www.iso.org/home.html
Fry, Henry. Bali travel tips: 10 things to know before you go. Rough Guides. 29 May 2018. https://www.roughguides.com/article/bali-travel-tips/
An Overview of Root Canals. WebMD. Website accessed: 28 February 2019. https://www.webmd.com/oral-health/root-canals
Sensitive teeth: root and nerve issues. Health 24. 25 January 2018. https://www.health24.com/Medical/Oral-health/Dental-care/sensitive-teeth-root-and-nerve-issues-20171013
Cherney, Chisteen. 11 Ways to Keep Your Teeth Healthy. Healthline. 13 November 2017.
https://www.healthline.com/health/dental-and-oral-health/best-practices-for-healthy-teeth