Our Global City Dentists offer affordable, comprehensive dental care in this upmarket part of the Metro Manila region. Away from the hustle and bustle of Manila this thriving urbanization is clean, modern and the pinnacle of urban planning with wide, open spaces, easy navigation and a contemporary look where offices, homes and shopping offer a harmonious experience that is seldom seen in other cities.
Also known as Bonifacio Global City, BGC or The Fort, the whole district used to be part of the Philippine Army Camp. In just a few years the area has sprung up from this undeveloped land in Taguig to house high-end shopping, dining and entertainment facilities in a pedestrian-friendly environment. Beautifully landscaped, there are wide sidewalks, parks, public art, and cultural and sporting events taking place throughout the year which provide residents and visitors alike with a unique experience.
Key attractions in the city pay homage to both modernity and history. Interactive installations sit alongside sculptures of Filipino Greats, such as Andreas Bonifacio – the Revolutionary leader. The City is buzzing but without the chaos of other cities – and of course, it is a short trip away from Manila, where you can sample all delights of the Big City and travel from there to other exciting destinations across the Philippines.
Many Asian cities have grown up rather haphazardly and while charming, are difficult to navigate and overcrowded - not just with people - but with highrise buildings because the only space left is up. Global City is spacious, purpose-built, planned to perfection and has everything you would ever need.
If the cut and thrust of Manila makes you feel apprehensive then Global City could be the alternative you're looking for.
WHERE IS GLOBAL CITY?
Part of the greater Metro Manila megacity, it is around 6 miles (9 kms) southeast of Manila, between Taguig and Makati.
WHY VISIT A DENTIST IN GLOBAL CITY?
A clean, spacious and purpose-built city for the 21st century, it is a stone's throw from Manila, but without the crowds. Everything here is shiny and new, and if you like the facilities and amenities of a city, but don't enjoy swarms of people and the rather haphazard nature of most cities, Global City is for you.
While Global City is still growing, and new amenities are springing up all the time, it does, of course, have its fair share of health services, including a hospital. Dentists, too, are represented here and in common with the other businesses in the City, the facilities are second-to-none.
Global City is every bit the vision of how future cities should look and work, and it stands to reason that dental tourism, a growing global phenomenon, should be represented here too. Dental tourism isn't new in the Philippines and particularly in Metro Manila, dentists are used to dealing with international patients, ensuring they have the qualifications, skills and premises that will attract western patients.
Globalization has changed the face of health services throughout the world, and you will find dentists here are as likely to be members of the American Association of Orthodontics as they are to the Filipino professional organizations.
The bonus for many visiting international patients are the prices – on average 60% lower:
• Average cost of a single dental crown in Australia AUD $1,230; At a dentist in Global City AUD $215
• Average cost of root canal, post and crown in Australia AUD $2,155; At a dentist in Global City AUD $500
• Average cost of dental implant and crown in Australia AUD $3,800; At a dentist in Global City AUD $2,600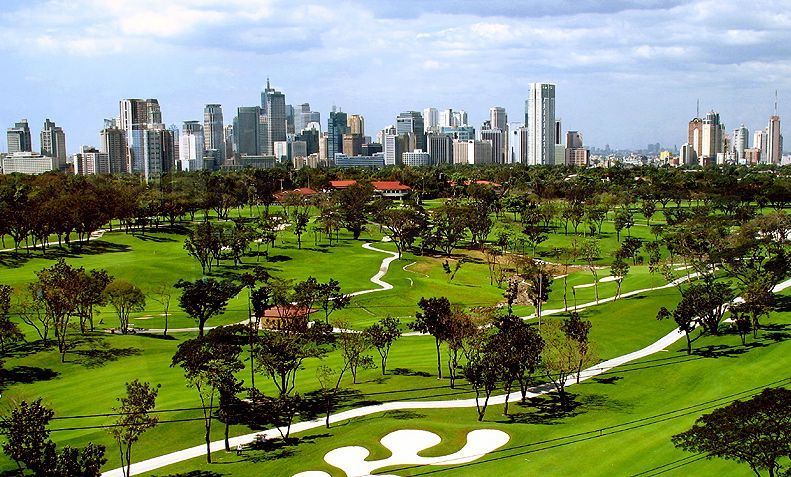 (Image by: Manilaspirit2000)
WHERE TO STAY IN GLOBAL CITY
Global City has an incredible array of luxury hotels – so if 5* is your thing you may have trouble deciding on where to stay! Global City does cater for everyone, including impeccably furnished, boutique-style self-catering suites and apartments. The prices may be a little more than in some other areas but this is a high-end destination.
IS IT SAFE?
Global City is possibly one of the safest locations in the whole of the Philippines with visible security personnel and CCTV. There are no travel advisory warnings from the US Government about visiting here, or the greater Metro Manila area.
IS THE QUALITY OF DENTAL CARE IN GLOBAL CITY THE SAME AS BACK HOME?
If there is one good thing about globalization in healthcare it is that standards are becoming, for want of a better word, standardized.
Training, certification, techniques and memberships of international professional organizations all help to provide recognisable benchmarks. For patients, it is then much easier to assess whether a particular dentist is a good fit for you.
Dental Departures recognized this when we first started, which is why our background checks includes review of criminal and legal records, dentist qualifications, professional memberships and clinic visits. Together with patient reviews and high-definition clinic photos - which you can view on our website, this gives you the information you need to choose a dentist based on the evidence you have in front of you.
WHAT HAPPENS IF SOMETHING GOES WRONG? DOES MY DENTAL CARE HAVE GUARANTEES OR WARRANTIES?
Our dentists all provide guarantees or warranties. These cover the work they do, as well as the materials they use in, for example, crowns, veneers, dentures or implants.
No dental or medical procedures can ever be completely guaranteed because our bodies all react differently. We make every effort to ensure our dentists are competent with our background checks, but if things go wrong, we want to make sure it is put right and will work with you, and your dentist, to see that it is.
Only a tiny minority of our patients have had any issues with their dental care - and the problems they have had have all been minor. Although it isn't nice to think about any problems it is imperative that you weigh up all the pros and cons before having dental or medical care abroad. If you have a problem and need to return to your dentist, even though the treatment may be covered free-of-charge, the additional accommodation and travel costs won't be. For this reason we would advise you to take out medical complications insurance so to that these additional expenses won't need to be paid out of your
WILL MY DENTIST SPEAK ENGLISH?
Your dentist in Global City will speak English. In fact, in The Philippines, English is the second language – it is taught in schools and used in business – so you won't have a problem communicating anywhere in the country.
WHAT PAYMENT METHODS ARE ACCEPTED AT GLOBAL CITY DENTISTS?
Our dentists in The Philippines usually accept a number of forms of payment, but you will have to check out the individual clinic listings on our website. Cash is accepted everywhere and some, or all, of the following:
- Debit cards
- Credit cards (usually subject to a 3-4% processing surcharge)
- Personal checks
- Traveler checks
- Bank transfers
IS MY DENTAL INSURANCE ACCEPTED?
It is unlikely your dentist in Global City can accept your dental insurance. However, if you have 'out-of-network' care in your policy then you may be entitled to claim back your expenses once you are home. Speak with your insurance provider and be sure to bring the appropriate forms and documentation with you if you are covered.
WHEN IS THE BEST TIME TO VISIT A DENTIST IN GLOBAL CITY?
Our dentists are open all year round, except for important holidays – like Christmas – and so all you need to do is go when the weather suits you! Global City has a tropical climate, so it is hot all year round, but there is a wet season and a dry season. The wet season runs from July to September and rather than persistent rain, it tends toward sudden downpours, so if you take shelter until the storm passes you can carry on your day.
IS GLOBAL CITY HANDICAPPED ACCESSIBLE?
Wheelchair accessibility can be a problem elsewhere in the Philippines – but not in Global City. Wide, pedestrian areas, complete with ramps and accessible restroom facilities make getting around easy, even in a wheelchair.
WHAT IS THE DOWNSIDE? WHAT SHOULD I KNOW ABOUT VISITING?
A safe, new, clean city that is geared toward modern living – very few people who live or work there have anything bad to say about it. However, if you are looking for authentic, old Manila this isn't it – and perhaps that is the only thing that may be considered a downside.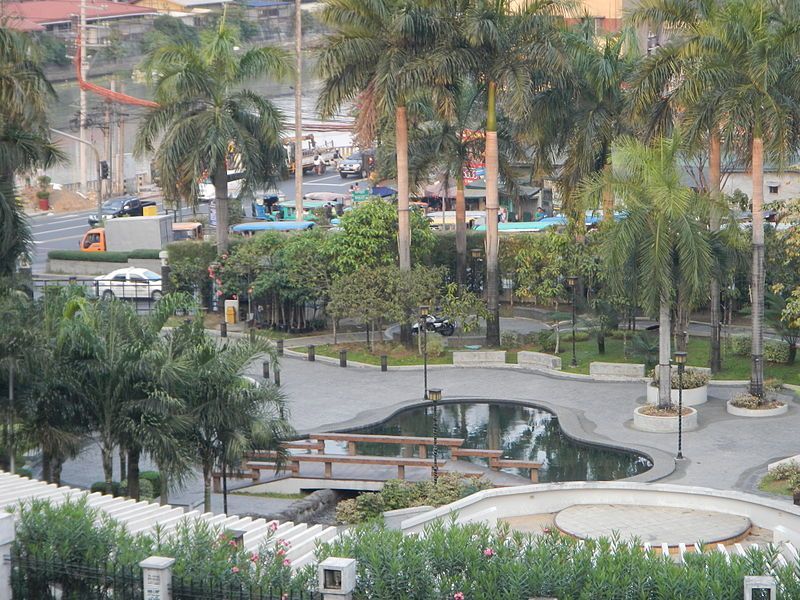 (Image by: Judgefloro)
WHAT ELSE IS THERE IN GLOBAL CITY?
While not a tourist destination Global City is certainly pleasant enough to walk around in. As in most high streets you will find shops, restaurants and bars, but at Bonifacio High Street you will also find sculptures and fountains with places to sit and take a breather, including the JY Campos Botanical Park. It's only small but nice enough to sit in on a sunny day.
Next to the park is the Mind Museum which has a number of exhibits, indoor and out, to inspire your understanding of science.
South of the High Street is Terra 28th – a large kids playground with swings and seesaws, but there is also an area dedicated to traditional Filipino games. The park also has jogging paths, if you want to maintain your fitness regime while you are here.
If you're a car lover head over to Burgos Circle for the sports car club on Sunday mornings where you'll often see Porsches, Mustangs and Lamborghinis, amongst others.
Want to watch the latest blockbuster in 3D? – then pop along to the IMAX Theater in the sprawling SM Aura Premier Shopping Mall – one of several retail spaces where you can shop until you drop. The other shopping paradises are the High Street, Market! Market! and the Serendra Piazza.
Some of the landmarks in the area include the Heroes' Cemetery – the memorial ground honoring the 33,520 Filipino soldiers killed in the battlefields of World War II – and the Manila American Cemetery at Fort Bonifacio which contains the graves of 17,206 American soldiers who lost their lives in operations in the Philippines and New Guinea in WWII.
Flying In:
San Juan City is near Ninoy Aquino International Airport (NAIA) in Manila is a quarter of an hour car ride away from Global City.
GETTING AROUND:
Taxi – Taxi's operate across the whole of the Metro Manila area and are suitable for short or longer journeys. They are relatively inexpensive but for very short trips you may find other modes of transport cheaper.
Jeepney – You will see these colorful, modified World War II jeeps everywhere and they are one of the cheapest, if not the quickest, way of getting around.
Tricyles – Great for short trips, but essentially a motorbike and side car – so a little cramped if you are on the large side.
Buses – Out-of-town trips are best by bus. Pay a little more for the air-conditioned ones.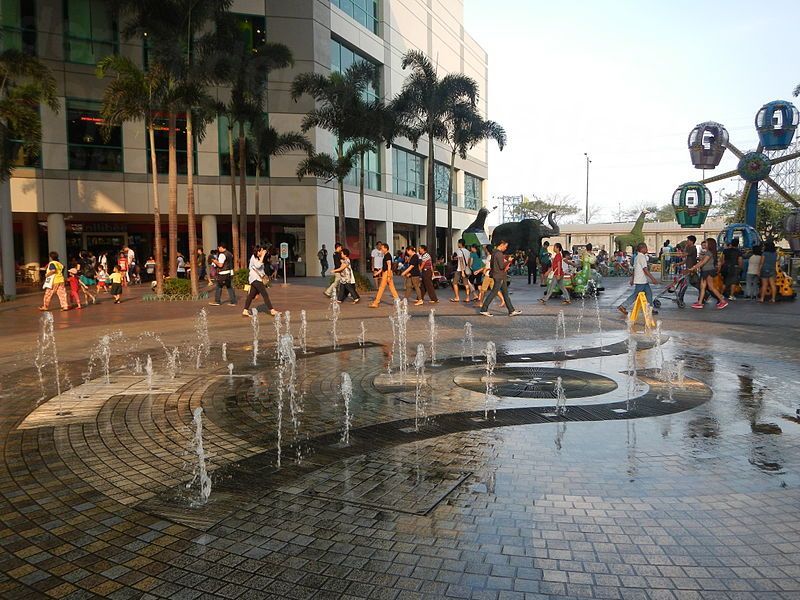 (Image by:Judgefloro)
DISTANCES TO PLACES OF INTEREST:
Ninoy Aquino International Airport: 5 miles (8 kms), 14 mins
Manila: 5 miles (8 kms), 14 mins
Makati: 2 miles (3 kms), 8 mins
Pasay: 4 miles (6 kms), 10 mins
Angeles City: 67 miles (92 kms), 1 hrs 20 mins
HOW DO I BOOK A DENTAL APPOINTMENT IN GLOBAL CITY?
Book your dental appointment with one of our Bonifacio Global City dentists online, or call our toll-free number and speak to our customer care team.
We guarantee the best prices and have exclusive online discounts, real patient reviews and high-definition photos so you can get the fantastic dental care you deserve.
(Main Image by: Robert Verzo)