Last fact-checked: 17 February 2021
If you're looking for a top-quality dentist in Singapore, Dental Departures can point you in the right direction.
Although most dental services in Singapore tend to be of a good standard, we can help put your mind at ease with our pre-screened facilities that are trustworthy and reliable.
Singapore In Brief
Singapore is both a city and country—a small but affluent island city-state off the southern tip of the Malaysian Peninsular.
Once inhabited by fishermen and pirates, the British established a trading post in Singapore in 1819. By 1824 the island was ceded outright to the British and became the centre of government for the other British settlements in the area, Malacca and Penang.
Since achieving Independence in 1965, Singapore has grown into an economic powerhouse, not just in Southeast Asia but also the world. It is about half the size of London but packs a lot into a small space. The skyline is dominated by skyscrapers, but this is no concrete jungle. Singapore has incorporated nature into the very fabric of its being, with accessible green spaces linked by aerial walkways, colossal man-made trees with intricate vertical gardens and a nocturnal safari where you can see over 2,000 animals.
Singapore is a clean, safe, visually stunning city and offers no end of attractions for visitors. Needless to say, it also offers superb quality dental care to international visitors. It is not a low-cost destination like many of its neighbours—although you may still save on some procedures—but for reliable standards and expertise, it is hard to beat.
If you are on a business trip or visiting for leisure, Singapore is certainly a good location to obtain dental care.
Where Is Singapore?
Singapore lies to the south of the Malay Peninsula between Malaysia to the north and Indonesia to the south.
Why Choose Singapore for Dental Care?
The standard of living is high in Singapore and perhaps much more in tune with what Western visitors are accustomed to. It is modern, and for city lovers all the trappings of a 21st-century megalopolis are evident—great shopping, diverse cuisine, chi-chi roof bars and a booming nightlife scene that takes in casinos, bars and clubs from comedy to drag shows. You'll find plenty to see and do if you want to take advantage of the excellent dental facilities in the country.
Singapore boasts four official languages; almost all Singaporeans speak fluent English and at least one other language. So, as a visitor from Australia, New Zealand, the UK, Eire, the US or Canada, you won't experience any language challenges.
Medical and dental training in Singapore is excellent. The National University of Singapore is the only dental school in the country offering undergraduate and postgraduate programmes. It also happens to be one of the world's top medical and dental schools, ranking higher than many US, Canadian and EU institutes.
Singapore is a very accessible destination with flights arriving at its award-winning airport daily from around the world. It is also a good location for a stop-over if you are heading further afield.
How Do Dental Treatments in Singapore Compare to Australia or New Zealand?
While not the "value destination" many of its Southeast Asian neighbours promote themselves as (like Malaysia or Thailand), Singapore offers some of the world's highest-quality medical and dental treatment.
That said, patients can still realise some savings on certain procedures compared to Western countries:
| | | | | |
| --- | --- | --- | --- | --- |
| | Australia Price (AUS $) | Singapore Price (AUS $) | New Zealand Price (NZ $) | Singapore Price (NZ $) |
| All-on-4® treatment concept | 27,000 | 26,500 | 29,000 | 27,800 |
| Crowns | 1,600 | 800 | 1,700 | 841 |
| Fillings | 170 | 95 | 285 | 99 |
| Implants | 5,100 | 4,700 | 5,500 | 4,900 |
| Veneers | 2,400 | 980 | 2,600 | 1,035 |
| Dentures | 2,400 | 826 | 2,254 | 868 |
| Root Canal | 1,500 | 650 | 1,570 | 683 |
| Whitening | 680 | 810 | 709 | 852 |
Note: the prices above are approximate. Please check our current prices for your selected clinic for estimated costs of treatment.
Where To Stay in Singapore?
Singapore offers a big choice of accommodation options that belies its compact size. It is also constantly evolving; new, often jaw-dropping developments are springing up by the year, offering visitors an even better choice of places to stay.
Will I Be Safe in Singapore?
Singapore is considered to be one of the safest countries in the world. It regularly tops law and order lists with residents feeling safe about walking alone at night, confidence in local policing and having low personal experiences of crime.
Tourists are very safe, too. Violent crimes against tourists are exceptionally rare—with only petty crimes, such as pickpocketing, something to watch out for in busy areas.
Is the Quality of Dental Care in Singapore Comparable to Back Home?
A world leader in healthcare with more than 20 JCI-accredited facilities and headquarters of multinational healthcare corporations, Singapore is a unique medical hub supported by a wealth of medical and pharmaceutical manufacturing, research and development and medical training/conference facilities.
As you would expect, the dental facilities in Singapore are excellent and equipped with the latest diagnostic and therapeutic technologies, such a 3D/CT scanning, panoramic x-rays and CAD/CAM which allows dental clinics to provide while-you-wait prosthodontics in onsite laboratories—a bonus if you are a medical traveller and short on time.
Dentists are skilled across every area of dentistry, and so no matter what your dental problem is, you'll find a solution in Singapore—from simple teeth cleaning to All-on-4® dental implants.
However, it is always worth the while to take some time and choose a reliable dental provider that you can trust. This is not always easy to do if you are from a different country; even if you do find information online, how do you know that it's trustworthy?
This is why Dental Departures has its own processes to verify information. We run a number of background checks, which, when taken together, can be a good indicator of the reliability of the dental providers we partner with.
Our checks include onsite visits, verifying dentist qualifications, confirming professional memberships, compiling patient reviews and searching for legal/criminal records. Only if we're happy with everything do we list the clinic on our website. So, you can choose with confidence—and we also include clinic photos, prices, location maps and other information to help make it even easier.
Some of our recommended clinics for dental care in Singapore include:
What Happens If Something Goes Wrong? Is my Dental Care Guaranteed?
Choosing a reliable facility means that the chances of something going wrong are greatly diminished. But because each human body is unique, on very rare occasions things may go awry. The clinics listed with Dental Departures all offer warranties or guarantees on the work they carry out, as well as on lab work, such as crowns and veneers. Thus, any problem should easily be resolved for free.
If you are spending a lot of money on a big procedure, you may want to consider taking out medical complications insurance, which will ensure your travel and accommodation expenses are covered (should you have to travel back to your dentist in Singapore due to a problem with your dental work).
What Language Do the Dentists Speak?
English is taught in schools in Singapore and is spoken by everyone.
What Payment Methods are Accepted in Singapore's Dental Clinics?
The Singapore Dollar is the local currency in Singapore, known locally as the Sing Dollar or SGD. Our listed dental clinics accept cash, credit and debit cards (typically Mastercard and Visa), traveller's cheques and bank transfers. You can check each individual listing for the full list of each clinic's accepted methods of payment.
When is the Best Time to Visit a Dentist in Singapore?
Our dentists in Singapore are open all year, and the country is a year-round destination with hot and humid weather throughout. February to April experiences a little less rainfall than the rest of the year.
Peak season is between December and June, with mid-December through to the Chinese New Year in January or February the busiest time when travel routes and hotels are likely to be booked solid. Hotel rooms also go fast around the annual Formula 1 weekend (in September).
What Else is There in Singapore?
Singapore is a cosmopolitan, ever-changing city that's expensive by typical Asian standards. There's a big foodie and cocktail scene, great shopping and a myriad of other attractions to enjoy.
Marina Bay Sands is one of the most iconic attractions in Singapore and there is more than enough here to keep you occupied for some time. The Gardens by the Bay offer waterfront gardens and eating out options from fine dining to casual and local fare.
Another landmark, the lotus flower-shaped ArtScience Museum, stages exhibitions from around the world, including the British Museum in London, the American Museum in New York and the Mori Art Museum in Japan. It has also featured art exhibitions from renowned artists including Dali, Van Gogh and da Vinci.
Chinatown is one of Singapore's most vibrant neighbourhoods where the Buddha Tooth Relic Temple and Sri Mariamman Temple, the oldest Hindu temple in Singapore, will interest history enthusiasts. The Chinatown Complex Market offers local dishes at low prices—and if you're prepared to queue, then it's worth trying the world's cheapest Michelin-starred food (Singaporean chicken and rice) served up at a hawker stall inside.
A further nod to the influx of migrants that have made Singapore such a hotch-potch of cultures is Little India, where you can get local favourites like roti prata (pancakes) as well as familiar Indian curries, biryanis and more.
While Singapore can almost feel overwhelmingly modern, old architectural gems can also be discovered here-and-there. Thian Hock Keng is one of them; built in 1840, it is the oldest Chinese temple in Singapore and is one of the most photogenic sites in the country.
At the Harbour Front, you can take a monorail over to Sentosa—Singapore's island playground. Theme park rides and Adventure Cove, a water park, provide high-adrenalin fun and the S.E.A. Aquarium allows you to get up close to thousands of marine animals.
There isn't much of Singapore's rainforest left, but the stretch at Bukit Timah is now an ecotourism attraction in its own right. With superb biking and hiking trails, it's one way of getting some exercise and seeing if you can spot any of the local wildlife.
A good place for a more sedate stroll is at Singapore's only UNESCO World Heritage Site, the Singapore Botanic Gardens, a fine example of the evolution of a British tropical colonial garden that is used for conservation and education.
Getting to Singapore
Flights arrive at Singapore's Changi Airport. It's also possible to drive into Singapore from Johor Bahru in Malaysia via the Woodlands Causeway or take the train from Johor Bahru, which takes around 10 minutes.
Getting Around
Train: The Mass Rapid Transit (MRT) in Singapore is extensive and most major attractions are within a short walking distance of an MRT station. Each journey is reasonably inexpensive but you can buy a tourist pass which gives you unlimited travel for between one and three days.
Bus: Bus services in Singapore are also good, and accept the same tourist pass as the MRT. If you pay with cash, it has to be the exact amount as no change is given.
Trishaws: These are popular with tourists rather than as a means of getting around for Singaporeans these days. You'll find them along popular tourist routes.
Taxi: Taxis are metered, but they always particularly cheap as some people claim—between midnight and 6 am there is a 50% surcharge.
Visa Requirements
Citizens from around 80% of the world's countries do not need to obtain a visa to enter Singapore and can stay in the country for up to 30 or 90 days.
All visitors must hold a passport valid for more than six months at the date of departure, have an onward or return ticket and sufficient funds for the duration of their stay in Singapore.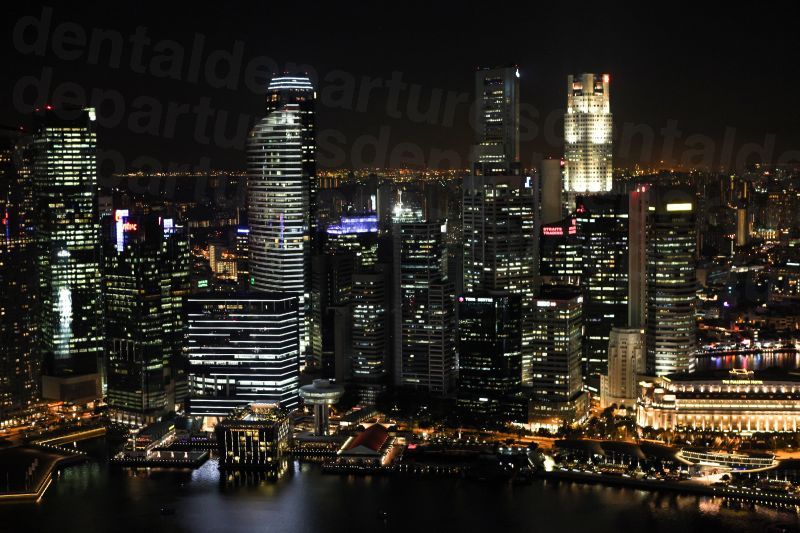 Distance from Downtown Singapore to Other Points of Interest:
Singapore Botanic Gardens 5 miles (9 km)
Woodlands Waterfront Park 9 miles (15 km)
Sentosa Island 13 miles (21 km)
Johor Bahru (Malaysia) 14 miles (23 km)
Changi Airport 16 miles (26 km)
How Do I Book My Dental Appointment in Singapore?
Connect with Dental Departures' Customer Care Team to find out more about our dentists in Singapore, or ask for a free, no-obligation quote.
If you've already selected your clinic, you can book quickly and conveniently online with us, at no charge. We look forward to hearing from you soon.
Sources:
Singapore – History. Encyclopaedia Britannica. Website accessed: 17 February 2021. https://www.britannica.com/place/Singapore/History
Why Singapore Became an Economic Success. 26 March 2015. https://www.economist.com/the-economist-explains/2015/03/26/why-singapore-became-an-economic-success
5 of the World's Most Prominent Dental Schools. Study International. 9 November 2017. https://www.studyinternational.com/news/5-worlds-prominent-dentistry-schools/
Singapore. Patients Beyond Borders. Website accessed: 17 February 2021. https://patientsbeyondborders.com/singapore
Sandilands, Tracey. CAD/CAM Dentistry: What Is It? Colgate. Website accessed 10 June 2019. https://www.colgate.com/en-us/oral-health/basics/dental-visits/cad-cam-dentistry--what-is-it-
Burhenne, Mark. Know Before You Go: Teeth Cleanings. Ask the Dentist. 18 January 2019. https://askthedentist.com/know-before-you-go-teeth-cleanings/
Sim, Megan. 48 Hours in Singapore. Time Out. 14 September 2018. https://www.timeout.com/singapore/things-to-do/48-hours-in-singapore
Singapore Botanic Gardens. UNESCO. Website accessed: 17 February 2021. https://whc.unesco.org/en/list/1483