Last fact-checked: 10 August 2021
A classic Spanish getaway resort for Brits and other Europeans, Benidorm has plenty to offer holidaymakers looking for sun, sea and a cheeky glass or two of sangria for only a few hundred quid per person.
And if you are planning a trip to Spain's Costa Blanca, why not take advantage of the low rates and high quality of dental care at our fully verified partner clinics in town.
Find big discounts on dentures, dental implants, full-arch restorations, teeth whitening, crowns, veneers and more in Benidorm with Dental Departures.
About Benidorm, Spain
While Benidorm may have had its heyday with the influx of package holidays and budget airlines back in the 80s and 90s, this sprawling resort town still has plenty to offer those looking for some fun in the sun at less than two-and-a-half hours from the UK.
Although parts of the main beach area have seen better days, the old town quarter is actually a now-thriving area with a good mix of locals, expats and tourists thanks to its gastro-style restaurants, hip bars, boutique shopping and a handful of interesting historical sites.
The town is set on a hill between Benidorm's two main beaches, Playa del Poniente and Playa de Levante. You'll discover a great viewing point from where the old castle stood, with a few hotel bars and diners up there to enjoy some spectacular sunsets over the Med.
For party-lovers, Benidorm won't disappoint either; it still gets packed in the summer months with the traditional 18–30 crowd, as well as young-at-heart retirees and a sizable LGBTQ scene.
Families will find some impressive theme parks, waterparks, go-kart tracks and other day-trip ideas a short drive from out of the center.
Visiting Benidorm, Spain as a Dental Tourist
Dental Departures has partnered with several of the top clinics in Benidorm and the surrounding area.
Clinics work with experienced general dentists, as well as specialists in:
Implantology

Orthodontics

Endodontics (root canals)

Children's dentistry

Prosthodontology (crowns, veneers, dentures, implants, etc)

Oral and maxillofacial surgery
Teams often work together to help you achieve your goals, be it a new smile with veneers or implants, improved oral health with scaling or a root canal, or quick cosmetic work that you can have done in just a couple of hours (such as laser teeth whitening).
Our team also carries out onsite visits to ensure these Benidorm dental centres use the latest advances in dental technology, such as CAD/CAM (computer-assisted design/computer-assisted manufacture) technology and CT scanning for accurate diagnosis.
Every Spanish dentist listed on Dental Departures is registered with the Consejo Dentista de Colegios de Odontólogos y Estomatólogos (General Council of Colleges of Dentistry and Stomatology of Spain); this is a must for any dentist in the country and helps to ensure accountability when undergoing treatment.
Another important step we take is to verify all professional memberships, such as the Spanish Society of Periodontology and Osseointegration.
How Much Does Dental Care Cost in Benidorm, Spain?
Thanks to our Best Price Guarantee pledge, if you find a lower price for the same treatment at the same dentist in Benidorm, we'll match it.
And in terms of those savings, most of our clients typically pocket between 50% and 70% at a dentist in Spain compared to undergoing the same treatment back in the UK or Germany.
For a quick teeth whitening session or single veneers, this can add up to a few hundred pounds; for more extensive treatments, like implant-supported overdentures or the All-on-4® treatment concept in Spain, those savings can quickly add up to over ten or even twenty grand.
See the price estimation table below for average prices in Benidorm and the surrounding Alicante region of Spain:
| | | | | | |
| --- | --- | --- | --- | --- | --- |
| Procedure | UK Price (£) | Alicante Price (£) | Ireland Price (€) | Alicante Price (€) | Savings |
| Full Arch Restoration on 4 Implants | 16,000 | 6,000 | 19,000 | 7,200 | 68% |
| Crowns | 900 | 300 | 1,100 | 350 | 66% |
| Fillings | 157 | 50 | 188 | 60 | 68% |
| Implants | 3,045 | 1,000 | 3,600 | 1,170 | 67% |
| Veneers | 1,461 | 400 | 1,745 | 460 | 72% |
| Dentures | 1,700 | 533 | 2,000 | 623 | 68% |
| Root Canal | 1,500 | 520 | 1,800 | 600 | 65% |
| Whitening | 387 | 285 | 462 | 333 | 26% |
[Please note that these are estimated averages calculated at the time of writing. See our individual Benidorm listings for the latest prices.]
Finding the Best Dentists in the Benidorm with Dental Departures
Take a look at some of the best dentists in Benidorm below, each one being fully listed on our site with prices, reviews and booking options:
Arias Dental Benidorm — a well-equipped and modern clinic with the latest technologies to provide a wide range of treatments including dental implants, teeth whitening, crowns, veneers, dentures and more.
For more options, browse through our:
Benidorm and Spain Travel Information
Benidorm, located approximately 60 km east of Alicante on the Costa Blanca coastline, takes around 2.5 hours to reach via numerous low-cost airlines that depart from a multitude of London and European airports, including London, Manchester, Birmingham, Bristol and Liverpool.
Made famous during the 1960s, Benidorm was the go-to place for Brits and other European seeking a summery holiday away from home… a bit of a novelty back then!
Since then, the resort town has seen mass development, with an influx of high-rise hotels towering over the main beachfront, Western-style restaurants, pubs, shops, pharmacies…essentially all you need back home Blighty… just in Southern Spain!
And why, may you ask? Here are some of the reasons you should still consider visiting Benidorm:
Superb hotel selection, with rates for comfortable double rooms starting from just EUR 20.

Beach-view apartments are well-priced too; expect to pay EUR 50–100 for this kind of accommodation.

Great for families, with places like Aqualandia Waterpark, Terra Mitica theme park, and Terra Natura Park ideal for the kids.

Superb local cuisine… just as long as you make it out of the tourist zone (and hotels) to the old town or a nearby fishing village along the coast

Some superb beaches along the nearby Costa Blanca coastline, many of which are almost untouched in the off-season but still boast golden sand and warm temperatures.

The notorious nightlife… okay, not for everybody, but if it is your thing, check out this guide to the best bars and clubs in Benidorm.

Great for watersports and other high-adrenaline activities, such as the Cable Ski operates at the Rincon de Loix.

With English-speaking locals and many expat-run businesses, like pubs, hotels, shops, hairdressers and beauty salons, you'll feel right at home!

Low-cost dental care—as we've highlighted previously, patients can save money (even when factoring in the travel expenses) when booking at one of our verified Spanish dentists.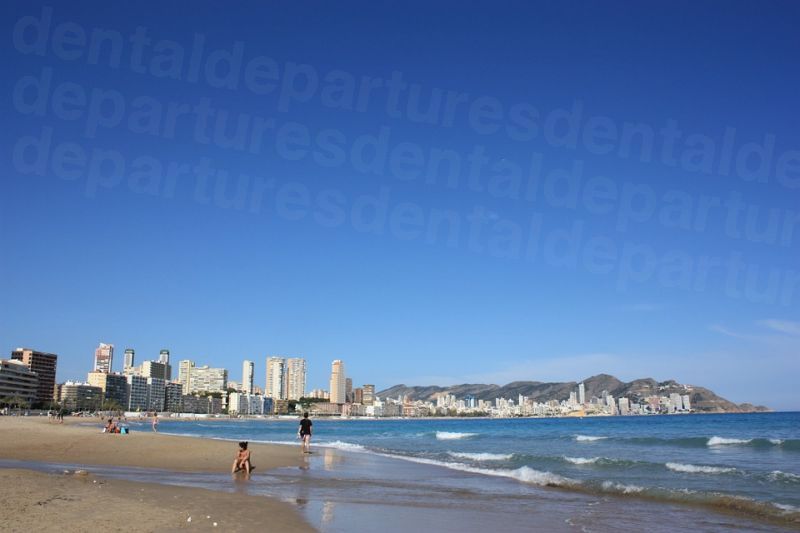 How Can I Get to Benidorm? Can I Fly?
Three regional airports currently serve Benidorm, with the closest only a 30-minute drive away.
They are:
Alicante Airport: (58.3 km) via AP-7 and A-70

Murcia Airport: (149.5 km) via AP-7 and A-7

Valencia Airport: (146.3 km) via AP-7
Flights can be found from most major UK and European cities, with the time in the air at around 2 hours 30 minutes from London.
Please note: Our partner clinics in Benidorm may offer free shuttle services from the airport in Alicante to your chosen clinic or hotel.
How Much Do Flights to Benidorm Cost?
Return flights from London to Alicante can be found for as little as EUR 30.
Don't expect to pay more than EUR 100, unless flying with a national carrier (rather than Ryanair or EasyJet).
Where to Stay in Benidorm?
The top areas to stay in Benidorm are:
Playa de Levante (Sunrise Beach): A busy area in the high season, packed with restaurants, bars, cafes, shops and hotels along the main promenade.
Benidorm Old City: for lower prices but still plenty of amenities, you might want to find a cheap stay in this historic area, which is sandwiched between the two above-mentioned beach areas.
Check out this selection of top new hotels in Benidorm, with prices from around EUR 50-100 per night.
Note: Our partner clinics in Benidorm may offer free or discounted accommodation when booking certain treatments. Ask our Customer Care Team for more information in terms of where to stay in the Benidorm area or elsewhere in Spain.
What Else Is There to Do in Benidorm?
Aside from the usual lazing on the beach, swimming and myriad nightlife options, some of Benidorm's top attractions are listed below:
Aqualandia Water Park

El Casco Antiguo de Benidorm (historic neighbourhood)

Mundomar (sea life theme park)

Terra Mitica (theme park)
How Do I Book at a Dentist in Benidorm, Spain?
The Dental Departures Customer Care Team are on standby 24 hours a day to answer your questions, provide free quotes and take bookings.
Start planning your dental holiday to Benidorm in Spain today by getting in touch via the toll-free number, email or other options displayed on the contact widget.
Sources:
Spanish Society of Periodontology and Osseointegration, Website accessed: 26 July 2021. https://www.efp.org/about-the-efp/affiliated-societies/spanish-society-of-periodontology-and-osseointegration-19/
CEREC - CAD/CAM solutions for dental practices. Website accessed: 26 July 2021. https://www.dentsplysirona.com/en/explore/cerec.html
Benidorm Beaches. Benidormist. Website accessed: 26 July 2021. http://www.benidormist.com/benidorm-beaches.html
The Benidorm Guide.com. Website accessed: 26 July 2021. https://www.thebenidormguide.com/
It's All about Benidorm: 11 Reasons Why You Need to Visit. Benidormist. Website accessed: 26 July 2021. https://www.holidayhypermarket.co.uk/hype/benidorm-11-reasons-need-visit/
Benidorm Nightlife • A Complete Guide. Nightflow. Website accessed: 26 July 2021. https://www.nightflow.com/benidorm-nightlife/
Dahl, M; Bengtsson, J.The Best Newly Opened Hotels in Benidorm. New Hotels Guide. June 2021. https://new-hotels-guide.com/benidorm/
The History of Benidorm Click. Benidorm Seriously. Website accessed: 26 July 2021. https://www.benidormseriously.com/the-history-of-benidorm
Delahaye, J. Cheap hotels in Benidorm that are ideal for a family holiday. The Mirror. 21 June 2019. https://www.mirror.co.uk/travel/europe/cheap-hotels-benidorm-ideal-family-16549295