Find a dentist in Kata Beach and book with Dental Departures for an affordable, quality-checked dentist in you can rely on.
Kata Beach in Phuket is located just around a headland, south of Karon Beach. A more interesting beach than Karon and divided into two - Hat Kata Yai and Hat Kata Noi, it tends to get a younger crowd here than Karon, which is more resort-orientated.
In common with Phuket's other beaches, it is a spectacularly characteristic white sandy beach, lined with palm trees and lapped by crystal-clear, azure colored waters. An abundance of shops, a lively – but not wild – nightlife and lots of accommodation options close to the beach make it an all-round favorite.
While Karon Beach is long and is quite a hike to get from one end to the other, Kata is much more compact and retains a village-like atmosphere. Kata Beach is safe for swimming for both children and non-swimmers with no drop-offs, and there is a coral reef to the right of the beach that stretches out to Koh Pu (Crab Island).
Kata Beach may not see as many visitors as nearby Patong, but it is certainly on the tourist map, and has the all the tourist facilities and amenities you would expect from a modern resort, as well as high-quality medical and dental services.
A great place for low-cost, high-quality dental care you will be able to find a general or specialist dentist for your needs here. Book an appointment with Dental Departures to ensure a quality-checked dentist, so all you will have to worry about is topping up your tan.
Where is Kata Beach?
Located just off the southwestern coast of Thailand, Phuket's beaches are legendary for their pristine sands and turquoise waters. Kata Beach is one of the island's famed beaches and is situated in the southwest of the island, just south of Karon Beach.
Why Kata Beach?
International visitors have been coming here for years as holiday-makers and the infrastructure has grown up around this to include not just the tourist trappings, but other essential services. Medical and dental services in Phuket are second-to-none here, and there is a well-established medical and dental tourism industry, providing affordable, high-quality treatments in state-of-the-art clinics that put some clinics at home to shame.
This idyllic tropical paradise is just the thing for re-charging your batteries – and is perfect for pre and post dental treatment relaxation. You can have a relaxing massage on the beach near Kata Center, or find your own bit of paradise away from it all on Kata Noi. Of course, there are a myriad of other activities to take part in if your idea of relaxation is to get involved in doing something.
Our quality-checked dentists are located in conveniently-placed clinics, so you are never too far away from the action, and the lower cost of your dental care here means your savings will go so much further and allow you to indulge in whatever takes your fancy.
Some examples of the savings you can make are shows below:
• Average cost of a single dental crown:
in Australia $2,750 AUD; at a dentist in Kata Beach $255 AUD
• Average cost for a root canal including post core build-up and crown:
in Australia $2,375 AUD; at a dentist in Kata Beach $217 AUD
• Average cost of a dental implant and permanent crown:
in Australia $6,000 AUD; at a dentist in Kata Beach $1,856 AUD
(Image by: MST7022)
Where to stay in Kata Beach
There are wide-ranging accommodation possibilities in Kata Beach. From hotel resorts directly on the beach, to hillside hotels with views you are sure to find your ideal base at a price you can afford.
Is it safe?
Thailand is generally safe for tourists, and family-oriented resorts such as Kata Beach are no exception. Of course, just because you are on holiday does not mean you should not take care of your possessions, as it is opportunistic crime, such as stealing bags, that is most likely to happen to tourists here.
Much more hazardous to your safety is likely to be taking part in activities. Tourists are injured in motorcycle accidents, more so because they are not wearing any protective gear at all; and it pays to be aware of jet-skiers and to heed the flag warnings when you are swimming in the sea.
Is the quality of care the same as back home?
All dentists in Thailand are members of the Dental Association of Thailand and are registered and regulated with the Thai Dental Council.
Our mantra is that providing you have your dental treatment in a reputable clinic then yes, the quality of your care will be just as good as it is at home. This is why booking your dentist in Kata Beach with Dental Departures will give you peace of mind that you will be seen by a quality-checked dentist, whose qualifications and experience have been verified by us.
Our dentists are very experienced in treating international patients, and the clinics here and their facilities are among some of the most modern in the world.
Check out our website to see our dentists, their qualifications, photos and virtual clinic tours, as well as our real patient reviews to give yourself a thorough overview of our Kata Beach dentists.
What happens if something goes wrong? Do Kata Beach dentists have warranties or guarantees?
All of our dental clinics in Kata Beach provide warranties or guarantees - both for the procedures carried out and for any lab work, for example with crowns, veneers and dentures.
Our clinics work very hard to deliver a professional, high-quality service with excellent treatment outcomes. However, no matter where in the world you have your dental treatment; no-one can guarantee their work 100%. In the rare event that you do experience any problems with your treatment, Dental Departures is your advocate, and we will see to it that we get it put right.
(Image by: MST0722)
Do dentists speak English?
Kata Beach is a major tourist destination and you will find the majority of staff in hotels, shops and restaurants speak English very well. The same is true of our dental clinics in Phuket, whose staff have been used to treating international patients from English-speaking countries for many years.
What payment methods are accepted by Kata Beach dentists?
• Cash
• Visa
• Mastercard
• Amex
• Diners Club
Credit and debit card are generally the preferred methods of payment, but you can check each clinic's preferences on the summary page on the clinic description pages on our website.
When is the best time to visit a dentist in Kata Beach?
Phuket is a year-round destination, even during monsoon season in September-October, when it is exceptionally rare to have consecutive days of heavy rain. High season is from December to March – when it is cooler. Low season is April-May and September-October, but during these times you are likely to find some bargains on flight and accommodation charges.
Is Kata Beach handicapped accessible?
Some parts of Kata Beach, particularly the southernmost end, are difficult for wheelchair users, as sidewalks and pavements are of varying heights – if there are any there at all. There are wheelchair-friendly hotels, and the area in the north of Kata Beach has level streets and wider pavements, making it much more conducive for getting about in a wheelchair.
What is the downside? What should I know about visiting Kata Beach?
In common with most of Phuket's beaches, swimmers and water sports enthusiasts at Kata Beach should be mindful of strong riptides, especially prevalent during monsoon – and of jet-skiers, whatever the season.
Kata Beach is very popular with beach vendors, who can provide a welcome distraction from doing nothing and help you to hone your bartering skills. A polite 'no thank you' is all that is required to see them on their way.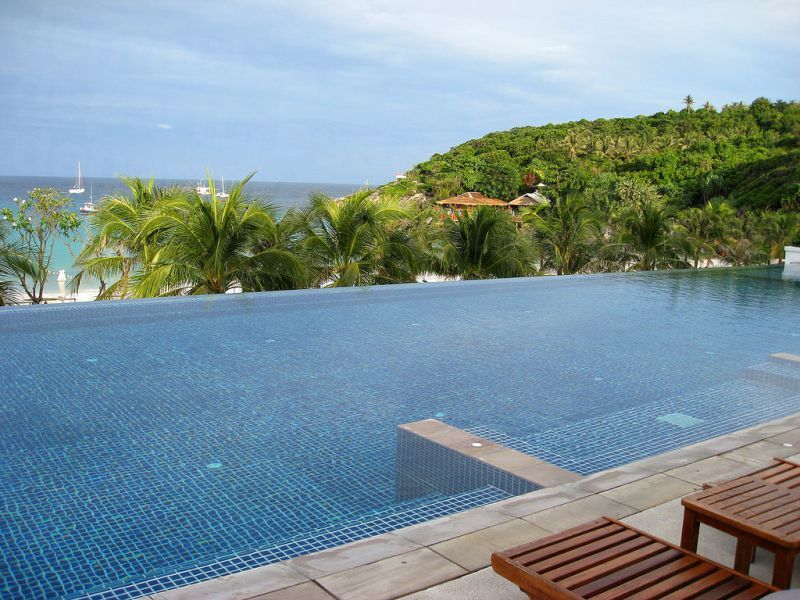 (Image by: Jiashiang)
What else is there in Kata Beach?
There is a good snorkeling and diving location on the north side of the bay, and you can get equipment and information from several dive centers throughout the area. There are plenty of water-sports available, including parasailing, and the ubiquitous jet-skis.
Although the surf around Phuket is not reliable, Kata Noi is the place to go – or to be really certain of riding the waves, the Surf House Flow Rider in the center of the beach is your best bet. This surf simulator is popular, whatever time of year.
Kayaking and long-tail boats can be hired, and it's worth doing just that to explore the reefs at the southern end of Kata Beach and Pu Island, or the unspoilt coastline at Nui Beach.
You can book a spa treatment or Thai massage at various places around the beach and there are Thai cookery classes at Mom Tri's boathouse in south Kata.
The local market takes place on Thursday, just off the main Kata Road, and is a fascinating place to watch the locals buying spices and fish.
About 10 minutes walk at the south end, along the road to Chalong Bay, you can try and find the sauna in the jungle. There's a café and plunge pool here, and an old copper water boiler – and the steam smells of menthol because of the tree bark they sometimes add to it.
Traveling to Kata Beach
Domestic and international flights fly direct to Phuket, and from here it is around 30 miles/50kms to Kata Beach by road. There are plenty of taxis and buses from the airport.
How to book
Phone our freephone number, or book your appointment for affordable dental care online with Dental Departures. Need any further help? Chat to one of our knowledgeable customer care team who are available practically round-the-clock by phone, email or online chat.