Last fact-checked: 17 February 2021
Discover a world of low-cost dental care at one of our dentists in Istanbul . Once the capital of Turkey (when it was known as Constantinople), the city is becoming a renowned centre for dental tourism where high-quality, affordable prices and the chance of a holiday in this enthralling city are too good a combination to miss.
Istanbul—In Brief
Straddling the continents of Europe and Asia, Istanbul was founded around 1000 BC by the Byzantines. Since then, across the centuries great empires have conquered the city, with the Romans, Greeks, Persians and Ottomans all coveting its strategic location.
Today, Istanbul is one of the world's greatest metropolises—cosmopolitan, eclectic and timeless. Old wooden houses, restaurants, shops and bars line winding, narrow, cobbled streets where the city's appetising aromas of coffee, shisha, kebabs and spices hang in the air These are the trademarks of the old part of the city, on the Western side of the Bosphorus Straits. Meanwhile, on the Eastern side, fast-growing districts like Kadikoy provide waterside promenades, yacht clubs and trendy shopping, as well as fine-dining and a vibrant nightlife.
From the waterside restaurants, cafes and boutiques of Karakoy to the colourful buildings in Balat housing galleries and vintage shops, the city has plenty of hidden treasures to discover. As well as its centuries-old architectural wonders and the stunning views across the Bosphorus and Sea of Marmaris it is Istanbul's interesting neighbourhoods—all with their own unique identities—that make a trip here such a worthwhile experience.
For global dental tourists and traditional tourist alike, the city offers a welcoming experience, and more than enough to keep anybody occupied in between dental appointments.
Why Visit a Dentist in Istanbul?
Despite promises from successive UK governments that the National Health Service is safe, we still see plenty of headlines that suggest too many people are struggling to obtain NHS dental care . Private health care is an expensive luxury for many, which unfortunately means that preventive care—one of the cornerstones of good dental health—is sadly neglected, which only leads to bigger, more expensive problems down the line.
You have alternatives, which many patients are finding they can take advantage of by booking in for their annual dental check-up while on their holidays. With savings averaging around 70% in Istanbul, it certainly makes a lot of sense whether you want to shave a little off your general dental bills, or you need to get a high-value procedure you find unaffordable at home.
Istanbul has many good-quality dental clinics frequented by international patients and compare well with other world-class facilities throughout Europe. Dentists are well-trained, highly-qualified and skilled; clinics are contemporary and the technologies used are state-of-the-art to include CAD/CAM (computer-aided design/computer-aided manufacture), digital x-rays and 3D/CD scanning.
Istanbul is conveniently accessible from cities across the UK and Ireland with a number of carriers offering reasonably-priced nonstop flights.
How Does the Cost of Dental Care in Istanbul Compare with the UK and Ireland?
The cost of dental care in Istanbul is considerably less than in the UK and Ireland:
UK Price (£)

Turkey Price

(£)

Ireland Price (€)

Turkey Price

(€)

All-on-4® treatment concept

16,000

4,300

17,000

5,100

Crowns

900

170

1,100

200

Fillings

133

50

158

60

Implants

3,045

700

3,600

800

Veneers

1,461

250

1,745

297

Dentures

1,700

758

2,000

905

Root Canal

1,700

312

2,000

373

Teeth

Whitening

387

250

462

300
Where to Stay in Istanbul?
You will find lots of accommodation options across Istanbul , nearby to dental clinics and attractions. If you want to be on the doorstep of some of some of Istanbul's famous landmarks, including the Blue Mosque, Hagia Sophia and Topkapi Palace then Sultanahmet is the place to stay. Otherwise, you can discover many interesting neighbourhoods where you'll be right at home.
Is Istanbul Safe?
In common with other major cities throughout the world, terrorism is sometimes a threat, although tourists are not generally a target in themselves. Like other cities, don't go off the beaten track at night and be aware that anybody can be a victim of petty crime, such as pickpocketing, particularly if they don't keep their wits about them. Also, there are scams aimed at tourists that involve getting you to part with your money, so use your common sense and don't let your guard down.
Is the Quality of Dental Care in Turkey Comparable to Back Home?
You will find the standards of dental care in Istanbul to be generally good, particularly if you search and book through Dental Departures. Clinics treating international patients go the extra mile to ensure their services are of the highest quality. However, it is always wise to make sure you book an appointment with dentists that have verifiable credentials. This is where Dental Departures helps: we do our own background checks on all the facilities we partner with. We list dentist qualifications and professional memberships, as well as publish real patient reviews.
Take a look at some of the top-rated clinics in Istanbul:
What Happens if Something Goes Wrong? Is My Dental Care Guaranteed?
The clinics we have listed on our website provide warranties on the dental work they carry out, as well as any work done in the laboratory, for instance on dentures, crowns and veneers.
However, no medical or dental procedure can ever be guaranteed completely. We are all unique, and our bodies react differently. If you are having major dental work or an expensive procedure then it might be worthwhile considering medical complications insurance . This will cover your costs for accommodation and travel costs should you need to return to Istanbul for any remedial work and is a small price to pay for peace of mind.
Do Istanbul Dentists Speak English?
English is spoken widely throughout the city and at all of our listed dental clinics.
What Payment Methods Are Accepted?
The individual clinic listings on our site show details of the specific payment methods accepted at each clinic. You'll see that Mastercard and Visa debit and credit cards are mostly accepted (although there may be a small surcharge for credit card transactions). Other payment methods include traveller cheques, bank transfers and cash.
When is the Best Time to Visit a Dentist in Istanbul?
June to August is summertime in Istanbul when the weather is hot, hot, hot and the city is busy. It is less crowded in spring (April and May) and Autumn (September to mid-November) when the weather is also warm and pleasant with clear skies. Winter can get a little cold and there may be a smattering of snow. But you can wrap up and still see the sights—and there are lots of cosy bars and restaurants to try out. Winter is the best time for bargains on lodging; clinics catering to international travellers often offer discounts during this period.
What Else is There in Istanbul?
Istanbul is blessed with a rich array of architecture from the great empires of its illustrious past. Many of these attractions can be found in the Sultanahmet district, including the big four— the Blue Mosque, Hagia Sophia, Topkapi Palace and the Grand Bazaar. However, there are fantastic sights across the city so there's no need to stay in one place. The Yedikule Fortress is a train ride away but worth the effort. Built in the 5th century, it made up the southern section of Constantinople's defensive walls. A huge arch, known as Porta Aurea (Golden Gate), had doors plated in gold and the battlements there offer terrific views across the Sea of Marmara.
Art lovers will appreciate the Istanbul Modern and the Pera Museum. The former houses an extensive collection of Turkish modern art and its location, on the Bosphorus, is reason enough to spend some time here. The Pera Museum has one of the finest collections of Ottoman-era paintings, as well as other period objects.
Notwithstanding the Grand Bazaar, shoppers will find plenty to spend their money on, including Independence Street (Istiklal Caddesi), a pedestrianized, modern shopping street where you'll also find some ornate buildings and Orhan Pamuk's Museum of Innocence. Pamuk is a Literary Nobel Prize winner and Turkey's most famous author, and the museum an offbeat experience based around his novel, The Museum of Innocence.
Across the Bosphorus on the Asian side of the city, Bagdat Avenue is wide, tree-lined and offers everything from high-end boutiques to high-street staples, including Mango, H&M and Zara, while Kadikoy should be on your list for silver jewellery, accessories, bookshops and antiques.
But the east is not just for shopping. Uskudar is one of the oldest neighbourhoods in the city: with over 180 mosques as well as churches, synagogues, dervish houses and historical sites—including the Maiden's Tower— it isn't short on culture.
While Istanbul has more than enough to see and do if you want to see any of Turkey's other famous sites there are plenty of tour operators in town where you can arrange an organised excursion. Trips usually take a full day, or even two if you prefer to add in an overnight stay. One of the most popular is Ephesus—the UNESCO-listed Roman city dating back to around 4BC that contains what's left of the Temple of Artemis, one of the original Seven Wonders of the World.
Also high on many people's must-sees are Pamukkale and Hierapolis, near enough to each other to see in one trip. The latter is a Roman ancient spa with one of its pools said to be a gift from Mark Anthony to Cleopatra. The pools are open to all, so bring your swimwear. Meanwhile, Pammukale is one of Turkey's most surreal natural wonders, with its travertine terraces formed by the flow of thermal waters, creating an astounding sight, particularly as the sun sets. Part of the tour involves a shoeless half a mile walk over the travertine, so pack plenty of sunscreen and a hat.
Another one of Turkey's astounding landscapes is the rock formations at Cappadocia, which can best be enjoyed from above in the relative comfort of a hot air balloon ride.
Turkey is a phenomenally interesting country to visit with Istanbul just one of several highlights. If you haven't got time to go further afield no trip to this incredible city is complete without a cruise on the Bosphorus—and no visit to Turkey is complete without a trip to a Turkish Hammam (Turkish Baths) where getting washed, scrubbed with salt and massaged is an invigorating experience. You'll find Hammams all over the city, and plenty of opportunities to sample Turkey's other delights—all a welcome treat after any dental work.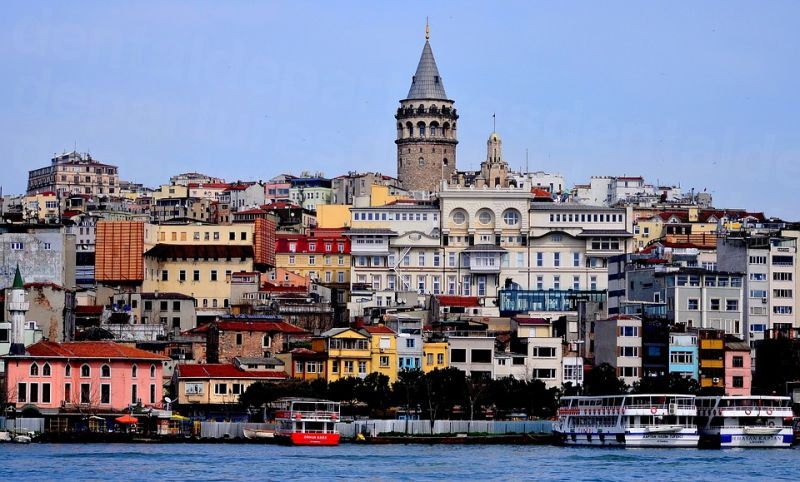 Traveling to Istanbul
International carriers from around the world have regular flights landing daily in Istanbul, including nonstops on discount airlines.
Visa Information
Foreign nationals need a visa to enter Turkey. In the past British nationals could get their visa at the airport, but in order to shorten the queues an e-visa system has been introduced and you can now get it online for around $20 (£15). You must have six months' left on your passport.
Getting around Istanbul
Many districts are best explored on foot, but for getting around between neighbourhoods, you can use a variety of transport services, including the ferry, metro, tram, funicular and buses. If you plan to travel around a lot, purchase an Istanbulkar to save around 50% on the standard ticket prices.
The yellow dolmus (shared taxis) run on set routes around the city (rather like buses); or you can hail conventional taxis.
Distance from Istanbul to Other Major Tourist Locations
Izmir, 292 miles (471 km)
Ephesus, 333 miles (536 km)
Pamukkale, 411 miles (663 km)
Cappadocia, 469 miles (756 km)
How Do I Arrange a Dental Tourism Trip to Istanbul?
Our website has dozens of quality-checked dentists in Istanbul. Compare prices, facilities and check out the maps to see where they're located to help you choose.
Our Customer Care Team can help you with any questions, arrange a free quote or book an appointment. Get your dental health back on track while enjoying all the sites of this marvellous city!