Last fact-checked: 17 February 2021
Discover low-cost dental care at one of Dental Departures' quality-checked dentists in India. This vast country offers visitors real value-for-money, where you can obtain both world-class health and dental care for a fraction of the prices at home.
While India still retains an allure for backpackers, there is a growing luxury market here where top-quality hotels, awe-inspiring attractions and its sheer diversity makes for a memorable trip.
This Dental Departures destination guide provides a wealth of information about visiting India for low-cost dental care, including recommended clinics, types of treatments available, price comparisons and some handy tips and advice for when you're there.
India—In Brief
While India may conjure up images of traffic-packed, fast-paced cities, this intoxicating country offers so much more than just expansive urban jungles. From the snow-capped peaks of the Himalayas in the north to tropical, white, sandy beaches in the south with steamy jungles, fragrant forests, paddy fields, deserts and tea plantations in between, there is all manner of landscapes to escape the tumult of the cities.
The country's landscapes are as varied as its cultural traditions, sacred sites and festivals that celebrate India's varied religions. Hinduism and Islam are practised the most, but Buddhism, Sikhism, Christianity and others are also followed, with a profusion of devotional celebrations taking part throughout the year all over the country.
A trip to India can be anything you want it to be. Top activities include mountain treks, forest walks, wildlife safaris, white water rafting, ziplining, paragliding and scuba diving. However, for the ultimate in tranquillity, nothing beats cruising the Kerala backwaters in a traditional houseboat.
India is a colourful, inspiring, chaotic and, at times, exasperating country. There are extremes of poverty which can be challenging to visitors. But, overwhelmingly, the sense of fun and the friendliness of the locals is something you'll cherish.
With the crisis facing NHS dentistry in the UK, India presents a real alternative with first-rate dental facilities catering to international patients. These offer services just as good as you would expect from a clinic at home—but for much lower prices than private clinics. Located in major tourist destinations, you can find a clinic with Dental Departures so you can easily incorporate your dental care with your trip, leaving you plenty of time to explore this amazing country.
How Much Can I Save on Dental Treatments in India Compared to the UK or Eire?
Average savings on Dental treatments in India are 60%, but as Dental Departures guarantees the best prices you can book with us knowing you'll always get the best prices available.
| | | | | | |
| --- | --- | --- | --- | --- | --- |
| | UK Price (£) | India Price (£) | Eire Price (€) | India Price (€) | Savings |
| All-on-4® treatment concept | 16,000 | 6,200 | 19,000 | 7,000 | 61% |
| Crowns | 1,200 | 200 | 1,500 | 240 | 83% |
| Fillings | 157 | 15 | 190 | 19 | 90% |
| Implants | 3,000 | 600 | 3,600 | 700 | 80% |
| Veneers | 1,461 | 550 | 1,745 | 600 | 50% |
| Dentures | 1,400 | 700 | 1,700 | 820 | 50% |
| Root Canal | 1,000 | 400 | 1,250 | 450 | 60% |
| Whitening | 400 | 270 | 450 | 320 | 32% |
Please check Dental Departures' clinic search listings for up-to-date prices.
Where Should I Stay in India?
With four-star hotels costing as little as £40 (€46) a night, you can afford to splash out on something luxurious. Major chains, as well as boutique hotels, offer all in-room mod cons, including wifi, satellite TV, air-con and room service, as well as an array of other facilities, such as swimming pools, spa & wellness centres, gardens, restaurants and bars.
In terms of where to stay by region, scroll down to our " What Else is There in India?" section or check out this handy destination overview.
Will I Be Safe in India?
India is generally a safe destination for tourists, although it is always wise when you are in any unfamiliar surroundings to remain vigilant against petty theft, such as pick-pocketing. Make sure you agree on fares in advance and avoid tourist scams by not allowing your taxi driver to take you to a place of their choosing, rather than where you actually want to go. Avoid unstable areas, such as the India-Pakistan border, Jammu and Kashmir—and avoid isolated areas, particularly if you are alone.
Be careful swimming around the Indian coast as some areas have dangerous undercurrents, and exercise extra caution during monsoon season.
Is the Quality of Dental Care in Croatia Comparable to Back Home?
Private hospitals and dental clinics in India are equipped with the latest technologies and are staffed by highly-skilled and qualified medical personnel. Many of them have undertaken some of their training overseas in countries such as the United Kingdom and the United States. A global healthcare destination, medical tourism is growing year-on-year with hot spots that include New Delhi, Bangalore, Hyderabad and Kolkata.
That said, if you are travelling to India for medical or dental care, it's always best to book in with a facility that has a good reputation, which means doing a little research to sort the wheat from the chaff.
This is why booking through Dental Departures is one of your best options. We have years of experience in the dental tourism sector, and have established links with the most reputable dental providers in the world so you can book your dental care with complete confidence.
We carry out our own pre-screening for every provider listed on our site. Our checks include onsite visits and searching legal/criminal records. We verify dentist qualifications and their professional memberships, as well as publish real patient reviews. You can see details of these on each individual listing on our site, alongside prices, clinic photos, location maps and more, which enable you to make your own well-informed choice on the right dental clinic for your needs.
To get started, check out some of our top-rated clinics in India below:
What Happens if Something Goes Wrong? Is my Dental Care Guaranteed?
While no medical or dental procedure can ever be completely guaranteed, things are less likely to go awry if your treatment is carried out at a reputable clinic. The utilisation of the newest technologies provides accurate diagnoses and innovations, such as computer-aided design/computer-aided manufacture (CAD/CAM), and this often means you can get same-day prosthodontics (for example, crowns or veneers) while you wait.
All of the clinics listed with Dental Departures offer warranties or guarantees on the treatment they carry out, as well as on prosthodontics, whether they were manufactured on-site or at an external laboratory. In the unlikely event where a problem does arise, you can go back and get it sorted—free of charge.
Very few patients of ours have ever experienced any issues at all—and these have tended to be minor and can be sorted out before the patient returns home.
In the rare event that you have had complex and/or expensive treatment and you find a problem once you have returned home, it may be worth taking out medical complications insurance. This will cover your travel and accommodation costs if you need to go back to your dentist in India, so you won't be left out-of-pocket.
What Language Do the Dentists in India Speak?
English is taught as a second language in India, but while a majority of the population can read and write English, speaking it is another issue! Around 10% of the population can understand and speak English in everyday situations.
However, you will find that English is spoken at all of our partner dental clinics in India, so you won't have any problems communicating or being understood in this regard.
What Payment Methods Are Accepted in India's Dental Clinics?
The currency in India is the Indian Rupee (INR). Our dental clinics accept cash in the local currency, as well as other payment types, such as bank transfers, and Visa/Mastercard debit and credit cards. Check out each clinic's listing on our website for exact details of the currency accepted at specific clinics.
When Is the Best Time to Visit India?
India's weather can be divided into summer, winter and monsoon season. Between October and February is the winter season, but it is the coolest and driest with temperatures warm enough in the south for the beach, and comfortable for sight-seeing. The summer season from March to May can be very hot, but the higher altitudes in the north around the Himalayas are cooler, making it an ideal time to visit Shimla and Darjeeling.
Our dental clinics are open throughout the year, so you can easily book your dental appointment to coincide with a holiday to your preferred destination.
What Else is There in India?
An enormous country, unless you are planning on spending months travelling, it's likely that you will only be able to experience a tiny part of it during a two or three-week holiday. Still, there is so much to see and do, pretty much all over. Here are some ideas as to where to go for your dental care in India, and nearby attractions.
North India
India's capital city is located in the north of the country. It is an urban district of Delhi, one of the oldest cities in the world. New Delhi was designed by British architects Sir Edwin Lutyens and Sir Herbert Baker, when the British Empire moved its capital city from Calcutta. The contrast between New and Old Delhi is stark. New Delhi is ordered with wide streets, whereas in Old Delhi, winding narrow lanes are a haphazard mass of pedestrians, animals, carts and rickshaws. Crumbling and chaotic it may be, but it also has a certain charm.
Attractions include the iconic 17th-century imperial residence, the Red Fort; the 73 metre-tall Qutb Minar in the UNESCO World Heritage-listed Qutb complex; the 16th-century Humayun's Tomb, the final resting place of the Mughal Emperor and the 1920s war memorial, India Gate.
From Delhi, it's possible to take a day trip to other attractions around the region, including the Taj Mahal in Agra, the Agra Fort in Uttar Pradesh, the Holy City and Golden Temple of Amritsar and the "Pink City" of Jaipur. A little further afield in the foothills of the Himalayas (and requiring at least one overnight stay) are Shimla and Darjeeling.
Central India
● Pune
A sprawling city, vibrant metropolis in the state of Maharashtra, Pune is famed for the Aga Khan Palace, constructed in 1892. It is now a memorial to Mahatma Gandhi, whose ashes are kept in its gardens. Also in Pune is the Shaniwar Wada is an 18th-century fort, which was the seat of the Peshwas of the Maratha Empire until it was lost to the British East India Company and some 21 miles (35 kilometres) south of the city is the Sinhagad hill fortress, said to have been constructed 2000 years ago.
South India
In India's southern Karnataka state, Bangalore is one of India's most developed cities. It is now known as the tech capital of the country, resplendent with Victorian architecture, parks and a hipster café and dining scene where you can happily mix with locals in any number of quirky eateries and craft-beer establishments. The opulent Bangalore Palace is one of the city's attractions, as is Bannerghatta National Park, which became a biological reserve in 2002.
Day trips from Bangalore include the Nandi Hills and its temples; the waterfalls at Shivanasamudra; Bheemeshwari's nature trails, camping, fishing and boating facilities and the Hogenakkal Falls, referred to as India's Niagara.
● Goa
Long, sandy coastlines are a feature of this popular destination that has a slightly different vibe to the rest of India. Portuguese settlers were already established when the British arrived, and it has a large Christian population. The fiery vindaloo—a staple of British curry houses—originates from here, and the locals still follow the Portuguese practice of taking afternoon siestas, so many businesses are shut between 1 and 4 pm.
There is still a friendly hippie vibe in Goa, with the northern beaches the places to head for if you want to party, and the southern for a more relaxing, laidback time. Spiritual activities, including yoga, meditation, reiki and other spiritual pursuits are some of its biggest draws, along with the Bhagwan Mahavir Wildlife Sanctuary and the Dudhsagar Falls, the second-highest in India.
● Kochi
Also known as Cochin, Kochi is a port city in southwest India's Kerala state. Arab, Chinese and European merchants have been visiting the port since the 14th century, and the city reflects their influences in its architecture and in the cantilevered Chinese fishing nets which the city's fishermen have used for centuries.
Kochi is small enough to explore on foot and has an artsy feeling with galleries, bookstores and tea shops lining its quaint streets. You can catch a performance of the ancient Kathakali dance-drama, a Kerala tradition, and indulge in some of the finest cuisines in the whole of India.
Getting to India
Regular flights from the UK and Eire fly into 17 international airports across India, so there should be no problem getting a flight to a major city in the area you want to visit.
Getting Around
If you're travelling long distances in India , domestic flights are a sensible option. They are relatively inexpensive—and of course, save you time compared to going overland.
Another way of getting about is by train. The hustle and bustle of the Indian railway system has to be seen to be believed, but booking a sleeper ticket on a long-distance air-conditioned train is a safe, cheap and comfortable way to get around. On most long-distance trains you can get food, but there are plenty of vendors at each station where you can treat yourself to all manner of spicy snacks, such as samosa, idli or uttapam (depending on which region you are travelling) to keep you going until the next station stop!
In towns, you can hire a taxi or rickshaw—but don't forget to bargain hard for the best rates.
Visa Requirements
Most tourists will need a visa to enter India. You can obtain them electronically, at least four days before you travel, for around £20, allowing you to stay for up to 60 days.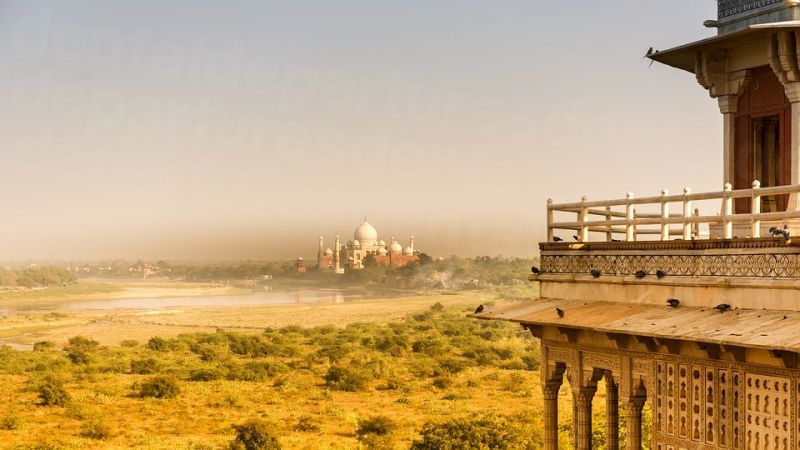 Distance from Country Capital (New Delhi) to Other Tourist Destinations:
Taj Mahal, 137 miles (221 km)
Agra Fort, 135 miles (218 km)
Jaipur, 160 miles (259 km)
Shimla, 222 miles (358 km)
Darjeeling, 929 miles (1,496 km)
Pune, 884 miles (1,423 km)
Goa, 1,161 miles (1,870 km)
Kochi, 1,673 miles (2,693 km)
How Do I Book My Dental Appointment in India?
Choose your clinic with Dental Departures and book your appointment online with us any time of the day or night, at no charge to you. Ask our Customer Care Team for a free quote, or to find out more about arranging treatment at a dental clinic in India.
We can also help with finance, hotel bookings and insurance to help you get the best dental care at a fantastic price.
Sources
21 Famous Festivals of to Bring Life into a State of Exuberance. Travel Triangle. Website accessed: 17 February 2021. https://traveltriangle.com/blog/famous-festivals-of-india/
NHS Dentistry Facing Recruitment Crisis. British Dental Association. 4 February 2018. https://bda.org/news-centre/press-releases/nhs-dentistry-facing-recruitment-crisis
Sandilands, Tracey. CAD/CAM Dentistry: What is it? Colgate. Website accessed: 17 February 2021. https://www.colgate.com/en-us/oral-health/basics/dental-visits/cad-cam-dentistry--what-is-it-
Delhi – A Heritage City. UNESCO. Website accessed: 17 February 2021. https://whc.unesco.org/en/tentativelists/5743/
17 Best Day Trips from Delhi. The Crazy Tourist. Website accessed: 17 February 2021. https://www.thecrazytourist.com/15-best-day-trips-from-delhi/
Top Things to Do in Pune. Lonely Planet. Website accessed: 17 February 2021. https://www.lonelyplanet.com/india/pune/top-things-to-do/a/poi/356404" target="_blank
Binayak, Poonam. The Best Day Trips from Bangalore. The Culture Trip. 4 November 2017. https://theculturetrip.com/asia/india/articles/the-best-days-trips-from-bangalore/" target="_blank
Nambiar, Sridevi. The 14 Best Things to do in Goa. Time Out. 12 September 2018. https://www.timeout.com/goa/things-to-do/best-things-to-do-in-goa
Cook, Sharell. 14 Top Things to Do in Kochi. Trip Savvy. 13 September 2019. https://www.tripsavvy.com/top-attractions-places-to-visit-kochi-1539476
Ultimate Guide to Transport and Getting Around in India. World Nomads. 29 May 2017. https://www.worldnomads.com/explore/southern-asia/india/ultimate-guide-to-transport-and-getting-around-india
India: Where to Go and Stay. The Telegraph. 16 June 2017 https://www.telegraph.co.uk/travel/destinations/asia/india/articles/india-where-to-goandstay/