Last fact-checked: 5 April 2020
Rejuvenate your smile with dental veneers in Singapore . Our top-quality dentists in the Lion City will help you achieve your desires—and for a price that's very favourable compared to home.
How Will Dental Veneers Help My Smile?
Dental veneers are a cosmetic treatment that improves the appearance of the teeth. Essentially, they are thin slivers of hard-wearing material that fit over the front of the teeth. Each one is custom made to fit so they look natural and exactly like your own teeth—only better!
Veneers are an ideal solution for a number of irregularities with your teeth, including gaps between teeth; chipped, cracked and damaged teeth; misshapen teeth and crooked teeth.
How Much Do Dental Veneers Cost In Singapore?
From the table below you can see how much you'll save on the cost of veneers in Singapore. Book through Dental Departures and we'll guarantee you'll get the best price.
| | | | | | |
| --- | --- | --- | --- | --- | --- |
| | AUS $ | NZ $ | UK £ | EUR € | US $ |
| Dental Veneers Prices at home | 2,400 | 2,500 | 1,300 | 1,500 | 1,700 |
| Dental Veneers Prices in Singapore | 980 | 1,024 | 541 | 605 | 688 |
Note: the prices above are approximate. Please check our current prices for your selected clinic for estimated costs of treatment.
What Are the Advantages of Dental Veneers?
● The treatment is quick when compared to orthodontic treatments for straightening teeth
● They look natural
● They won't discolour
● They can be colour-matched to your other teeth
● Minimal tooth structure is changed to accommodate them
What Are the Disadvantages of Veneers?
● You must be in good dental health, eg. no active gum disease or tooth decay
● Teeth grinders or jaw clenchers may cause damage to the veneers
● In rare circumstances, your teeth may become more sensitive to hot and cold temperatures
What Is the Procedure for Dental Veneers?
The procedure for veneers will take a couple of visits to the dentist during your time in Singapore. This is taking into account treatment planning, preparation of teeth and fitting of veneers. The steps are summarised as follows:
Consultation and treatment planning: Before any treatment takes place, the dentist will thoroughly examine your mouth and discuss your hopes and goals to ensure that you are a suitable candidate for the treatment. You should have a full and frank discussion with your dentist, and be clear about what you want. Read up about other people's experiences, and check out before-and-after photos. You might be surprised by what you didn't know about veneers, which may affect your decision on how to proceed. There are also other questions your dentist will have, for example, do you want porcelain veneers or another material? How white do you want your veneers to be? How many veneers do you want?
Tooth preparation: Once you and your dentist have agreed on how to proceed, the next stage is to prepare the tooth or teeth receiving the veneers. So that each veneer will sit flush with the rest of your teeth once it has been positioned, a tiny sliver of enamel is removed from the front of each corresponding tooth. Next, impressions of your teeth are taken and sent to an external laboratory where your veneers are made to measure.
Placement of veneers: You can go back to have your veneers fitted as soon as your dentist receives them back from the lab (appointment times permitting). The dentist will hold the veneers up against each tooth to check fit and colour. Each tooth is then etched slightly to roughen up the surface in order to provide a good bond with the veneer. The adhesive is applied and the veneer put into position. A special light is used to activate the bonding chemicals which harden and fix the veneer firmly to the tooth.
Note: thanks to advances in CAD/CAM and CEREC technologies, dental patients can often have their veneers done in a day. Be sure to ask your dentist about this option.
Can I Trust the Quality of Veneers in Singapore?
Many of Singapore's dental clinics are of world-class quality: they are modern, well-equipped and staffed with knowledgeable, skilled dentists and support staff.
Booking your dental treatment with Dental Departures provides you with the certainty that the clinic is reliable, having already been background-checked by us. We carry out onsite visits, verify dentist qualifications and professional memberships, publish real patient reviews, prices and location maps—giving you all the information you need to make an informed choice.
Popular clinics in Singapore where you can go for your veneers include:
● Royce Dental Surgery Kovan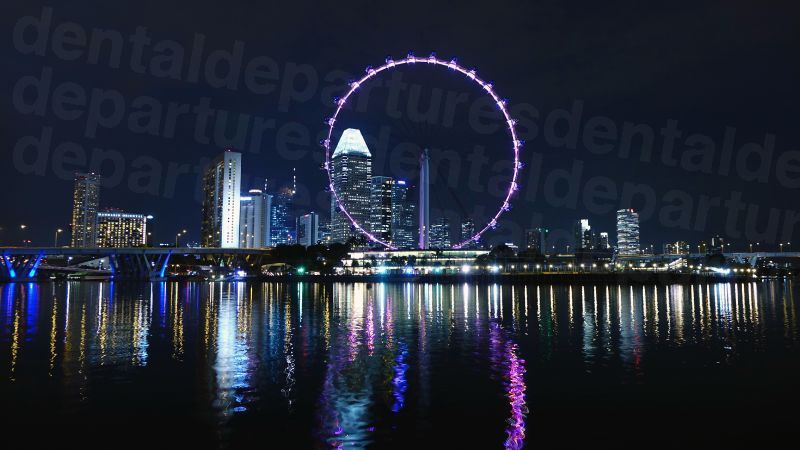 What's Next?
Speak to Dental Departures' Customer Service Team to find out more about dental veneers in Singapore, as well as other aspects of your trip, such as hotel booking, finance and insurance. See below for a range of other convenient options. You can book your appointment online at any time of the day or night, at no charge to you.
Sources:
Auger, Steve. How Do Veneers Work? Colgate. Website accessed: 13 February 2019 https://www.colgate.com/en-us/oral-health/cosmetic-dentistry/veneers/how-do-veneers-work-0515" target="_blank .
Dental Health and Veneers. Web MD. Website accessed 13 June 2019. https://www.webmd.com/oral-health/guide/veneers#1" target="_blank
Cardellino, Carly. Important! 23 Things You Need to Know Before Getting Veneers. 4 December 2018. https://www.cosmopolitan.com/style-beauty/beauty/a13051650/what-are-veneers/Cosmopolitan" target="_blank .
Bakeman, Elizabeth, M. Porcelain Veneers. Dear Doctor. 1 June 2016. https://www.deardoctor.com/articles/porcelain-veneers-better-than-ever/index.php" target="_blank