Last fact-checked: 15 February 2020
As one of the easiest ways to alter your smile for the better, dental veneers in Vietnam are made all the more affordable when you book with one of Dental Departures' quality-checked dentists.
Unfortunately, for such a quick and simple procedure , dental veneers are not a cheap option for everyone. In fact, one veneer alone can cost upwards of AUD $1,500 (the US: $1,000). This is why Vietnam can be a great alternative for dental veneers. Plus, whether you are planning to travel here specifically for the treatment or decide to have them while you are on holiday, the downtime is barely noticeable and won't stop you from making the most of your time in this incredible country.
Why Have Dental Veneers in Vietnam?
If you have one tooth that is spoiling your look, whether it is damaged, discolored or misshapen, a dental veneer will disguise it and blend in seamlessly with your other teeth. They are also often used to drastically improve a smile on the front four, six or eight teeth that show when you smile.
Veneers are a quick, safe and surprisingly simple alternative to time-consuming orthodontic work, which, as an adult, you may not feel comfortable embarking upon.
What Else Should I Know About Veneers?
Dental veneers can be made from a number of different branded materials, and this is something you need to bear in mind as the particular selection will affect price, quality and aesthetics (as each material differs in terms of characteristics).
In Vietnam, the same materials and brands your dentist at home uses are available, including eMax® and Lumineers®. And as for those significantly lower prices? Simple: the cost of living is much lower in Vietnam than in developed countries, meaning labor and operational costs are kept down; these savings are then passed on to patients.
Finding a quality dentist will ensure you receive dental veneers that fit well and are made to last. Thus, it is paramount that you chose a clinic wisely, rather than opt for one that could potentially cut corners. That is why all dental clinics listed on Dental Departures have been checked for quality; we personally put in the work to verify all qualifications, professional memberships and legal/criminal records.
Clinic visits and real patient reviews are also part of our background checks, and we only list those dentists who pass our quality measures on our website. For our patients, this is an important factor in deciding whether a dentist is the right one for you.
How Long Do Dental Veneers Take to Complete in Vietnam?
This depends on how many veneers you want and whether your dental clinic has its own onsite CAD/CAM ceramic studios. If you are only having one or two veneers, and your clinic has CAD/CAM, then it is possible to enjoy a same-day turnaround service, especially in major cities like Hanoi or Ho Chi Minh.
However, the majority of patients will usually need to stay in the country for a few days: an appointment with your dentist on the first day (if you are really in a rush) for preparing the teeth and then again on the last day for fitting the veneers, with the lab work taking place in between.
Most patients do tend to space out their visits to the dentist in Vietnam (i.e. they don't head straight to the clinic as soon as they touch down). After all, this fascinating Southeast Asian country has enough to see and do to last a month, let alone a week!
What Does the Procedure Entail?
The procedure is simple. On your first visit, the teeth receiving the veneers will be prepared by shaving a sliver of enamel of the front of each tooth. Impressions of the teeth are made and sent to the lab. At this point, your dentist will also discuss with you the various materials and brand options available.
When you return, your new dental veneers will be fitted using a special light-activated adhesive which bonds the veneers securely to the teeth. After a thorough clean by your dentist, your new smile will be ready to show the world.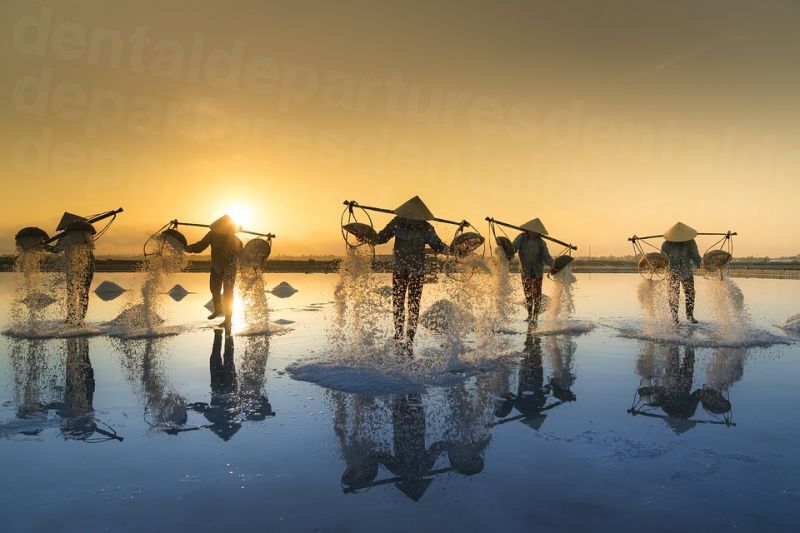 What Is the Cost of Dental Veneers in Vietnam Compared to Australia/New Zealand?
The average price of dental veneers in Vietnam is around AUD $400 per tooth. Compare that to the asking price of AUD $1,500 in Australia and New Zealand, and it's easy to see why more and more of us are traveling to exotic locations like Vietnam for veneers.
Now, let's get you started. Here are three of our top listed dental clinics in Vietnam that provide veneers to international patients:
● Rose Dental Clinic (Ho Chi Minh City)
● Serenity International Dental Clinic (Hanoi)
● Elite Dental Vietnam (Tu Xuong) (Ho Chi Minh City)
How Do I Book?
Book your dental appointment by calling our toll-free number, or directly via our booking page online. Dental Departures lets you compare prices, read real patient reviews and check out clinic photos. Find out more about dental veneers in Vietnam with us and look out for our exclusive online discounts.
Sources:
Dudney, Thomas. Lumineers, Durathin, Vivaneers and Other Minimal and "No-Prep" Veneers. Consumer Guide to Dentistry. Website accessed: 18 April 2019. https://www.yourdentistryguide.com/min-prep-veneers/" target="_blank
Allen, Victoria. The science behind the perfect smile: The best grins are symmetrical and people with bigger mouths should show more teeth. Mail Online. 28 June 2017. https://www.dailymail.co.uk/sciencetech/article-4647718/The-science-perfect-smile.html" target="_blank
Cost of Living in Vietnam. A Little Adrift. 4 February 2019. https://alittleadrift.com/cost-of-living/vietnam/" target="_blank
Alesha and Jarryd. 33 Epic Things to Do in Vietnam in 2019. Nomadasaurus. 20 March 2019.
https://www.nomadasaurus.com/things-to-do-in-vietnam/" target="_blank