If you are in need of some dental work, you have probably found out that it can be incredibly expensive. Even if your budget is tight, your health and safety is the most important thing, so you might be wondering about cheap dental implants. Phuket in Thailand is a real possibility if you fancy the idea of going abroad, and having a holiday at the same time. But - is it really safe?
Let's find out why dental implants in Phuke t can be a safe and budget-friendly option, in a great location.
An Amazing Location
Phuket is a stunning island in Thailand. So amazing in fact, that it attracts MILLIONS of tourists every year. They come to experience the amazing beaches, culture, and nightlife. Now, this isn't some undeveloped tropical island. It retains its natural beauty, while also having modern infrastructure and facilities. There are many malls, cinemas, hospitals and modern dental clinics. This is why so many tourists arrive to have a fantastic holiday, while also getting cheap dental implants.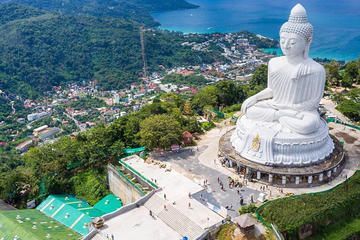 Save Thousands!
One of the motivating factors for many people, looking to get dental work done in Phuket, is the affordable price. Many dental implant procedures cost only 30-40% what they would cost back home. You can literally save thousands. This price difference can be a huge benefit for people who have been putting off dental work due to the high costs involved. Here's an example of Phuket's great prices:
Dental Implant price Australia AUD $5,098
Dental Implant price New Zealand NZD $5,500
Dental Implant price Phuket AUD $1,800 NZD $1,950
Treatment just like Back Home
Make sure that you do your research, and find a dentist in Phuket that is quality-checked. There are many dental tourism companies, with guaranteed high-quality dentists, that can book appointments for you. You can be assured that the clinic has been screened and checked by the company. You should make sure that you are given the dentist's qualifications and before and after photos or reviews from other patients.
The important thing to remember is that there are bad dentists everywhere, as well as fantastic dentists. If you do the right research, you will find a clinic that does treatments at the same quality as your local dentist.
Guaranteed Quality
All of the top dentists in Thailand have guarantees and warranties on their work. If you choose a good dental tourism company to book your dental work, then the company should also have its own guarantees, so that if you are unhappy with any part of the experience it will be 100% resolved.
Let's go!
The dentists in Phuket are some of the world's best, and if you are looking for high-quality dental work that will fit a smaller budget, you can find expert dental work at a small cost in Phuket. You could do all of your own research, or hire one of the many medical holiday companies, that specialize in creating a holiday experience for you in Phuket, with dental work at one of their guaranteed expert clinics.
They will organize everything for you, and you get their added warranties. So if you were wondering are cheap dental implants in Phuket really safe, hopefully, now you know that the answer is yes!
In Phuket, you can get the dental work that you need for a price that you will love, from some of the best dentists in the world. What are you waiting for?