Dental 4 U in Chiang Mai
One of the popular travel destinations in Asia is Chiang Mai, Thailand. It's not only known for scenic attractions, but also for dental tourism, which allows visitors to receive an oral care while on a holiday. Clinics like Dental 4 U offer superb service at a reasonable price.
Chiang Mai Dental Tourism
Chiang Mai started as a small trading post and eventually grew in size. Today, it became an international hub for health care and a regional centre for arts and fashion. Its tropical climate is great for holidaymakers who want to take a break from the cold weather. Chiang Mai has many historical and cultural attractions as well as shopping opportunities. Various restaurants serve Thai dishes and international cuisine. Accommodation options ranges from budget to first-class hotels. Choose a hotel near the clinic so you can easily travel back and forth.
The two airports serving Bangkok are Suvarnabhumi Airport, also known as Bangkok International Airport, and Don Mueang International Airport. A number of airline companies offer low-priced airfares, which delight many globetrotters. From the airport, you can roam around the city by taxi, train, or bus. If you need assistance, you can go to the Tourism Authority of Thailand (TAT) booth located at the Suvarnabhumi Airport. English is spoken in hotels and travel-related businesses. From here you can fly to Chiang Mai International Airport.
Dental tourism is a growing industry in Chiang Mai. The quality of oral care and technology are comparable with the clinics in Australia, UK, and USA. If you want to find the best dentist in Chiang Mai , Dental Departures has a list of quality-checked clinics that are screened based on the facilities, dentists' qualifications, professional memberships, including Chiang Mai dentist reviews . Booking with Dental Departures gives you access to verified clinics and certified dentists. Checkout the website for clinic photos, read dentist profiles, compare prices, and avail of exclusive discounts. Some clinics offer discounts on hotels, airport transfer, and tour packages. This is great for tourists who want a stress-free vacation.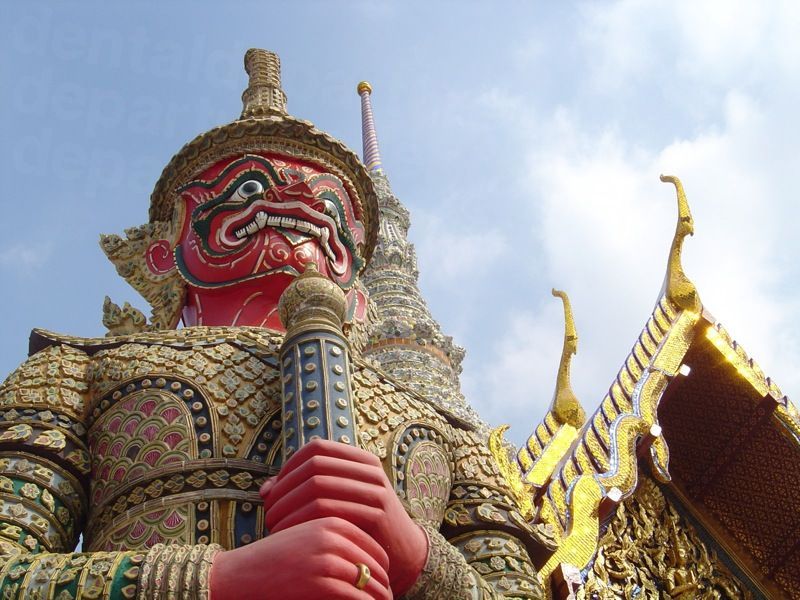 Dental 4 U
Dental 4 U is a premier oral health care provider situated in Chiang Mai, Thailand offering high-quality treatments and well-trained dentists in a relaxing environment. The clinic has a group of dental professionals who completed their studies in Thailand and USA. They specialize in Oral Surgery, Gum Treatment, Restorative Dentistry including Prosthodontics (replacement teeth). They comply with international standards based on Thai Dental Council and other organizations,. One of the dentists completed a Masters Program in Implant Dentistry from the University of California Los Angeles, School of Dentistry, USA (Global Institute for Dental Education). They continue to attend further training and learn new technology in dentistry. The dental professionals work together in giving the best patient care. Trained staff members assist international patients.
Dental 4 U provides solutions to various oral issues like tooth decay, gum disease, bite problems, and broken teeth. It offers a wide array of dental services ranging from simple to specialized treatments, which include the following:
- General Dentistry maintains patients' oral health through dental examination, teeth cleaning, fillings, fluoride treatment, mouth guards, and other preventive care.
- The dentists perform oral surgery such as wisdom tooth removal and extractions using a convenient approach to make the patients comfortable during the procedure.
- Damaged and missing teeth are replaced with various options such as crowns, bridges, dentures, veneers, inlay/onlay, and laser teeth whitening.
- The dentist prevents, diagnoses, and treats gum problem.
- Decayed teeth are repaired with root canal treatment.
- Specialists in dental implants replace missing teeth using artificial tooth roots with crowns on top.
Sedation dentistry is also offered to some patients to make them at ease during the procedure. The clinic has a modern design with hi-tech equipment such as digital x-rays including lasers that provide accurate diagnoses and effective treatments. In addition, the clinic complies with sterilization process to ensure the safety of the patients.
The dentists perform a complete examination before recommending the best option. Advanced techniques are used in creating dental restorations. The materials used in restoring the teeth are made of top-quality materials that bring lasting results. Laser teeth whitening are used in removing the discoloration. For better results, the dentist offers Take-home Kit Whitening. Crowns can be made from porcelain, ceramic, or composite materials. For the dentures, the materials can be made from acrylic, porcelain, or flexible materials. As for the dental implants, the dentist uses Titanium material that is hygienic. The dentist will recommend the best material based on your preferences.
In order to serve the patients better, the clinic is open from Monday to Sunday, 9 AM to 8 PM. Consult the dentist and discuss your concerns. Feel free to ask questions. The Chiang Mai dentist creates a customized treatment plan that suits your needs and budget.
The cost of dental services in Thailand is lower compared to Australia, New Zealand, UK, and USA. Treatment varies depending on the materials, number of teeth involved, technology, and other factors. To give you an idea, here's a price comparison of dental implants, crowns, and veneers in Thailand:
Ceramic Dental Crowns in Thailand:
AUD $638 (NZD $688; UK £385; Eur €451; USD $480; CAD $643)
Compared to Dental Crowns in Australia:
AUD $1,595 (NZD $1,720; UK £962; Eur €1,126; USD $1,200; CAD $1,608)
Titanium Dental Implant (including abutment and standard crown) in Thailand:
AUD $2,816 (NZD $3,036; UK £1,698; Eur €1,988; USD $2,118; CAD $2,838)
Compared to Titanium Dental Implant (including abutment and standard crown) in Australia:
AUD $5,184 (NZD $5,591; UK £3,126; Eur €3,661; USD $3,900; CAD $5,226)
Porcelain Veneers in Thailand:
AUD $413 (NZD $446; UK £249; Eur €292; USD $311; CAD $417)
Compared to Porcelain Veneers in Australia:
AUD $1,462 (NZD $1,577; UK £882; Eur €1,033; USD $1,100; CAD $1,474)
You can get big savings on your
. Just choose a certified-dentist who will restore your teeth using advanced treatment. Enjoy your holiday and take snapshots of your newly restored teeth.