Last fact-checked: 27 January 2021
Replace all your teeth with a low-cost All-on-4® treatment concept in Zagreb, Croatia.
If you're missing teeth or already wear a full denture and want to permanently restore your smile, this Nobel Biocare®-provided treatment could well be for you.
The only problem, however, is the five-figure price tag charged in certain countries, including the UK. This is why a trip to Zagreb is so appealing, as the procedure here costs thousands less than back home (plus you can opt to enjoy a holiday at the same time).
What Is the All-on-4® Treatment Concept?
In just one session of surgery, a complete arch of teeth (for the upper, lower or both jaws) is attached to just four dental implants.
Thanks to the unique position of the implants, no bone graft is required, and patients can show off their new smile on the same day of surgery before returning months later to complete the permanent restoration.
The procedure is suited for patients who have already lost all (or most) of their teeth or those who have failing teeth that need to be removed.
Am I a Suitable Candidate for this Dental Restoration?
If you are in reasonably good health, you well may be a suitable candidate for this procedure. It should be noted that:
A preliminary assessment can be made by your local dentist by examining scans of your jaw. Dental Departures' Customer Care Team can forward these to your chosen dentist in Zagreb who can then provide a free, no-obligation quote.
Even patients who have advanced periodontitis with damage to the jaw bone may be suitable candidates without the need for a prior bone graft (even if they have not been deemed suitable candidates for traditional dental implants). This is because the placements of the four dental implants used in this particular method are made in such a way as to increase bone-to-implant contact to provide maximum stability.
If you are a smoker, it's unlikely you will be able to have the procedure. Cigarette smoking severely compromises implant procedures as it reduces the body's ability to fight infection and to heal, which will almost certainly be an issue immediately after your procedure, as well as throughout the life of your implants.
How Much Does the All-on-4® Treatment Concept Cost in Zagreb?
Compare the price of treatment in Zagreb with prices at home in the table below:
| | | | | | |
| --- | --- | --- | --- | --- | --- |
| | UK £ | EUR € | US $ | CAN $ | AUS $ |
| Price at home | 16,000 | 19,000 | 20,000 | 27,000 | 27,000 |
| Price in Zagreb | 4,800 | 5,500 | 6,100 | 8,000 | 8,800 |
Note: the prices above are approximate. Please check our current prices for your selected clinic for estimated costs of treatment.
Is this a Good Treatment to Have in Zagreb as a Dental Tourist?
The short answer here is a resounding 'yes.'
While the All-on-4® treatment concept does require a major procedure, it is carried out in one day, and many patients experience very little in the way of downtime afterward. This means that you should still be able to enjoy your time in Zagreb, providing you take things easy.
If you take the time to research and choose a reliable dentist, there is no reason why your mouth restoration in Zagreb won't be as successful as it would if you'd had the procedure at home. The All-on-4® treatment concept is a specialist procedure; pioneered by Dr. Paulo Malo, a world-renowned implantologist based in Portugal, the treatment has a high success rate and Dr. Malo's protocol is now followed by dentists across the world.
What Does the Process Involve? How Long Will I Need to Stay in Zagreb?
Your dentist in Zagreb will provide you with further information about how long you will need to stay in the city to complete your treatment.
While the actual procedure is carried out in one session (that lasts around two hours per jaw), the planning part of the procedure beforehand is extremely important to achieve a successful outcome.
Consequently, you will need to factor in several visits to the dentist during your time in Zagreb, which can be summarised as:
1: Initial Consultation & Assessment:
Although your dentist in Zagreb will have made a preliminary assessment of our suitability from scans you have already sent through, they will also need to do their own tests. These will confirm that the procedure is viable for you, and 3D/CT scans are also used by the dentist to pinpoint the optimal positioning in the jaw for the placement of the implants.
You will also need to have impressions made of your mouth which are sent to a laboratory for your new teeth to be made. Obviously, your dentist will need to have these ready on your treatment day to complete the procedure.
2: Treatment Day:
The surgery required for the All-on-4® treatment concept is carried out under local anaesthetic with conscious sedation (IV).
If you have any remaining teeth, the dentist can take these out first. Once the teeth are all removed, the dentist makes incisions in the gum where the implants are to be inserted. A small hole is made in the jaw bone at these points and the implants are then placed.
Using abutments and coping cylinders, the custom-made immediate denture can then be attached, which will be worn for the next six months.
3. Healing Phase:
Once home, patients should follow their dentist's advice, such as keeping to semi-solid and soft foods so as not to exert too much pressure on the gums.
The dental implants take at least four months to fully fuse to the jawbone (a process called osseointegration). This is why the initial fixed bridge is lighter and only temporary than the permanent restoration.
4: Permanent Restoration:
In six months' time, the patients can return to the dentist in Zagreb to have their final prosthesis attached. This holds a full arch of porcelain or composite ceramic crowns cemented to the framework, restoring the function of the teeth to 90%.
The step involves further impressions and exams, although the actual replacement can be done simply by unscrewing the previous device.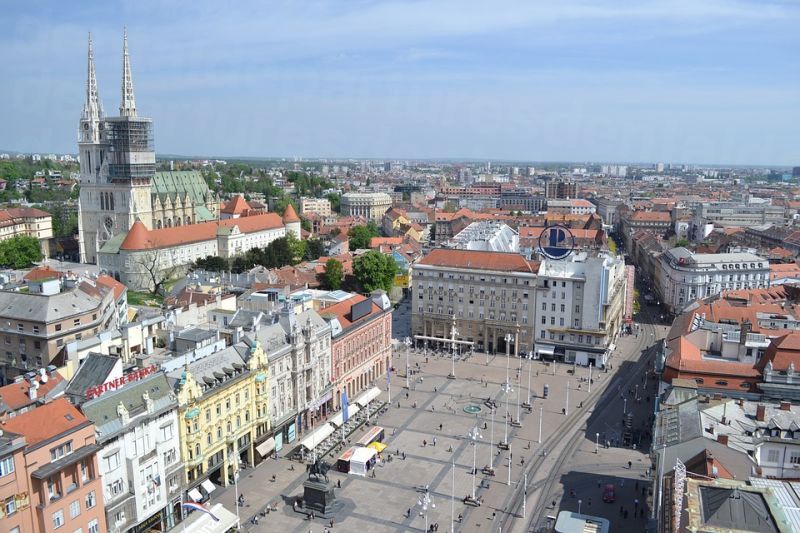 Can You Recommend Good Clinics for Mouth Restorations in Zagreb?
All the clinic providers Dental Departures partner with have been pre-screened before being listed on our site.
Our checks include visiting clinics personally and searching legal/criminal records. We confirm dentist qualifications and their professional memberships. Plus, we publish real patient reviews, as well as clinic photos, location maps and prices so you have all the information you need to help you make our own informed choice.
Clinics in Zagreb you may want to consider for dental restorations include:
Further Information about the All-on-4® Treatment Concept in Zagreb
Get in touch with our Customer Care Team to book an appointment, obtain a free quote or find out more about affordable dental care in Zagreb.
We can also help with financing options, hotel bookings and dental insurance packages to make your trip run as smoothly as possible.
Made a decision already? Then scroll down to find a range of convenient online booking options with Dental Departures.
Sources:
Nobel Biocare. Website accessed: 27 January 2021. https://www.nobelbiocare.com/en-uk
Nordqvist, Christian. What is Periodontitis? Medical News Today. 18 January 2018. https://www.medicalnewstoday.com/articles/242321.php
Major Bone Grafting (Using Bone from Outside the Mouth) and Dental Implants. Guys & St Thomas' NHS Foundation Trust. Leaflet Number: 2847/VER3. November 2016. https://www.guysandstthomas.nhs.uk/resources/patient-information/dental/major-bone-grafting.pdf
Murphy, Caleb. Smoking And Tooth Implants: How it Affects the Success Rate. Authority Dental. 8 April 2019. https://www.authoritydental.org/smoking-tooth-implants
About Prof Paulo Malo. Nobel Biocare. Website accessed: 27 January 2021. https://www.nobelbiocare.com/international/en/education/our-speakers/m-o/paulo-malo.html
Malo, P et al. A Longitudinal Study of the Survival of All-on-4 Implants in the Mandible with Up to 10 Years of Follow-up. Journal of the American Dental Association. March 2011. https://www.ncbi.nlm.nih.gov/pubmed/21357865
Different Types Of Dental Crowns. Colgate Oral Care Center. Website accessed: 27 January 2021. https://www.colgate.com/en-us/oral-health/cosmetic-dentistry/bridges-and-crowns/different-types-of-dental-crowns-0215
Is IV Sedation Dentistry Right for You? Colgate. Website accessed: 27 January 2021. https://www.colgate.com/en-us/oral-health/anesthesia/is-iv-sedation-dentistry-right-for-you
Zagreb. Lonely Planet. Website accessed: 27 January 2021. https://www.lonelyplanet.com/croatia/zagreb