Last fact-checked: 5 February 2020
Concerned about the price of dental implants at home? Then save up to 60% without sacrificing on quality by booking your dental implants in Puerto Vallarta, Mexico with a reliable, verified clinic.
Dental implants are one of the most popular ways of replacing missing teeth, with plenty of advantages over using dentures. But that natural look and comfortable feel you get with implants comes at a cost. In the US, treatment can often run into several thousands of dollars.
In the Mexican coastal city of Puerto Vallarta, prices are drastically lower than in the US and Canada; as a result, a growing number of international patients are flying in to receive treatment. Although patients, understandably, often have questions about dental implants abroad, many are discovering that the quality compares favorably.
Puerto Vallarta is not only a beautiful part of the world for a vacation; it's also a modern city with a well-developed infrastructure—ideal to host dental tourists seeking affordable implants.
Today's travelers will find a host of activities here in which to indulge, including a lively arts scene, hitting the beach, strolling the seaside Malecon and taking in the breathtaking views of the surrounding countryside.
Why Have Dental Implants in Puerto Vallarta?
The procedure for dental implants usually needs to be done in two stages, usually at least six months apart, so this should be kept in mind if you are coming to Puerto Vallarta for your treatment. Don't let this put you off, though, as the substantial savings made on implant procedures in Puerto Vallarta can actually allow you to enjoy two visits for the same price as one single implant at home.
Dental implants are a specialist procedure, and you will want to make sure that the dentist you choose is fully qualified to perform this specific treatment. This is where Dental Departures can guide you. Our dentists have all been quality-checked, ensuring their qualifications and experience are both on par with a dentist back home. We can help you find a suitable dentist in Puerto Vallarta specializing in dental implants, at an affordable price.
How Long Do Dental Implants Take in Puerto Vallarta?
There are generally two parts to a dental implant procedure. The first is the insertion of the implant itself into the jaw bone. The second is the abutment, which is used to attach the crown (or a false tooth) onto the implant.
The insertion of the implant can usually be done in one day, although you may feel some soreness and discomfort for a while. The abutment and crown are placed on the second trip; again, this can be done in a day but it's best to plan to be in (or close to) Puerto Vallarta for at least a couple days. These specific times should be discussed with your chosen dentist who can confirm exactly how long you need to stay.
If an implant is to be inserted following a tooth extraction, then additional time may be needed. Tooth extraction can also be carried out at home beforehand, which is something worth discussing with your dentist in Puerto Vallarta.
Also, if a patient has bone loss, and the site is not suitable for insertion of an implant, then a bone graft or sinus lift may also be required. This will necessitate another trip, and potentially longer healing time.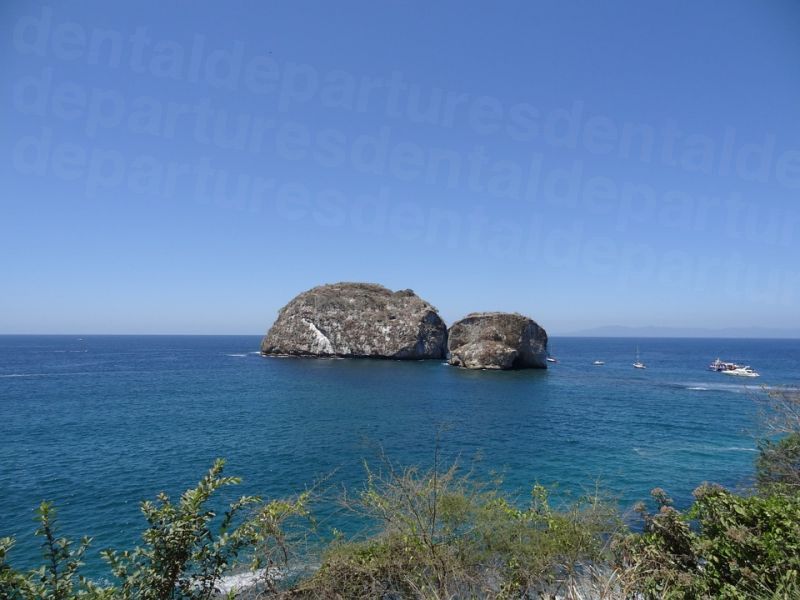 How Much Can I Save on Dental Implants in Puerto Vallarta Compared to the United States or Canada?
For a titanium dental implant with abutment and standard crown in the United States, the cost is around $3,900. The same procedure in Puerto Vallarta is around $1,775.
Check out some of the leading Puerto Vallarta clinics listed with Dental Departures below:
● Odontoklinik
● PV Smile
How Do I Book Dental Implants in Puerto Vallarta?
We have many ways to book your dental implants in Puerto Vallarta. Book online, call us for free, use our online chat or email us. Of course, if you would like to discuss any aspect of your trip before booking, we're always happy to discuss your options with you.
Book here with Dental Departures for quality dentists at the best prices available.
Sources:
Nowak, Simon. Missing Tooth Replacement Options: How Much Does it Cost? Authority Dental. 10 February 2019. https://www.authoritydental.org/tooth-replacement-options" target="_blank
Dental implants: how much do they cost? Ask the Dentist. 18 January 2019 https://askthedentist.com/dental-implants-cost/" target="_blank
How to get to Puerto Vallarta. Puerto Vallarta.net. Website accessed: 8 March 2019. https://www.puertovallarta.net/fast_facts/how_to_get" target="_blank
Swift, Dariece. 20 Cool Things To Do in Puerto Vallarta, Mexico. Goats on the Road. 19 February 2018. https://www.goatsontheroad.com/20-cool-things-to-do-in-puerto-vallarta-mexico/" target="_blank
Dodge, Lora. What to Expect During a Dental Implant Procedure. Very Well Health. 9 October 2017. https://www.verywellhealth.com/what-to-expect-during-a-dental-implant-procedure-1059372" target="_blank