Last fact-checked: 4 April 2020
Save 50% on dentures in Zagreb, Croatia's charming capital. Just a short flight away and you'll be paying hundreds less—and if you combine it with a holiday, you'll be getting the best of both worlds.
Made from acrylic, porcelain and metal, dentures are essentially removable teeth that fit snugly over the gums to replace a missing tooth or teeth.
If you only have one missing tooth, you may be wondering why you should bother with a denture. However, a missing tooth may cause you problems with speech, and, in time, the teeth on either side can move toward the gap at a tilted angle—which may cause further issues down the line.
How Much Do Dentures Cost in Zagreb?
The table below shows how much you can save on the dentures prices in Zagreb compared to your home country:
| | | | | | |
| --- | --- | --- | --- | --- | --- |
| | UK £ | EUR € | US $ | AUS $ | NZ $ |
| Full Dentures Prices - at home | 1,400 | 1,600 | 1,800 | 2,400 | 2,500 |
| Full Dentures Prices – Zagreb | 670 | 750 | 841 | 1,194 | 1,243 |
Note: the prices above are approximate. Please check our current prices for your selected clinic for estimated costs of treatment.
Check out these Dental Departures-certified clinics in Zagreb where you can have dentures made and fitted.
● B Dent
Is it Really Possible to Receive Quality Dentures in Zagreb as a Dental Tourist?
● It most certainly is. Medical and dental services are of an excellent standard throughout the country, with the government keen on promoting Croatia as a world-class healthcare destination.
● The best dental facilities throughout Croatia are well-equipped with the most up-to-date diagnostic and therapeutic technologies, such as 3D/CT scanning, intraoral digital radiography and CAD/CAM (computer-aided design/computer-aided manufacture) that allow your dentist to make prosthodontics (tooth restorations) onsite while you wait. Clinics are aware of the limited amount of time international patients have, and so are geared toward offering the most efficient services—something that patients often find sorely lacking at home.
● As an EU member state, Croatia is subject to Europe-wide regulations on hygiene and safety. Clinics follow recognised protocols, such as the International Standards Organisation's ISO 9001:2015.
● Booking an appointment through Dental Departures' ensures that your chosen facility has gone through stringent background checks conducted by us. Before we partner with any dental provider, we carry out our own checks that include reviewing legal/criminal records, carrying out onsite visits and confirming dentist qualifications & professional memberships. We also collate and publish real patient reviews and each listing on our website features clinic photos, location maps and prices. As a result, all the important information you need to make an informed decision is at your fingertips with Dental Departures.
What Is the Procedure for Dentures? How Long Will I Need to Stay in Zagreb?
Receiving your new dentures in Zagreb will generally take around a week. This is the same regardless of whether you are receiving full dentures (if you have no teeth) or partial dentures (if you have some missing teeth).
Whether you are totally new to dentures or simply need an old set replaced, the first thing your dentist in Zagreb will want to do is examine your mouth, in particular, the gums and supporting bone structure. (Note. This is something which your dentist at home can do for a nominal fee rather than flying out to Croatia only to be told you are not suitable for dentures.)[1] [2]
After the dentist confirms that dentures are right for you, the next stage is to take impressions of your teeth. These molds of your teeth are sent to an external laboratory where your new dentures are made-to-measure.
After a few days, your dentist will receive your dentures from the lab. The dentist will place the denture in your mouth, making any minor adjustments to the fit. The denture may feel odd in your mouth and it will take a little time for you to get used to it. If time permits, should go back to your dentist in Zagreb if you experience any alarming discomfort (as they may need some further adjustment).
Something you may have to consider is whether you are going to have any further teeth extractions. If you do, your mouth will need time to heal and so a temporary and much lighter 'healing' denture should be worn for three months. As your gums heal following the extractions, they will also shrink—which is another reason for having a temporary denture fitted first. Otherwise, your new, permanent denture will not fit after a few months and will need adjusting.
If you don't plan on going back to Zagreb, you could always have your extractions before you go—just make sure it is at least three months before your appointment in Zagreb.
Is Zagreb A Good Location for Dental Tourists?
Zagreb is a picturesque city, at least the medieval-style Old Upper and Lower Towns are—not so much the new part of town (Novi Zagreb), unless you are a fan of Soviet-era, stark, brutalist architecture. This part of town is mainly residential but does offer a few trendy clubs and bars. For sightseeing? Not so much.
The old parts of town are distinguished by 18th and 19 th-century Austro-Hungarian architecture and the twin-spired, Gothic, Roman Catholic cathedral. Zagreb doesn't have the distraction of major attractions like other cities, which means you can simply enjoy wandering its meandering streets just for the joy of it, rather than as a means of getting somewhere. You'll find lots of quirky shops, museums, galleries, restaurants and bars—so you won't be stuck for things to see and do.
More of a fan of the countryside? Then make a beeline for Mount Medvednica, which looms over the city and is great for forest hikes. You can even take the tram from the city centre—handy if you just want to head up for the impressive views.
A little farther afield is the Plitvice Lakes National Park—home to 16 pools of crystal-clear water set amongst glorious countryside with waterfalls, caves and woodland. Stay overnight at a campsite, guesthouse or hotel.
Zagreb is a great spot for an extended city break or holiday. So, if you're looking to get new dentures without paying through the nose, you have a perfect excuse for going.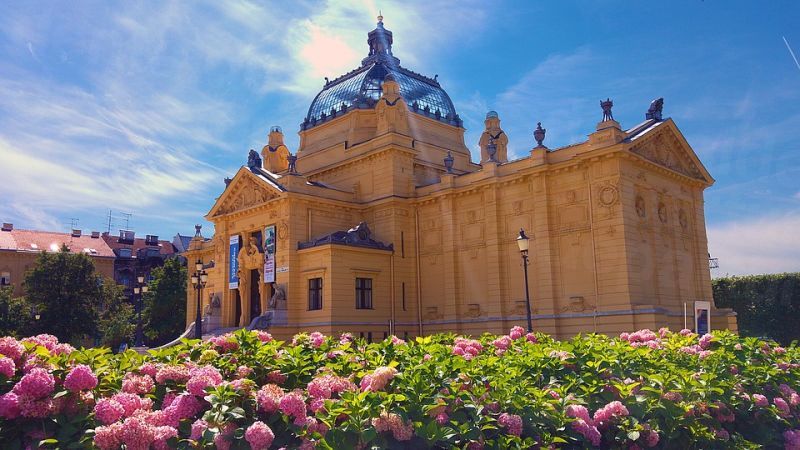 How Do I Book an Appointment?
Dental Departures' Customer Care Team can give you further information about dentures in Zagreb, book an appointment or obtain a free quote. You can also ask them about our other services, such as finance, hotel booking and insurance.
Alternatively, you can book directly online at no charge, with a choice of convenient booking options displayed below.
Sources:
5 Reasons Why Healthcare is The Next Big Thing in Croatian Tourism. TimeOut. 12 February 2018. https://www.timeout.com/croatia/things-to-do/5-reasons-why-healthcare-is-the-next-big-thing-in-croatian-tourism" target="_blank
Sandilands, Tracey. CAD/CAM Dentistry: What is it? Colgate. Website accessed: 14 July 2019. https://www.colgate.com/en-us/oral-health/basics/dental-visits/cad-cam-dentistry--what-is-it-" target="_blank
International Standards Organization. Website accessed: 14 July 2019. https://www.iso.org/about-us.html" target="_blank
Gotter, Ana. What to Expect During a Tooth Extraction. Healthline. 9 February 2018. https://www.healthline.com/health/tooth-extraction" target="_blank