Last fact-checked: 16 February 2020
Searching for a dentist for root canal treatment but don't want to pay the four-figure sums you're being charged back home? Then choose and book a dentist with Dental Departures for root canal treatment in Costa Rica and save up to 70% on the price at your local dentist. Those savings will be more than enough to pay for a holiday in this stunning part of the world; below we explain exactly how you can do it.
The first thing worth bearing in mind is that it may take two or three days to complete a root canal, particularly if you need a crown (replacement tooth). The good news is that Costa Rica offers dental patients with a long list of things to see and do between appointments. As a relatively small country, you can be exploring the jungle canopy in the morning and sipping cocktails next to the ocean in the evening.
Great shopping, beaches, public parks, museums, galleries, restaurants and bars all complete the picture of a location that has so much appeal for dental patients and regular tourists alike.
Note that if you require no extractions, your dentist may be able to perform a root canal at one sitting using the latest CAD/CAM equipment which allows crowns to be created in only a day..
Why Have Root Canal Treatment in Costa Rica?
Root canal treatment is a specialist procedure and therefore it is important that you book with a dentist who is trained in this particular area. Using the Dental Departures website allows you to choose a root canal specialist (an endodontist) in Costa Rica who has been quality-checked with credentials that have been verified by us.
You can also be confident that choosing a dentist through us means you receive guarantees on your treatment; this applies not only to the procedure but also the materials used (e.g. the crown itself). You also qualify for our lowest price guarantee, meaning you won't find a better price for the same treatment at your chosen clinic anywhere else online.
You may be entitled to claim back your treatment expenses as tax deductions. For more information about this, speak to your accountant or visit the IRS website.
How Long Does Root Canal Treatment Take in Costa Rica?
Root canals can be completed in one or two appointments, providing there are no complications or infection. If there is an infection, it will need to be cleared up with a course of antibiotics prior to commencing your root canal treatment. You will need to have been taking the antibiotics for around 10 days before the root canal treatment can begin, so it could be a good idea to arrange this with your home town dentist at home before you fly.
At your first appointment with your Costa Rican dentist, x-rays will usually be taken to ensure there's no infection and to see where the root pulp is located. After that, your treatment will begin, first with a local anesthetic being applied to the tooth in question and a rubber dam being put in place to keep the area free from debris.
The dentist will access the infected pulp and remove it. After that, the tooth roots can be removed. Once everything has been removed, the chambers are cleaned, sterilized and filled with a temporary filling.
You will return to the dentist and if everything is satisfactory the tooth will be filled, or the new, permanent crown fitted.
What is the Cost of Root Canals in Costa Rica Compared to the United States or Canada?
In the US, prices for root canals start from $1,280 but in Costa Rica are as little as $235. If you require a post/core build-up and standard crown thee prices in the US are around $2,200–but in Costa Rica is as little as $315.
Even allowing for flights and accommodation costs it is very easy to save more than a thousand dollars by traveling to Costa Rica for root canal treatment.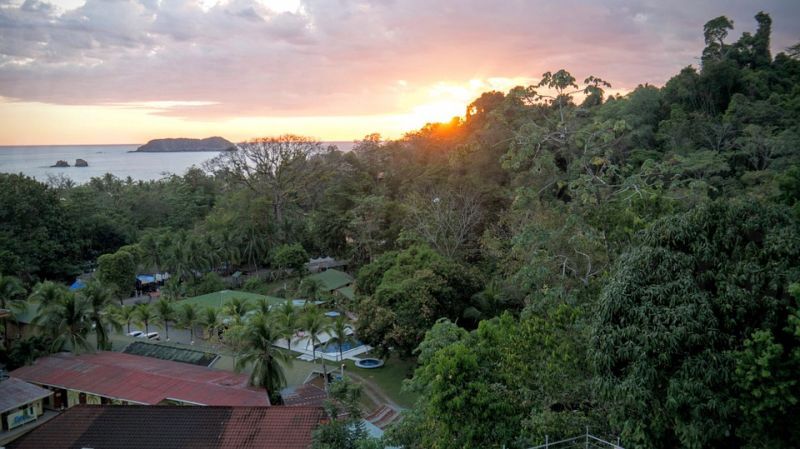 How Do I Book Root Canal Treatment in Costa Rica?
You can phone our Toll-Free number or book your root canals with us online at any time of the day or night. Our website makes it easy for you to know-before-you-go with patient reviews, virtual clinic tours and, high-resolution photos. Book with Dental Departures and get a trustworthy dentist for the lowest prices - guaranteed.
Sources:
9 things you must do in Costa Rica. Wanderlust. 28 June 2018. https://www.wanderlust.co.uk/content/9-things-you-must-do-in-costa-rica/" target="_blank
What's the difference between a dentist and an endodontist? American Association of Endodontists. Website accessed: 6 March 2019. https://www.aae.org/patients/why-see-an-endodontist/whats-difference-dentist-endodontist/" target="_blank
Tell Me More About Dental Crowns. Colgate Oral Care Center. Website accessed: 6 March 2019. https://www.colgate.com/en-us/oral-health/cosmetic-dentistry/bridges-and-crowns/tell-me-more-about-dental-crowns" target="_blank
Seladi-Schulman, Jill Ph.D. Which Antibiotics Treat Tooth Infections? Healthline. 19 June 2018. https://www.healthline.com/health/antibiotics-for-tooth-infections" target="_blank
How it is performed - Root canal treatment. NHS. Website accessed: 6 March 2019. https://www.nhs.uk/conditions/root-canal-treatment/what-happens/" target="_blank