Last fact-checked 14 March 2020
Head to one of our dentists in Kuala Lumpur for good-quality dentistry at affordable prices.
Kuala Lumpur is the capital, and largest city, of Malaysia. Within the last two centuries, KL has evolved from its origins as a small Chinese village into the powerhouse it is today. Indian, Malay and Chinese influences are evident throughout the country, although English is spoken nearly everywhere. Visitors can enjoy five-star hotel luxury, shopping and sightseeing in one of the world's most affordable tourism destinations.
Areas of interest within the city include the Old City Centre – the traditional core of Kuala Lumpur where you can find landmarks such as Merdeka Square and the Sultan Abdul Samad Building. The Golden Triangle is the modern city area that houses many of the city's shopping malls and five-star hotels.
There is something for everyone in Kuala Lumpur, with natural wonders that include the Batu Caves, the National Zoo and the Forest Research Institute of Malaysia. Or you may prefer the more modern Bangsar, renowned for it's clubbing district and popular restaurants. Midvalley that boasts the Megamall, one of the world's most popular shopping destinations.
Where Is Kuala Lumpur?
Kuala Lumpur (or KL as it's known by veteran travelers and locals) is situated in Western Malaysia, along the coast, a two-hour drive from Singapore. Malaysia shares a northern border with Thailand, and also shares maritime borders with the Philippines, Brunei, Vietnam, Indonesia and Singapore.
Why Visit a Dentist in Kuala Lumpur?
Kuala Lumpur is an established destination for people seeking dental care, and the government actively promotes dental tourism within the city. Services are closely regulated and monitored by Malaysia's various departments of health to ensure the highest standards are maintained. The Malaysian Dental Council (MDC) is the appointed regulatory body that ensures every dental practitioner is registered and possesses an Annual Practicing Certificate.
Dentists in Kuala Lumpur have received their training from all over the world, not only in Malaysia. Many have earned degrees from institutes in the UK, Canada, the US or Australia. Kuala Lumpur is also easy to reach – Malaysia Airlines offers service into KL from most major cities around the world. Regional discount airlines such as Air Asia and Firefly – ultra modern and efficiently run – whisk travelers all over Malaysia and beyond.
Malaysia consistently ranks as one of the world's top ten medical travel destinations, including dental care. Malaysia dentists offer first-class dental facilities that accommodate all of your dental requirements, at a 50-80% savings over the cost you would expect to pay back home. For example:
Dental implant and crown, Kuala Lumpur: AUD $1,900, Australia AUD $5,500
Full crown, Kuala Lumpur: AUD $498, Australia AUD $1459
Root canal, post and crown, Kuala Lumpur AUD $332-$499, Australia AUD $2,000-$3,400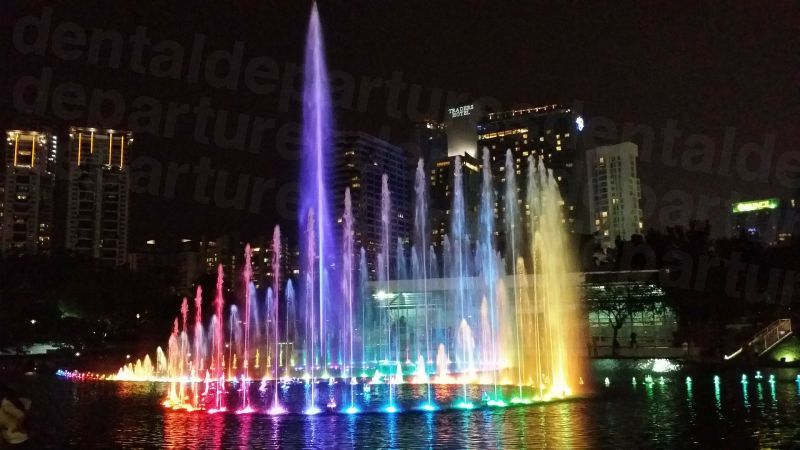 (Image by Bernardhoa)
Where to Stay in Kuala Lumpur
Many accommodation options are available to tourists in Kuala Lumpur. The City Centre offers luxury and budget lodging in Chinatown, KLCC and the Bukit Bintang divisions. Petaling Street in Chinatown is famous for its local specialties, fruits and flea markets, and "genuine counterfeit" designer goods. Accommodations generally range from AUD $38 to AUD $150 per night.
Bukit Bintang and KLCC are more upmarket, with a wider variety of hotels, eateries and shopping malls. Accommodations in these locations can be had from around AUD $76 per night, although you should expect to pay closer to $280 per night for the more luxurious establishments.
Reliable and safe public transport is available throughout the city, including regular train, bus and taxi services.
Other locations to consider during your stay in Kuala Lumpur include suburbs such as Subang, Shah Alam, Petaling Jaya and Bangsar. All have local attractions that helped gain Kuala Lumpur a top-five ranking with the World Tourism Organization in 2010.
Is Kuala Lumpur Safe?
Kuala Lumpur has no security warnings from The Australian Government Department of Foreign Affairs and Trade and is generally considered to be safe place to visit. You should practice the usual common-sense precautions that apply to all foreign travel.
Before You Leave
Ensure that you have all your flight tickets, tour itinerary, hotel bookings and travel documents on hand.
Draw up a list of contact numbers in case of any emergencies, including KL Embassy number, your bank and credit card numbers and details on anyone that should be contacted in the event of an emergency. You should also leave contact numbers and address details with family and friends for all the locations where you are planning to stay.
Make copies of your debit/credit cards, along with your passport and other travel documents. Keep one copy in your luggage and leave another copy at home – it will be easier to get replacements if you can produce a photocopy.
Make copies of any communications you receive from hotels regarding bookings or trip, confirmation numbers and record locators.
Ensure that you have sufficient medical/travel insurance before you undertake your journey.
Is the Quality of Dental Care in Kuala Lumpur the Same as Back Home?
Kuala Lumpur has become increasingly popular with Australians as a destination for their dental care. Many have found that dental surgeons in Kuala Lumpur possess the same training and qualifications as dental surgeons back home. Dental Departures carries out site visits to ensure the suitability of the surgeries we list on our website. We also perform background checks to verify surgeon qualifications, previous experience and any professional memberships that may be possessed.
Our website contains all this information for you to view free of charge and with no obligation. To assist you in selecting the right surgery for you, we have also included reviews from former patients and various other useful articles.
What Happens If Something Goes Wrong? Is My Dental Care Guaranteed?
All the clinics listed on our website have guarantees/warranties that cover any work carried out by one of their dental surgeons. By booking through Dental Departures, you have the added assurance of knowing that any treatment you undergo will be performed by a dental surgeon that has been quality-checked by ourselves. You therefore have the peace of mind to know that, in the unlikely event of a mishap, we will be there to provide a solution and rectify any issues that you experience.
Although no dental procedure comes with a 100% guaranteed success rate, by booking through Dental Departures, you can find a dental surgeon with the right credentials to succeed, and for your complete peace-of-mind, we also offer insurance which will cover travel and accommodation expenses in the rare occurrence you may need to return.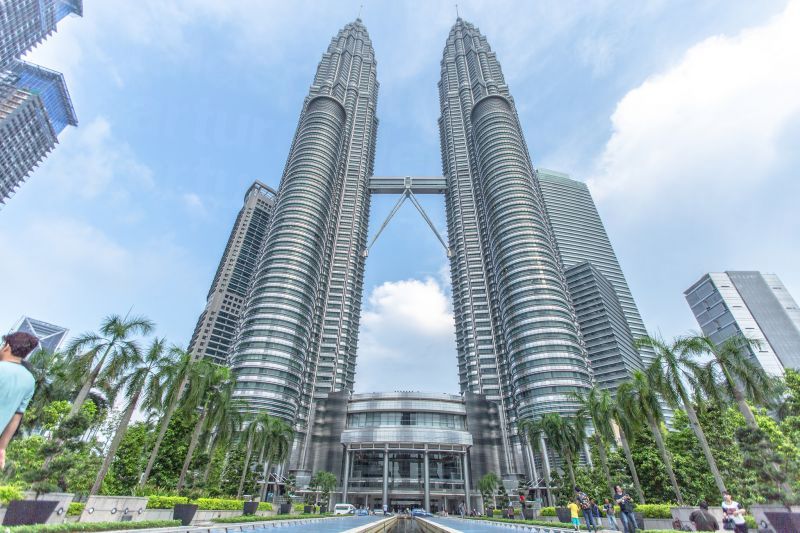 Is English Widely Spoken?
Yes. English is spoken widely, partially as a result of the British occupation, and partly because the language is taught through the Malaysian education system.
What Payment Methods are Accepted?
The official currency Kuala Lumpur is the Ringgit. Whilst debit and credit cards are generally accepted, there may be a small handling fee involved, usually in the region of 3-4%. Travellers cheques are also accepted, although you may find that using an ATM is more convenient. Be sure to check with your home bank before you leave with regards to what fees may be charged for this service.
You can exchange your home currency for local currency at any of the numerous FOREX booths throughout the city. Damaged banknotes may not be accepted, so try to ensure that any banknotes you bring with you are in good condition overall. An ID is not generally required when exchanging currency, and there are usually no fees or charges for the service.
Is My Australian Dental Insurance Accepted?
This is an issue you will need to address with your insurance provider before you book any treatment. Some insurance providers will be happy to reimburse you for any expenses that you incur whilst abroad. However, ensure that you are aware of what documentation/paperwork will be involved as your dental surgeon in Kuala Lumpur will be required to endorse it before your insurance provider will make any reimbursements.
It is also worth making enquires to see whether you are eligible to claim medical expenses tax deductions for any treatments that you have whilst abroad - potentially saving you even more money on your dental care.
When Is the Best Time to Visit One of Our Dentists in Kuala Lumpur?
You can book treatments all year round, although you may prefer to book your procedure around the local climate. There are no cold or dry seasons in Kuala Lumpur as the atmosphere is continually moist due to the tropical climate. Malaysia is subjected to two monsoon seasons, both of which affect Kuala Lumpur. The first is between October and February and hits mainly the east coast of Malaysia and often causes floods. The west coast of Malaysia is subjected to milder monsoon conditions between April and October. Whilst both monsoon seasons do impact on Kuala Lumpur, the showers can be quite intense but are generally quite brief in their duration.
The temperature in Kuala Lumpur is reasonably consistent. The hottest month is generally May, with temperatures generally averaging 28°C, whilst December is the coolest with an average temperature of around 26°C.
Is Kuala Lumpur Wheelchair Accessible?
The Malaysian Parliament passed The Persons with Disabilities Act (PWDA) in 2008. The Act was introduced to provide greater access for disabled people to leisure and sports services, public facilities, transport and recreation.
As a result, most malls, hotels and public buildings now have an adequate supply of public toilets available. Unfortunately, however, Kuala Lumpur is no different to many many cities in Southeast Asia. Visitors that have mobility issues can encounter various problems whilst trying to navigate around the city. High curbs or damaged pavements can often hinder travel, and wheelchair users are frequently inconvenienced by narrow, badly designed pavements, parked vehicles, trees, fences etc. You may also find that ramps or elevators will often be blocked or out of service.
The most easily accessible areas in Kuala Lumpur are the KLCC and Bukit Bintang areas, modern developments that boast state-of-the-art pedestrian areas and shopping malls custom-built to accommodate modern accessibility standards.
Most dentists serving international patients offer wheelchair friendly amenities, including transportation to and from the airport, and hotel.
What is the Downside? What Should I Know about Visiting?
In Kuala Lumpur, crime is not rife against foreigners. A lot of crime tends to be contained amongst the local community, although pick-pocketing and bag snatching are activities that you should be wary of.
However, be vigilant of Scratch and Win scams. Quite often, the unaware will be duped into paying cash up front for a prize that either doesn't exist or is far below the value that they paid.
Also, only use your credit card in reputable establishments to avoid credit card fraud.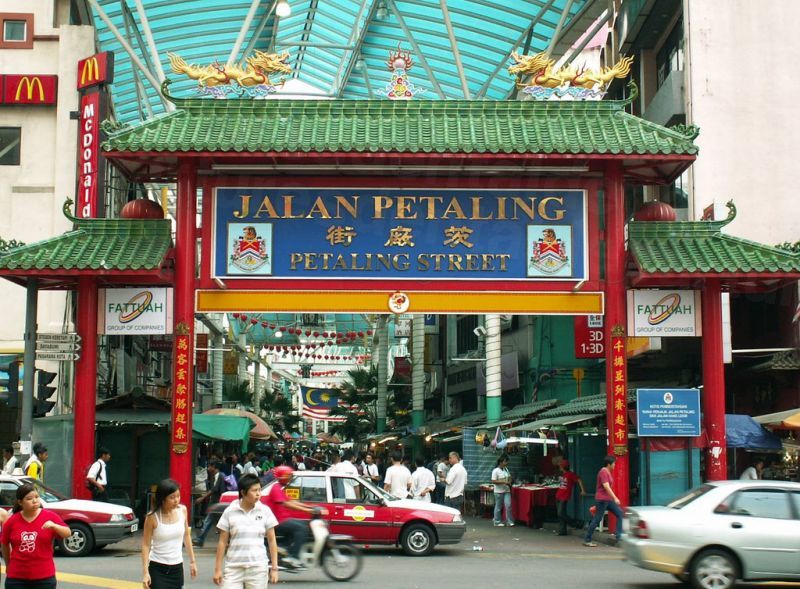 (Image by Connie Sandland)
What Else Is There in Kuala Lumpur?
You will discover many options for day trips in and around Kuala Lumpur, such as the Kuala Gandah Elephant Conservation Centre. Or, just 40 minutes away along the East Coast Highway, Genting Highlands offers a cooler climate with theme parks for the kids and a casino for adults.
Other nearby attractions include Kuala Selangor, famed for its seafood restaurants and spectacular firefly displays, the former Royal city of Klang with its ancient architecture and the Sungai Tekala Recreation Park that offers natural waterfalls and comfortable jungle trekking suitable for all families.
For those of a more sporting nature, the Kuala Lumpur Golf & Country Club has previously hosted the PGA sanctioned CIMB Classic and is well worth a visit. As are Kuala Lumpur's Zoo Negara and the impressive Petronas Twin Towers - still the highlight of Kuala Lumpur's modern skyline.
Travelling to Kuala Lumpur
Whilst most international flights land at Kuala Lumpur International Airport (KLIA), there is also the Kuala Lumpur International Airport 2 (KLIA@2). Generally, low-cost airlines utilise this airport, which is 20km away from the main KLIA terminal, and travellers have to travel by road to reach the main terminal.
Travelling around Kuala Lumpur
Kuala Lumpur has a well developed, convenient public transport system that is reasonably efficient. However, like most major cities, traffic jams are a regular occurrence throughout the day, especially during rush hours, so traveling on the monorail could be a more efficient way of navigating around the city.
By train:
Train fares are generally quite cheap, but passengers must purchase their tickets from the vending machines. Whilst there are workers available in booths, they will only change your banknotes into smaller denominations and will not sell train tickets.
By car:
The roads in Kuala Lumpur are generally of good quality, but traffic jams can make driving difficult. Also be aware that signage tends to be in the local language and can therefore make navigation confusing. Car rental is a realistic option for travelling in Kuala Lumpur and it is highly recommended that you should negotiate that your vehicle comes equipped with a GPS unit.
By taxi:
Many taxi drivers will refuse to use their meter and insist on negotiating a price before setting off. This will generally inflate the cost of your trip by 2-10 times the normal meter price. If you hail a cab off the street, he will be more likely to use the meter than a cab that is parked up waiting for a customer. As a general guide, any cross town trips of around 15 minutes should not cost more than about RM10.
By bus:
A number of sightseeing tour buses are available that visit places of note. Most provide free wifi, and commentaries are provided through headphones. Tickets are generally valid for 24 or 48hrs and have unlimited usage; children under 5 travel free of charge.
Tourist Visas
Tourists can stay in Kuala Lumpur without a visa for up to 90 days, providing they are a national of Australia, New Zealand, the United States, Canada or the UK.
Distances and Flying Times from Other Countries
Auckland, 5425, 11 hours
Sydney, 4090, 8.25 hours
London, 6590, 13.75 hours
New York, 9433 miles, 20 hours
Los Angeles, 8800 miles, 17.5 hours
Montreal, 9100, 28.75 hours
What's Next?
Call our toll-free number now to book your dentist in Kuala Lumpur. If you prefer, you can use our website to find the right dentist for you and book online any time of the day or night, at no charge to you. Read our patient reviews online and view clinics with virtual tours and high-resolution photos. For high-quality dental care in Kuala Lumpur at low prices. Book with Dental Departures today.
(Main Image by Naim Fadil)
Sources:
Top Things to Do in Kuala Lumpur. Lonely Planet. https://www.lonelyplanet.com/malaysia/kuala-lumpur/top-things-to-do/a/poi/356949
Malaysia Healthcare Travel Council. https://www.mhtc.org.my/" target="_blank
Malaysian Dental Council. http://mdc.moh.gov.my/" target="_blank
Master's Degree in Dentistry in Malaysia. Master's Portal. https://www.mastersportal.com/study-options/270450788/dentistry-malaysia.html" target="_blank