Last fact-checked: 8 April 2020
Improve your smile with dental veneers in Cairo, Egypt for a fraction of the price you'd pay at home. Book through Dental Departures at one of our pre-screened dental clinics and look forward to receiving top-quality results.
How Can Dental Veneers Help My Smile?
Dental veneers are a cosmetic treatment that can transform your smile into a thing of beauty. They are thin slivers of material, custom-made to fit your teeth. Simply, veneers attached to the front of your tooth or teeth to hide any irregularities. They look like your own teeth, only better!
Whether you have one or two teeth that could do with cosmetic improvement—or all of them—you can say goodbye to chipped, damaged, misshapen, crooked and cracked teeth with dental veneers.
How Much Do Dental Veneers Cost In Cairo?
The cost per dental veneer in Cairo is shown in the table below. You can see how much you'll save by heading to Egypt—and with Dental Departures' Best Price Guarantee you'll always get the best deals.
| | | | | | |
| --- | --- | --- | --- | --- | --- |
| | UK £ | EUR € | AUS $ | NZ $ | US $ |
| Dental Veneers Price at home | 1,461 | 1,745 | 2,480 | 2,583 | 1,871 |
| Dental Veneers Price in Cairo | 300 | 350 | 567 | 590 | 390 |
(Note: the prices above are approximate. Please check our current prices for your selected clinic for estimated costs of treatment).
The overall price of your treatment will be dependant on a number of factors, most importantly the material you choose (for example, porcelain veneers are more expensive than composite), as well as how many veneers are required.
Do note that for a "full smile makeover", not all teeth will require veneers—only those that show when you smile, which on average is 8-10.
What are the Advantages of Dental Veneers?
● They look natural
● They won't discolour
● They can be colour-matched to existing teeth
● Very little of the tooth's structure is removed to accommodate them
● The procedure for veneers takes days rather than years for orthodontic work— which is your only alternative if you want to straighten your smile
What Are the Disadvantages of Veneers?
● If you suffer from bruxism (teeth grinding or jaw clenching), you may not be a good candidate as this can damage the veneers quickly
● You must have good oral and dental health with no signs of active tooth decay or gum disease
● In rare instances, your teeth may become sensitive to hot and cold temperatures after the veneers treatment
What Is the Procedure for Dental Veneers?
To complete the dental veneers procedure in Cairo, you will need to make two or three visits to the dentist. The stages involved are as follows:
Consultation and Treatment Planning: The dentist will want to give your mouth a thorough examination before any treatment starts; a consultation also provides the opportunity to discuss your aspirations and what you are hoping to achieve. The dentist will want to ensure that your expectations can be met, and that you are a suitable candidate from a dental health perspective. Your dentist will go through what you need to know before getting veneers so you can make an informed decision about whether the treatment is for you.
Teeth Preparation: If you and your dentist are agreed on your treatment plan, you will then need to prepare any teeth that are receiving veneers. The dentist will remove a sliver of enamel from the front of the tooth, which enables the veneer to sit in line with your other teeth. Once prepared, the dentist will take impressions of your mouth which are sent to the laboratory where your new veneers are tailor-made to fit.
Placement of Veneers: The dentist will arrange for you to go back to have the veneers fitted once they have been received from the lab. Each veneer will be examined and held up against each tooth to check colour fit before affixing them permanently. If the dentist is happy they look good, each tooth will then be etched lightly to provide a rough surface for the veneer to attach to. A light-activated adhesive is applied and the veneer placed. A special light activates the bonding chemicals in the adhesive which hardens, firmly attaching the veneer to the tooth.
Why Should I Book Dental Veneers in Cairo with Dental Departures?
One of the premier reasons for booking through Dental Departures is reliability. All the dental providers listed on our website have been pre-screened by us. We check dentist qualifications, professional memberships and legal/criminal memberships. We carry out onsite visits and publish real patient reviews. Our listings also include prices, location maps, clinic photos and more, giving you all the information you need to make choosing a top-quality dentist easy.
Popular clinics in Cairo for dental veneers include:
● Shalash Dental & Implant Center
● Dental Care Egypt–Dr. Tamer Badr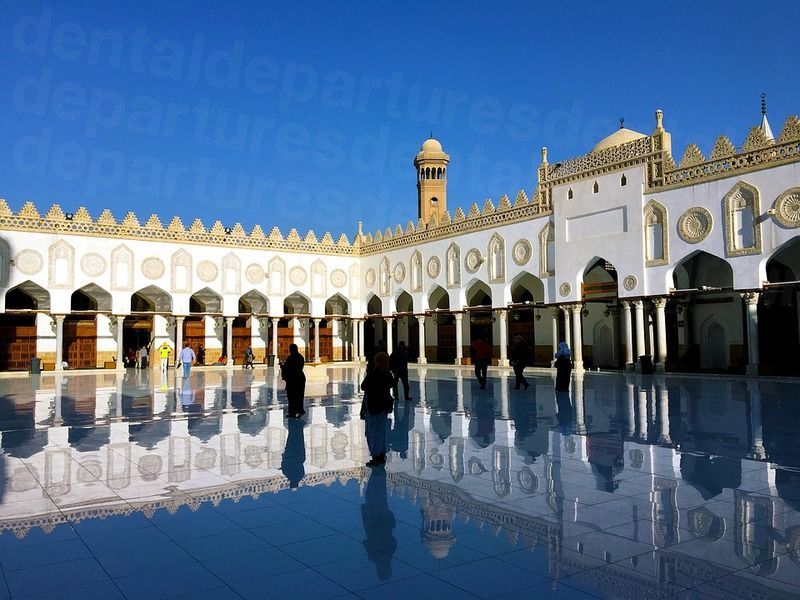 Getting Started:
Connect with Dental Departures' Customer Service Team to find out more about dental veneers in Cairo and look forward to saving potentially thousands while on holiday in Egypt. Or you can book your appointment with us online any time of the day or night, at no charge to you.
Sources:
Auger, Steve. How Do Veneers Work? Colgate. Website accessed: 13 January 2020 https://www.colgate.com/en-us/oral-health/cosmetic-dentistry/veneers/how-do-veneers-work-0515" target="_blank.
Dental Health and Veneers. Web MD. 13 June 2019. https://www.webmd.com/oral-health/guide/veneers#1" target="_blank
Cardellino, Carly. Important! 23 Things You Need to Know Before Getting Veneers. 4 December 2018. https://www.cosmopolitan.com/style-beauty/beauty/a13051650/what-are-veneers/Cosmopolitan" target="_blank.
Bakeman, Elizabeth, M. Porcelain Veneers. Dear Doctor. 1 June 2016. https://www.deardoctor.com/articles/porcelain-veneers-better-than-ever/index.php" target="_blank