Last fact-checked: 20 February 2020
For low-cost dental veneers, Barcelona is difficult to beat if you want to enjoy a holiday and take advantage of high-quality, low-cost dentistry abroad. Dental Departures can help you find the best dentists at our pre-screened clinics, all of which are listed on our site. Book your appointment with confidence and get the smile of your dreams at an affordable price.
What Are Dental Veneers?
Dental veneers are a cosmetic dentistry procedure that completely changes the look of a tooth, or even a row of teeth, by hiding each one behind a wafer-thin sliver of durable material. A veneer is fixed onto the front of the tooth with a strong adhesive, meaning any cosmetic problems the tooth has, like discoloration, chips or cracks, are covered up from view.
How Much Do Dental Veneers Cost in Barcelona Compared to the UK and Eire?
While dental veneers are notoriously expensive in places like the UK, Ireland and across the Atlantic in the US, the veneers prices in Barcelona are considerably lower.
See how much you can save in the table below (and remember, these average prices are for just one veneer).
| | | | | | |
| --- | --- | --- | --- | --- | --- |
| | UK £ | EUR € | US $ | CAN $ | AUS $ |
| Dental Veneers Price at home | 1,461 | 1,745 | 1,871 | 2,525 | 2,480 |
| Dental Veneers Price in Barcelona | 440 | 509 | 568 | 764 | 808 |
How Will Dental Veneers Improve My Smile?
Dental veneers work exceptionally well, especially considering it's a relatively simple procedure. There are very few of us who are blessed with perfect teeth. But, a good-looking smile is seen to be as equally important as good oral health for many of us. Just one discoloured or misshapen tooth can affect your whole smile, and have a knock-on effect on your confidence.
Single teeth that are stained, discoloured, misshapen or damaged with chips or cracks are candidates for dental veneers. However, dental veneers are increasingly being used to provide a complete smile makeover with rows or six, eight, ten or even a complete arch of teeth benefitting from the attachment of veneers (although those out-of-sight molars at the back are usually skipped). This is, in effect, a quick way of changing a crooked smile that would ordinarily require time-consuming orthodontic work. A row of veneers can give you similar aesthetic results in a matter of hours.
What Is the Procedure for Dental Veneers?
The dental veneers procedure typically takes two visits to the dentist—the first to prepare the teeth and make impressions to send to the laboratory; and the second to have the veneers fitted to your teeth.
It's worth knowing that dental veneers are purely a cosmetic procedure, and while they can disguise ugly-looking teeth, they cannot disguise dental health problems. Indeed, if you do have dental health problems then you'd be wise to get them treated before you even consider dental veneers.
Dental veneers will certainly not help any dental health issues as underlying problems are likely to get worse. Plus, if you are going to the expense of having veneers, then they need to have a solid foundation to which to attach. Otherwise, they are likely to fall off—equalling a waste of time and money.
If your dentist deems you to be a suitable candidate for veneers, the next steps include a discussion about dental veneer materials. All materials have their pros and cons, with one of the biggest differences being the price range. This will inevitably affect your decision as to which one you opt for depending on your budget.
After that, the dentist will prepare your teeth to receive the veneers by removing a small portion of enamel from the front of each tooth for it to be flush with the rest—otherwise, the veneer would be protruding slightly. Impressions of the teeth are then taken so that the veneers can be made to fit each tooth perfectly. These are sent to a laboratory—then it's back to the dentist's office after a few days once they have been sent back.
The fitting of the veneers is reasonably straightforward. Your dentist will place each veneer over the corresponding tooth to check for fit. Each tooth is etched to roughen the surface a little, which provides for a stronger bond between tooth and veneer. The veneers are attached to the teeth by using a light-activated cement to ensure a strong bond and the longevity of your veneers.
CAD/CAM Technology Speeds up the Process
CAD/CAM technology allows clinics to offer same-day dental veneers using computer technology to design and manufacture the veneers onsite. If your dental clinic has the equipment, digital impressions of your mouth are taken, which can be viewed on a computer screen. Veneers are designed digitally, allowing you and your dentist to see how they look on a screen, making adjustments to size, shape and colour until you are both satisfied. These image files are then sent digitally to the onsite laboratory, where another computer guides the milling machine to make the veneers according to the designs.
The whole process can be carried out while you wait, with the dentist able to fit the veneers on the same day.
Why Barcelona Is Such a Great Place to Get Dental Veneers
1: Dental work in Spain is of a high standard, with modern clinics equipped with the latest technologies, particularly in large cities areas. Dental tourism is becoming increasingly more common as people realise they can get excellent dental care for far less money in desirable holiday locations, like Barcelona—and the dentists in these locations certainly do a great job.
2: Barcelona is one of the world's greatest cities. Gaudi's architecture, the maze-like streets of the old Gothic Quarter and its location sandwiched between the mountains and the Mediterranean coast make it a hugely attractive location for all sorts of visitors. Dental tourists will discover a wealth of things to see and do in between dental appointments.
3: The procedure has very little downtime, allowing you to enjoy your visit to Barcelona to the full.
4: Prices are low—and with dental veneers coming in at only a third of the price back home, the trip is always going to be worth it, particularly if you need more than one veneer.
5: Booking with Dental Departures gives you access to pre-screened clinics where, among other things, dentist qualifications, professional memberships and patient reviews have all been checked. You can see details under each listing on our website, along with prices, location maps and clinic photos.
Take a look at these clinics where you can get your veneers in Barcelona: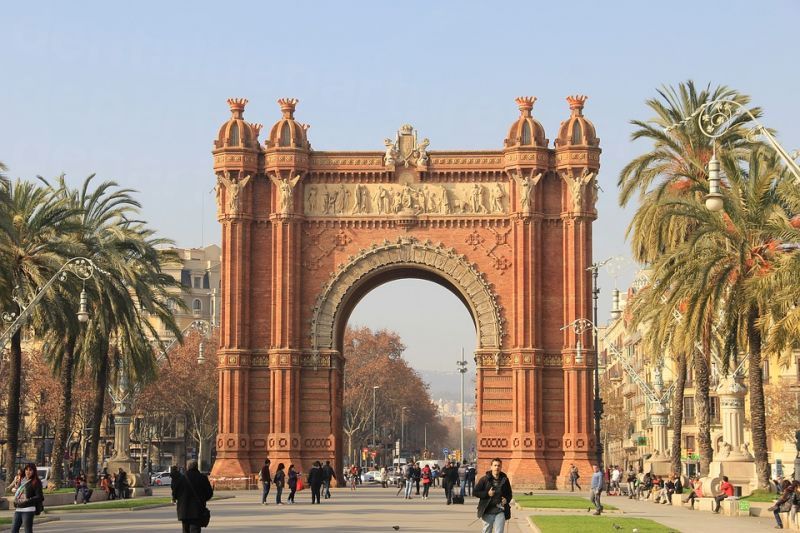 How Do I Book an Appointment?
You can schedule your appointment online quickly and easily any time of the day or night, at no charge to you. Or ask for a free quote by contacting Dental Departures' Customer Care Team to find out more about dental veneers in Barcelona.
Sources:
Auger, Steve. How Do Veneers Work? Colgate. Website accessed: 14 March 2019. https://www.colgate.com/en-us/oral-health/cosmetic-dentistry/veneers/how-do-veneers-work-0515" target="_blank.
Hughes, L. The Most Amazing Celebrity Teeth Transformations. Woman. 20 September 2017.
https://www.womanmagazine.co.uk/celebrity/celebrity-teeth-before-and-after-teeth-transformation-veneers-before-and-after-65743" target="_blank
Bonded Composites Versus Ceramic Veneers. British Dental Association. Website accessed: 14 March 2019 https://bda.org/dentists/education/sgh/Documents/Bonded%20composites%20versus%20ceramic%20veneers%20.pdf" target="_blank
Sandilands, Tracey. CAD/CAM Dentistry: What Is It? Colgate. Website accessed 14 March 2019.
https://www.colgate.com/en-us/oral-health/basics/dental-visits/cad-cam-dentistry--what-is-it-" target="_blank