Tiew and Partners Dental Clinic has been providing the highest level of professional and affordable oral care for 29 years. It has the best dentists in Malaysia serving local and international patients. The clinic's main thrust lies in 4's:
Save teeth
Safe treatment
Serve public, and
Make patients Smile
It was established in 1987 by Dr. Rebecca Tiew who is committed to providing dental service with love. Located in Johor Bahru, aside from oral health, the clinic cares for patients' overall health and well-being as well. After almost 3 decades the company now has 30 clinics in Malaysia with over 40 dentists serving residents as well as tourists. Tiew and Partners Dental Clinic has added into its line of business a company-owned dental laboratory (Nationwide Dental Services), a dental supply shop (One Dental Supply Sdn Bhd), and another cosmetic dental center (White Dental Cosmetic Centre).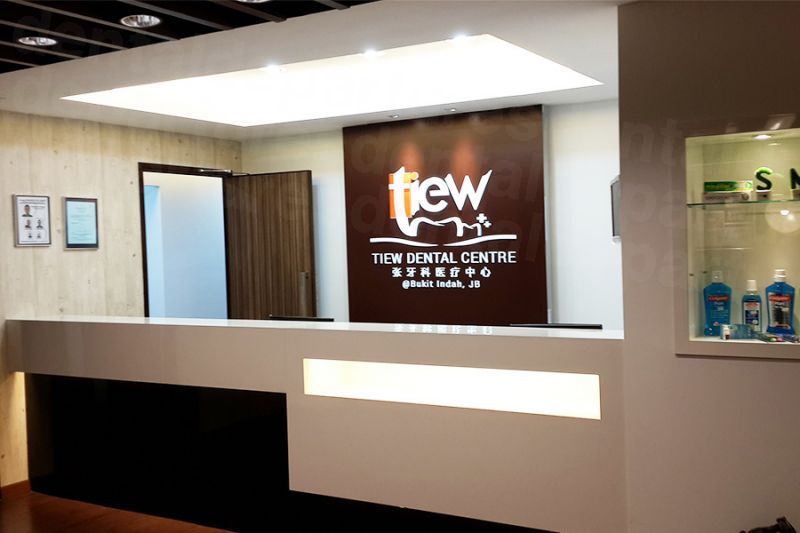 The clinic's Managing Director Dr. Tiew and CEO Dr. Tiew Soon Tat works together in giving the best patient care and imparts their vision to the dental team.
Awards and Accolades
The clinic is blessed with various awards and accolades, which include the 2016 Malaysia Dental Company of the Year by Frost and Sullivan and a 4-star rating by the SME Competitiveness Rating for Enhancement Programme (SCORE), indicating that the clinic has a strong foundation in terms of financial strength, business performance, human resources, technology, certification, and market presence. Additionally, the clinic is certified by the International Organization for Standardization (ISO).
Dental Professionals
Tiew and Partners Dental Clinic gathered a team of skilled and talented dental professionals to deliver superior oral care. Their qualifications are on par with their western counterparts. The clinic has the best dentists in Malaysia specializing in various fields such as Restorative Dentistry, Oral Surgery including dental implants. The clinic provides the dental team continuous education and career advancement to serve the patients better.
Dental Services
The clinic offers a wide range of dental services ranging from simple teeth cleaning and fillings to specialized treatments such as:
Cosmetic Dentistry (Laser Teeth Whitening, Veneers)
Restorative Dentistry (Inlays, Onlays, Crowns, Bridges, Dentures)
Preventive Care (Oral examination, Night guard, Bite Splint)
Endodontics (root canal treatment)
Oral Implantology (Dental Implants, All on 4)
Periodontics (Laser Assisted Periodontal Therapy, Root Planing, Scaling Polishing)
Orthodontics (Clear aligners, fixed ceramic braces, fixed metal braces)
Oral Surgery (wi
Obstructive Sleep Apnea (OSA)
During consultation, the dentist performs a complete examination using advanced technology to assess your oral health condition. Your general health as well as your oral hygiene will be reviewed. After a careful evaluation, the dentists will then recommend the best treatment for you.
Technology
The clinic invests in the latest technology in dentistry to give the highest quality of service. With the use of digital x-rays such as intra-oral camera, the dentist provides accurate diagnoses and creates an effective treatment plan for the patients. Patients can now brush away their dental fear. Thanks to laser technology that allows patients to experience a drill-free and pain-free treatment.
Top-quality materials are used in creating dental materials such as crowns and veneers. Globally recognized brands are utilized to improve patients' smiles.
Sterilization
To ensure patients' safety, the clinic practices the highest sterilization procedures. The clinic utilizes OCC Switzerland cleaning and disinfection product that complies with infection control standards.
Treatment Prices
Tiew and Partners Dental Clinic offers affordable treatment price. Take a look at the cost of dental service in Johor Bahru compared to Australia, New Zealand, and UK.
Cost of Dental Implants in Johor Bahru : AUD $2,816
New Zealand: NZD $3,036; UK: £1,698
Compared to Dental implants in Australia: AUD $5,184
New Zealand: NZD $5,591; UK £3,126
Cost of All on 4 in Johor Bahru : AUD $12,155
New Zealand: NZD $13,041; UK: £7,160
Compared to All on 4 in Australia: AUD $34,465
New Zealand: NZD $36,976; UK: £20,301
Cost of Porcelain Veneers in Johor Bahru : AUD $413
New Zealand: NZD $446; UK: £249
Compared to Porcelain Veneers in Australia: AUD $1,462
New Zealand: NZD $1,577; UK: £882
Cost of Crowns in Johor Bahru : AUD $607
New Zealand: NZD $651; UK: £358
Compared to Crowns in Australia: AUD $1,591
NZD: $1,707; UK: £937
Cost of Dentures in Johor Bahru : AUD $365
New Zealand: NZD $391; UK: £256
Compared to Dentures in Australia: AUD $1,856
New Zealand: NZD $1,991; UK £1,305
As you can see, the cost of treatment in Johor Bahru is lower compared to Australia. You'll get big savings on your dental expenses and at the same time spend a holiday in Johor Bahru where you can try various activities and learn from their culture.
Location
Tiew and Partners Dental Clinic has a network of over 30 branches in Malaysia. The clinics are strategically located near the tourist attractions, shopping malls, and restaurants convenient for visitors. Friendly staff helps patients feel comfortable and relax inside the modern clinic.
Dental Tourism
Aside from the treatments, the clinic also provides dental tourism where they assist patients not only with treatment, but also with travel-related activities. The English-speaking staff will assist you. After your dental work, relax and enjoy various activities in Johor Bahru.
Tiew and Partners Dental Clinic is one of the top clinics listed by Dental Departures. Background checks such as on site visit, verification of dentists' qualifications and professional memberships including collating of online reviews are carried out to ensure the quality of service.
To book an appointment with Tiew and Partners Dental Clinic, get in touch with our customer service by phone, email, or online chat. Avail of exclusive discounts when you book with us.