Last fact-checked: 3 February 2021
Replace all the teeth in your upper or lower jaw with the All-on-4® treatment concept, provided by Nobel Biocare®.
This implant-based treatment in Turkey costs thousands less than at home and is considered a much better teeth replacement option than dentures.
You can do it all in days and recover in an enjoyable setting in one of the many popular locations in this fascinating country.
What Is the All-on-4® Treatment Concept?
Perfected by Dr. Paulo Malo in Lisbon during the 1980s, this treatment replaces all the teeth in either jaw with just four dental implants—and the beauty of it is that even if you are not suitable for traditional implants, you could be a candidate for the All-on-4® treatment concept.
This is because of the strategic, angled placement of the specialised implants, plus the posterior implants are longer than traditional implants and thus can make use of more available bone.
A temporary fixed bridge can be attached immediately after the implants are placed, meaning you can be toothless in the morning and out having dinner that evening with new, permanent, fixed teeth.
Patients return to the dentist around six months later to have their permanent fixed bridge attached.
What Does All-on-4® Treatment Concept Entail?
From the initial consultation to the fixing of the bridge, there are several stages:
1) Initial Consultation & Assessment:
Before any treatment commences you will have a thorough consultation and examination by your dentist. Appropriate x-rays and scans are taken to assess if your jaw bone is viable to receive the implants. If it is, then the treatment can take place. Impressions will be taken of your mouth and sent to the laboratory where your new teeth will be made. These teeth will be temporary and lighter than your permanent set, which will be screwed on at a later date.
Note: An initial assessment can be offered to you if you send your digital x-rays to Dental Departures who will get in touch with your chosen dentist to ask about your suitability for the procedure.
2) Treatment Day:
The surgery for the All-on-4® treatment concept may be carried out under local anaesthetic with conscious sedation and typically takes around two hours for each jaw. After any remaining teeth have been extracted, implants are placed two at the rear of the jaw, at 45-degree angles, and two at the front at the traditional 90-degree angle.
The new arch of teeth is attached immediately to the implants.
3) Permanent Restoration:
If you have had temporary teeth fitted, you will return in several months' time to have the permanent crowns placed. During this healing phase, patients are advised to stick to a diet of soft and semi-soft foods.
Why Should I Consider Treatment in Turkey?
Expertise: Turkey's dentists provide good-quality services to dental tourists. They are well-qualified and in these days of globalization and cross-border training, it is not unusual for dentists to have undertaken some or all of their training abroad. Knowledge and new techniques are disseminated quickly around the world, as well as new methods and instrumentation, so there is very little difference in the standards of dentistry in many countries across the globe.
Modern Facilities: The best dental tourism facilities are modern and equipped with up-to-date diagnostic and therapeutic technologies. Clinics adhere to ISO standards on hygiene and safety. Panoramic x-rays and 3D/CT scanning are offered at many dental clinics, such as the All on Dental Clinic Istanbul Turkey, while others have an international presence with offices located in major cities like London, a major benefit for international patients if you want to attend follow-ups or consultations in your home country.
Easily Accessible: Turkey receives regular flights from around the world to its international airports in Istanbul, Antalya, Izmir and more, with flight times around four hours for British and Irish it is reasonably convenient too. Obtaining a visa can be done online, with a nominal processing fee for Brits and other Europeans.
What Is the Cost of the All-on-4® Treatment Concept in Turkey?
The table below shows average prices in Turkey compared to other countries:
| | | | | | | |
| --- | --- | --- | --- | --- | --- | --- |
| | UK £ | EUR € | US $ | CAN $ | AUS $ | NZ $ |
| Prices – at home | 16,000 | 19,000 | 20,000 | 27,000 | 27,000 | 29,000 |
| Prices – Turkey | 4,300 | 5,100 | 5,400 | 7,800 | 7,200 | 7,800 |
[Note: these are estimated prices calculated at the time of writing. Please see our clinic listings for up-to-date prices.]
Is this a Good Procedure to Have in Turkey as a Dental Tourist?
Yes. For starters, the procedure is carried out in a day, giving you plenty of time to enjoy a pre-treatment holiday or post-treatment recuperation. While you will likely experience some swelling, you should be able to take in the sights or at least spend some quality time relaxing (a traditional Turkish bath for example!).
You'll find our best dentists in many popular locations throughout Turkey. Here are some locations you may want to consider:
Istanbul: Istanbul's unique position with one foot in Europe and one in Asia makes it an inspiring location. With the history of five empires running through its streets, you can see why so many millions of visitors are enthralled by Turkey's former capital and the Roman site named Constantinople. A skyline peppered with domes and minarets; Ottoman, Byzantine, Roman, Greek and Persian architecture; olde-worlde narrow, cobbled streets with wooden houses; the sparkling Bosphorus Strait dotted with boats and the aromas of sweet-smelling shisha, coffee and kebabs that hang invitingly in the air—it could only be one place!
This ancient city was founded by the Greeks in the seventh century BC. It became the capital of the Byzantine Christians in 4AD for centuries and fell, centuries later, to the Ottoman Turkish Empire in 1453. The unforgettable Byzantine Hagia Sophia and the Ottoman Topkapi Palace remain as testaments to these empires and are not to be missed if you're in Istanbul.
Antalya: Built around the Old Harbour, this resort city is the gateway to Turkey's "Turquoise Coast." There is still evidence here that it was once an important Roman port, including the 2nd century Hidirlik Tower and Hadrian's Gate, built to honour the Roman emperor's visit in 130AD. Yivil Minare, a 38m high minaret stands on the clifftop neighbourhood of Kaleici with its narrow streets and restored Ottoman houses, while beaches flank the city. Golfing and diving are popular pursuits here, as well as hiking along the 500 km Lycian Way footpath.
Izmir: Another coastal ancient city, Izmir is nestled on Turkey's eastern Aegean Coast. Founded by the Greeks, and subsequently a stronghold for the Romans, Alexander the Great and the Ottoman Empire—all left their mark here. The city is home to an impressive museum of the history of art and an enthralling bazaar. Built around a port, there are glorious beaches within easy reach and the ancient Greek City of Ephesus is around an hour's drive away.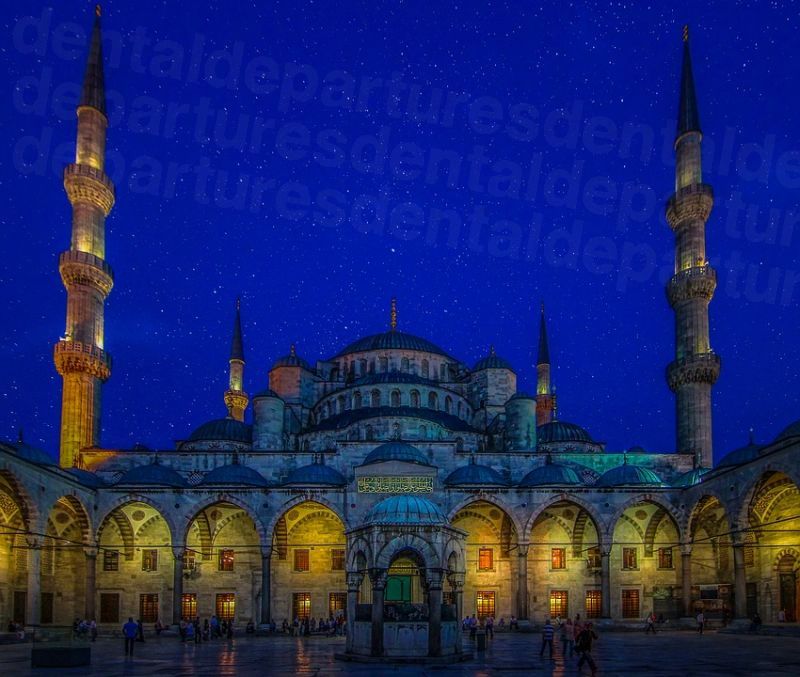 How to Arrange Your Dental Trip to Turkey
If you're looking for a holiday destination for high-quality, affordable dental restorations, Turkey delivers on all fronts.
You can book an appointment online, or talk to our Customer Care Team who can answer any of your questions about dental tourism in Turkey, or get you a free quote.
Sources:
All-on-4® treatment concept. Nobel Biocare. Website accessed: 3 February 2021. https://www.nobelbiocare.com/en-us/all-on-4-treatment-concept
About Prof Paulo Malo. Nobel Biocare. Website accessed: 3 February 2021. https://www.nobelbiocare.com/international/en/education/our-speakers/m-o/paulo-malo.html
44 incredible views you'll only find on Turkey's Turquoise Coast. Matador Network. Website accessed: 3 February 2021. https://matadornetwork.com/notebook/44-incredible-views-youll-find-turkeys-turquoise-coast/
Turkey Visa Fees. Visa Guide. Website accessed: 3 February 2021. https://visaguide.world/europe/turkey-visa/fees/
Watson, Shawn. How a Dental Impression Is Made. Very Well Health. 10 December 2019. https://www.verywellhealth.com/understanding-dental-impressions-1059424
International Organization for Standardization. Website accessed: 3 February 2021. https://www.iso.org/home.html