Last fact-checked: 4 April 2020
Rejuvenate your smile with low-cost dental veneers in Zagreb, Croatia. A quick flight away from EU countries, it's possible to get the smile you've always wanted for a fraction of the price you'd pay at home.
Whether it's for a quick city break or a week's holiday, Zagreb is a buzzing, culturally rich city definitely worth checking out. The Upper and Lower Towns are both situated in the old part of the city where you can discover boutique shops, quirky museums, cozy bars and chi-chi restaurants that line the winding streets. Plus, the process of receiving your veneers is not particularly time-consuming, meaning you'll have plenty of time to enjoy the sights—and lots of opportunities to show off that new smile!
How Much Do Dental Veneers Cost in Zagreb?
The price of dental veneers in Zagreb is staggeringly low compared to the prices at home (hence why it's becoming such a popular place to visit for this very procedure). Take a look at the price comparison in the below:
| | | | | | |
| --- | --- | --- | --- | --- | --- |
| | UK £ | EUR € | AUS $ | NZ $ | US $ |
| Dental Veneers Prices at home | 1,461 | 1,745 | 2,480 | 2,583 | 1,871 |
| Dental Veneers Prices in Zagreb | 293 | 350 | 497 | 533 | 375 |
Note: the prices above are approximate. Please check our current prices for your selected clinic for estimated costs of treatment.
Listed and certified by Dental Departures, these two highly-recommended clinics in Zagreb offer veneers to international patients:
● B Dent
What Are Dental Veneers? How Can They Help Rejuvenate My Smile?
Dental veneers are a relatively simple way of correcting a number of cosmetic dentistry problems. Just a sliver of hard material is adhered to the front of the tooth, disguising discolouration, chips, cracks and even the shape of the tooth.
Veneers are custom-made in a laboratory to fit onto your teeth. As well as being used just singly to change the look of just one tooth, they can also be used in rows of four, six and eight to create a completely new smile. Even if you have a row of crooked teeth, veneers may still be a suitable option.
It's also worth noting that any unsightly teeth in the back of the mouth, like molars, don't require veneers because nobody really sees these when you smile.
What Are the Advantages of Dental Veneers?
1: A key advantages of veneers is they are a reasonably quick treatment that will make a dramatic improvement, particularly if you are using veneers to improve your smile. Ordinarily, if you wanted to straighten your teeth, the only other option would be orthodontic treatment (braces), which is time-consuming, uncomfortable and naturally makes people feel rather self-conscious.
2: Although a tiny sliver of tooth enamel is removed from the front of the tooth to accommodate the veneer, the tooth will not be compromised too much, as with crowns.
3: They look natural and can be colour-matched to your other teeth.
4: Dental veneers are strong, resistant to stains and long-lasting (providing you take proper care of them).
5: Unlike other cosmetic dentistry procedures, sensitive gums shouldn't be a problem.
What Are the Disadvantages of Dental Veneers?
● For any cosmetic dentistry treatment to be effective, having good dental health is imperative. You cannot paper over the cracks—and placing veneers onto crumbling, rotten teeth is pointless as they'll likely soon fall off. Plus, if you do have health problems with your teeth, they will only get worse with a veneer stuck on top of them.
● If you suffer from jaw clenching or bruxism (teeth grinding), this may be a problem as it could damage your veneers.
● You must have a good oral hygiene regime to maintain dental health and prevent tooth decay.
What Is the Procedure for Dental Veneers?
The procedure for dental veneers takes two or three visits to your dentist and can be summarised as follows:
1: Consultation, Examination and Treatment Planning: The dentist will first examine your teeth and gums to determine your dental health. You will consult with the dentist to ascertain what you hope to achieve in terms of the result. You can ask about the pros and cons of the dental veneers procedure, and talk over the material that you prefer, for example, zirconia, porcelain or composite resin.
2: Teeth Preparation: The front of the teeth receiving the veneers will be prepared. This involves removing a thin slice of enamel so that when the veneer is fitted, it is flush with the rest of the teeth and doesn't stick out. After the enamel has been removed, the dentist will need to take impressions of your teeth to send to the laboratory where your veneers are made-to-measure.
3: Veneers Placement: Once the veneers have been received from the lab (usually after a few days), head back to have them fitted. The dentist will try each veneer against your teeth to ensure fit and are colour-matched. Some minor trimming may be necessary to get the best fit. Before your dentist fits them, the teeth will be thoroughly cleaned and etched to roughen the surface, providing a strong bond. A light-activated adhesive is applied before the veneer is attached. Using a special light, the adhesive is hardened, securing the veneer firmly to the tooth.
CAD/CAM Technology Shortens Your Stay
CAD/CAM (computer-aided design/computer-aided manufacture ) technology is increasingly common in dental clinics. The technology allows for same-day prosthodontics, for example, crowns and veneers. Using digital technology, 3D scans are taken of the patient's mouth and the veneer(s) can be designed on the screen, edited for size, shape and colour and the files sent to an onsite lab that mills the veneer while the patient waits.
The potential benefits of this technology for both patients and dentists are wide-ranging. Specifically for international patients short on time, it can be a game-changer offering quality, low-cost treatments in less time than would be possible back home.
Can I Trust the Quality of Veneers in Zagreb?
The quality of dental care in Croatia is generally of a high standard. Clinics are modern, equipped with the latest technologies, such as 3D/CT scanning, CAD/CAM and digital radiography.
However, it is always worth doing your own research to find a dental provider you can fully trust. This is where we come in at Dental Departures. We have already pre-screened all dental providers listed on our site, allowing you to choose in confidence without going down a frustrating Google Search wormhole.
Our background checks include onsite visits, confirmation of dentist qualifications, verification of professional memberships and publication of real patient reviews. We also publish location maps, prices and clinic photos, so you have plenty of information at your fingertips to help you to make an informed decision.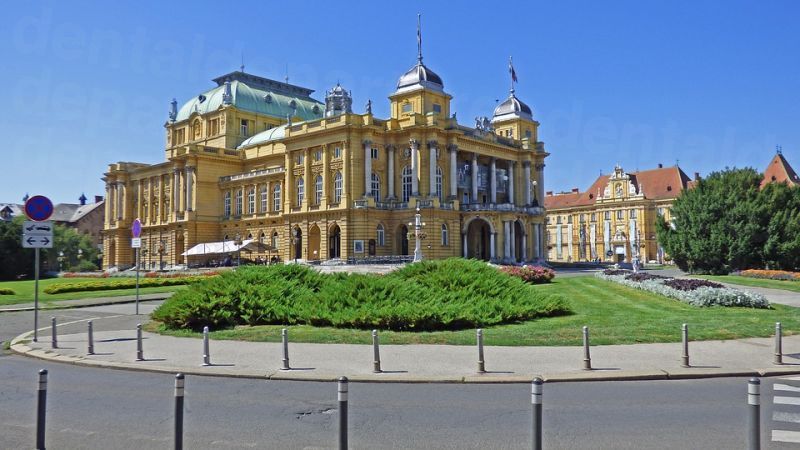 Booking an Appointment for Dental Veneers in Zagreb
You can schedule your appointment directly online, quickly and conveniently, at no charge to you, any time of the day or night. Or connect with Dental Departures' Customer Care Team to book an appointment for dental veneers in Zagreb. You can also obtain a free, no-obligation quote or ask about other services we provide, such as financing, hotel bookings or insurance.
Sources:
Auger, Steve. How Do Veneers Work? Colgate. Website accessed: 20 July 2019. https://www.colgate.com/en-us/oral-health/cosmetic-dentistry/veneers/how-do-veneers-work-0515" target="_blank .
Dental Health and Veneers. Web MD. Website accessed 20 July 2019. https://www.webmd.com/oral-health/guide/veneers#1" target="_blank
Cardellino, Carly. Important! 23 Things You Need to Know Before Getting Veneers. 4 December 2018. https://www.cosmopolitan.com/style-beauty/beauty/a13051650/what-are-veneers/Cosmopolitan" target="_blank .
Sandilands, Tracey. CAD/CAM Dentistry: What is it? Colgate. Website accessed: 20 July 2019. https://www.colgate.com/en-us/oral-health/basics/dental-visits/cad-cam-dentistry--what-is-it-" target="_blank