Last fact-checked: 27 January 2021
Save a fortune on the All-on-4® treatment concept in Split, Croatia, with help from Dental Departures.
This mouth rehabilitation technique exclusively provided by dental manufacturing company Nobel Biocare®.
If you're missing some or all of your teeth, this alternative to dentures can renew your smile with a permanent set of teeth that won't slip or fall out, restoring your confidence, as well as the function of your natural teeth.
What Is the All-on-4® Treatment Concept?
This is a dental restoration treatment in which just four implants are inserted into the jaw, immediately holding a complete arch of teeth securely and firmly in place.
During a follow-up several months later, the temporary fixed bridge is replaced with a permanent one—which looks and functions very much like your original teeth.
The concept was developed by renowned implantologist Dr. Paulo Malo in 1998 and is now carried out across the world according to his protocol.
Am I Suitable for the All-on-4® Treatment Concept?
Patients who have been previously told they are unsuitable for dental implants due to bone loss may still be suitable for this treatment without the need for a bone graft.
The surgical procedure entails the two rear implants being placed at a 45-degree angle, rather than 90-degrees as with traditional implants. They are also slightly longer than traditional implants. Both of these differences create a bigger surface area for bone-to-implant contact which also creates greater stability.
Diagnostic tests, such as CT scans, will allow your dentist to see whether your jaw bone is viable to hold the implants.
It is generally considered that smoking is incompatible with dental implants; if you are a smoker, there is a greater chance of the implants failing. This is because smoking cigarettes diminishes blood flow. Blood moves oxygen and nutrients around the body, supplying it to your cells.
After surgery, it is particularly important that cells receive appropriate levels of oxygen and nutrients to fight infection and heal. Thus, your dental implants could well be compromised greatly at this initial stage if you are a smoker, as well as throughout the life of your implants.
How Much Does the All-on-4® Treatment Concept Cost in Split?
See below for treatment prices in Split compared to your home country:
| | | | | | |
| --- | --- | --- | --- | --- | --- |
| | UK £ | EUR € | US $ | CAN $ | AUS $ |
| Cost at home | 16,000 | 19,000 | 20,000 | 27,000 | 27,000 |
| Cost in Split | 6,400 | 7,100 | 8,000 | 10,400 | 11,400 |
Note: the prices above are approximate. Please check our current prices for your selected clinic for estimated costs of treatment.
What About Undergoing Treatment in Split as a Dental Tourist?
All dental procedures, regardless of where they're performed, carry some risk that they will not achieve the desired result; that said, the All-on-4® treatment concept has a high long-term success rate, with a 95% satisfaction rate among the 150,000 patients who've received treatment.
Providing that you choose a reliable dentist with expertise in this procedure, there is no reason to suppose that your treatment won't be any less successful than if you'd had the treatment at home.
While a major procedure, surgery is carried out in one session, typically lasting around two hours per jaw; this involves the removal of any remaining teeth, placement of the implants and finally attaching the teeth.
Afterward, you may experience a little swelling and/or bruising but most people can continue with their everyday activities without too much discomfort. Obviously, this does mean you should take things easy, engaging in low-key activities rather than the more high-octane ones.
Dental facilities treating international patients are modern and equipped with the latest technologies and facilities to provide top-class services. This includes state-of-the-art diagnostic and therapeutic equipment, such as 3D/CT scanning, panoramic x-rays and CAD/CAM technology (computer-aided design/computer-aided manufacture). All dentists receive good training and must be registered with the Croatian Dental Chamber in order to practice.
A short flight away from most European countries Split is a UNESCO world heritage site situated on the sunny Dalmatian Coast…need we say more? Its Old Town is perfect for ambling around, discovering interesting shops, restaurants and bars, while soaking in the atmosphere of a Roman Palace that's been standing for centuries.
There's also the Riva waterfront, where you can take in the amazing views of the Adriatic while enjoying watching the world go by under the shade of a palm tree. It's an enjoyable location to relax, both before and after the procedure.
How Can I Choose a Reliable Clinic and Dentist in Split?
This entire process is made easy with Dental Departures. All of the clinics listed on our website have been pre-screened by us as we understand how important it is to find a reliable facility that you can trust. Our criteria include:
Visiting clinics personally
Verifying dentists' qualifications
Confirming professional memberships
Collecting real patient reviews
Checking for legal/criminal records
Every facility listed on our website has met these qualifications. Furthermore, each listing also has additional helpful information to make your job of homing in on the right facility for you a whole lot easier.
Some of our popular clinics in Split that offer mouth restoration procedures like this include:
What Does Treatment Involve? How Long Will I Need to Stay in Split?
In advance of your visit, your dentist will give you a reasonable idea as to how long you will need to stay in Split. However, it's worth not rushing things so don't restrict yourself to a tight schedule.
Although the actual surgery is carried out in just one session, the planning stage is just as important to ensure things go just as they should on the day of your procedure.
The stages of your treatment are summarized below:
1: Initial Consultation & Assessment:
Our team can help you send up-to-date digital x-rays or CT/scans through to the dentist in Split for a preliminary assessment as to whether your jaw is viable for the treatment. The dentist in Split will also carry out their own tests and scans once you have arrived.
If these confirm your suitability, impressions of your mouth will be taken to send to a laboratory where your new arch of teeth (immediate loading denture) is to be made. Your dentist will need this prosthesis on the day of surgery and you shouldn't have to wait too long in Split.
2: Day of Surgery:
Generally, local anaesthetic with conscious sedation is administered before carrying out the procedure.
Any remaining teeth are extracted first, and then your dentist will open up your gum at four points pre-identified from the CT scans already taken. The dental implants are inserted at these four points, with specialized abutments and coping cylinders subsequently attached. These hold the loading denture securely in place, which is trimmed down around the palate area to form a fixed dental bridge to complete the procedure.
3. Healing Phase:
You should be able to fly back home with your new smile) shortly after the surgery, although it's best not to rush as your mouth and gums will be sore and swollen.
Over the next four months, the implants will need time to osseointegrate with the jawbone; to foster this process and protect the gums, patients are advised to avoid hard foods and not exert too much biting pressure on the temporary fixed bridge.
4: Permanent Restoration:
In order to have your permanent teeth fitted, you will need to return to Croatia after around six months.
The process involves the dentist checking to see if the implants have successfully fused to the bone, as well as taking more impressions for your permanent (final) arch of teeth to be made.
This is finally attached by unscrewing the temporary version and attaching the final arch, restoring around 90% of the teeth's function—allowing you to eat practically anything you want again.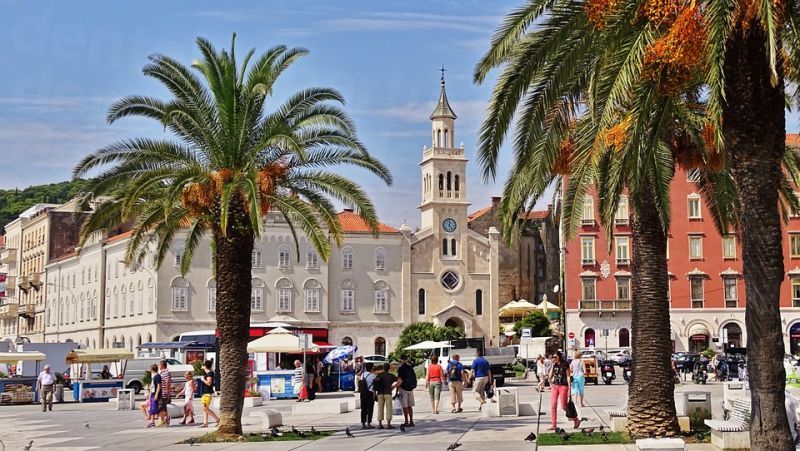 Further Information about the All-on-4® Treatment Concept in Split:
Contact Dental Departures' Customer Care Team for further information about undergoing treatment in Split, as well as other services we provide, such as financing options and insurance for global dental care.
A range of quick and easy online booking options, at no cost to you, is also displayed below.
You can also leave us your contact details and we'll get back in touch at a time that suits you. This service is completely free, with no up-front costs.
Sources:
Nobel Biocare. Website accessed: 27 January 2021. https://www.nobelbiocare.com/en-us
All-on-4. Nobel Biocare. Website accessed: 27 January 2021. https://www.nobelbiocare.com/uk/en/home/products-and-solutions/treatment-concepts/all-on-4.html
Krans, Brian. Bone Graft. Healthline. 6 November 2018. https://www.healthline.com/health/bone-graft
Moraschini, V & Barboza, P. Success of Dental Implants in Smokers and Non-Smokers: A Systematic Review and Meta-Analysis. International Journal of Oral and Maxillofacial Surgery. Volume 45, Issue 2, February 2016. https://www.sciencedirect.com/science/article/pii/S0901502715013089
Malo, P et al. A Longitudinal Study of the Survival of All-on-4 Implants in the Mandible with Up to 10 Years of Follow-up. Journal of the American Dental Association. March 2011. https://www.ncbi.nlm.nih.gov/pubmed/21357865
Historical Complex of Split with the Palace of Diocletian. UNESCO. Website accessed 27 January 2021. https://whc.unesco.org/en/list/97
CEREC - CAD/CAM solutions for dental practices. Website accessed: 27 January 2021. https://www.dentsplysirona.com/en/explore/cerec.html
Villines, Zawn. Dental bridge: Everything you need to know. Medical News Today. 4 December 2019. https://www.medicalnewstoday.com/articles/327182
Temporary Abutments and Copings. Nobel Biocare. Website accessed: 27 January 2021. https://store.nobelbiocare.com/us/en/media/eifu/IFU1093_EN_GB_00.pdf