Last fact-checked: 28 January 2021
Save thousands on the All-on-4® treatment concept in Georgia when booking Dental Departures.
If you've lost some (or all) of your teeth, this dental implant procedure provided by Nobel Biocare® offers a permanent, stable solution that will have you smiling with confidence again.
What Is the All-on-4® Treatment Concept?
This treatment uses just four dental implants to support a complete arch of replacement teeth (crowns) affixed to a bridge.
This can be the teeth in the upper jaw, the lower jaw or both (dual surgery).
Pioneered by renowned Portuguese implantologist Dr Paulo Malo, the procedure is now commonplace throughout the world and carried out by our partner specialists in Georgia according to Dr. Malo's exact specifications.
While the planning stage(s) take time, the surgical procedure can be carried out in just one session, allowing patients to leave with their new temporary set of teeth on the same day. They then return months later to have their permanent arch(es) attached.
Am I a Suitable Candidate? What If I've Suffered Bone Loss?
Patients who find it difficult to get on with dentures, or those who'd prefer to have a more secure, permanent set that doesn't slip, are the most obvious candidates for the All-on-4® treatment concept, provided they are in good general health.
One of the prerequisites for traditional dental implants is that you haven't suffered bone loss in your jaw bone; however, this may not be a problem for this particular technique. Here's why:

Bone loss may be caused by a number of medical conditions, the most prevalent one being an advanced form of gum disease, known as periodontitis. Gum disease attacks the gums around the teeth. As the disease advances, the gums recede, leaving pockets around each tooth, which provide a great refuge for harmful bacteria to breed. Unchecked, the gum disease will worsen until it reaches the advanced stage when the jawbone itself is eroded, eventually leading to tooth loss.

The reason this may not be an issue for All-on-4® treatment concept is that only four implants are inserted, and it may be possible to position them where there is sufficient bone; and secondly, the rear implants are longer and inserted at a 45-degree angle rather than the standard 90-degrees, which increases implant-to-bone contact.
It should also be noted that dental implants (of any kind) are not a good option if you smoke, as this reduces blood flow, as well as the amount of oxygen and essential nutrients that are able to reach the cells responsible for healing and infection-fighting.
While this is a particular problem immediately after implant surgery, it will also be a long-term issue that may lead to failure of the implant.
How Much Does All-on-4® Treatment Concept Cost in Georgia?
The table below compares prices in Georgia with your home country:
| | | | | | |
| --- | --- | --- | --- | --- | --- |
| | UK £ | EUR € | US $ | CAN $ | AUS $ |
| Price at Home | 16,000 | 19,000 | 20,000 | 27,000 | 27,000 |
| Price in Georgia | 8,500 | 10,000 | 11,000 | 14,700 | 16,400 |
(Note: the prices above are approximate. Please check our current prices for your selected clinic for estimated costs of treatment).
Is this a Good Procedure to Have in Georgia as a Dental Tourist?
While this course of treatment is a major procedure, most patients experience very little in the way of downtime or side-effects following their surgery, apart from a little bruising and/or swelling. This means you can still enjoy plenty of low-key sightseeing activities a day or two after your surgery without too many problems.
The dentists in Georgia are highly-skilled and have the necessary expertise to carry out the procedure, which has a high success rate.
Georgia's private dental facilities have seen a lot of investment recently. They offer excellent services to international patients, are modern and equipped with the latest diagnostic and therapeutic technologies, including 3D/CT scanning and digital x-rays.
What Does the All-on-4® Treatment Concept Entail? How Long Will I Need to Stay in Georgia?
The All-on-4® treatment concept, like most other implant procedures, is a two-stage process, so you will need to factor in two separate trips to your chosen dentist in Georgia to complete the process.
The success of any implant procedure hinges on the implant integrating with the jawbone (a process called osseointegration), which provides a strong and stable base (like a tooth root) for your crown (false tooth). Thus, once the implant is placed, you'll have to wait around six months (for the implant and bone to fuse together) before you can have the permanent set of teeth attached, which takes place during the second stage of treatment.
During the healing phase (when you are back home), you will normally be instructed to follow a limited diet of semi-solid foods so as to protect your temporary fixed bridge and the gums.
Your dentist will provide you with further information based on their assessment of your medical situation and their clinical opinion; on average, you will need a week for the first part of the procedure and a few days for the second.
The treatment plan for the All-on-4® treatment concepts a be summarised as:
1: Consultation & Assessment
Your chosen dentist in Georgia will make a preliminary assessment as to your suitability for the treatment (providing that you send through up-to-date digital x-rays via our Customer Care Team).
The dentist will then arrange a thorough assessment, consultation and diagnostic tests, including 3D/CT scans once you arrive in Georgia. You will also need to have impressions taken of your mouth so that your new teeth can be made in a laboratory and will be ready for your dentist to fit on the day of your surgery. The initial set of teeth (immediate loading denture) you receive will be temporary and lighter than your permanent ones—this is to give the tissues in your mouth time to heal following surgery.
2: Treatment Day
On the day of your surgery, you will be given a local anaesthetic and/or sedative for the procedure, which takes around two hours per jaw.
If any teeth are remaining, these will first be removed in order to make space for the new arch of teeth.
The dentist uses the CT scans to accurately pinpoint the optimal places in your jaw for the implants to be inserted. Small incisions are made in the gum at these points to expose the jawbone. Four small holes are drilled into the jawbone to accommodate the implants, which are securely placed.
Using specialized joining abutments and coping cylinders, the immediate loading denture is attached.
3: Permanent Restoration
After the healing phase is complete (while you are back home), you will need to return to Georgia to have your permanent teeth (final fixed bridge) attached.
You and your dentist can work this out as to when would be a suitable time for your return. This trip may entail a few different appointments as new impressions will need to be taken; however, the process of switching the temporary prosthesis with the new, permanent one is non-invasive.
Why Book the All-on-4® Treatment Concept in Georgia with Dental Departures?
1) With Dental Departures' Best Price Guarantee, you will always pay the best prices available online.
2) Dental Departures has a decade of expertise in placing hundreds of thousands of patients with affordable, high-quality dental clinics overseas.
3) All of the clinics listed on the Dental Departures site have been pre-screened. Our checks include:
Onsite visits
Reviewing criminal/legal records
Confirming dentist qualifications
Verifying professional memberships
Looking at patient reviews, which are published on our site
4) We include location maps, clinic photos and prices to help you make an informed choice.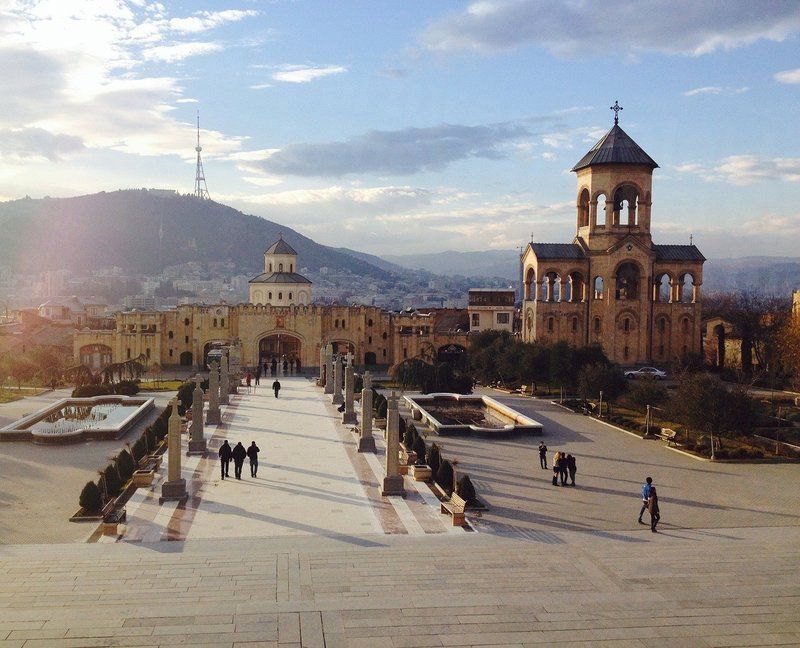 Recommended Clinics for Mouth Restorations in Georgia
Take a look at our popular clinics in Georgia for the All-on-4® treatment concept:
Further Information About Dental Care in Georgia:
Find a clinic for your mouth restoration in Georgia with help from Dental Departures.
Ask our Customer Care Team for a free, no-obligation quote, or about other services we offer, including hotel booking, financing options and insurance.
Sources:
About Prof Paulo Malo. Nobel Biocare. Website accessed: 28 January 2021. https://www.nobelbiocare.com/international/en/education/our-speakers/m-o/paulo-malo.html
Nobel Biocare. Website accessed: 28 January 2021. https://www.nobelbiocare.com/en-uk
Price, Mirissa D. Bone Resorption: Why it Happens and What to do Next? Colgate. Website accessed: 28 January 2020. https://www.colgate.com/en-us/oral-health/basics/mouth-and-teeth-anatomy/bone-resorption-why-it-happens-and-what-to-do-next
Nordqvist, Christian. What is Periodontitis? Medical News Today. 18 January 2018. https://www.medicalnewstoday.com/articles/242321.php
Murphy, Caleb. Smoking and Tooth Implants: How it Affects the Success Rate. Authority Dental. 15 January 2020. https://www.authoritydental.org/smoking-tooth-implants
Malo, P et al. A Longitudinal Study of the Survival of All-on-4 Implants in the Mandible with Up to 10 Years of Follow-up. Journal of the American Dental Association. March 2011. https://www.ncbi.nlm.nih.gov/pubmed/21357865
Explore Georgia. Website accessed: 28 January 2021. https://www.exploregeorgia.org/