Last fact-checked: 3 February 2021
With the All-on-4® treatment concept in Izmir, Turkey costing 60%-70% less than at home, it's possible to save over ten thousand pounds on a brand new smile and say goodbye to dentures for good.
Equipped with Dental Departures on your side, you can find top-quality, reliable dentists specialising in this full-arch rehabilitation technique that's exclusively provided by Nobel Biocare®.
What Is the All-on-4® Treatment Concept?
The All-on-4® treatment concept is the ultimate tooth replacement treatment if you have lost all (or most) of your teeth, or for those with failing teeth.
It was the brainchild of Dr. Paulo Malo, a renowned implantologist from Lisbon, Portugal who developed this innovative technique that uses just four dental implants to anchor a complete arch of teeth to the jaw. The technique is so successful that Dr. Malo's protocol is taught and followed throughout the world, with over 150,000 patients having been successfully treated to date.
While the All-on-4® treatment concept is still a specialist procedure, this treatment is now widely available—including in major Turkish cities, like Izmir.
If you have previously been informed that you are not a suitable candidate for dental implants, don't despair: the All-on-4® treatment concept may still be a viable option without the need for a bone graft to augment the jaw bone.
How Does the All-on-4® Treatment Concept Differ from Traditional Implants?
The All-on-4® treatment concept differs from traditional implants in the following ways:
The rear implants provide a larger surface area for bone-to-implant contact because they are longer than traditional implants.
The implants are placed at an angle of 45 degrees rather than 90 degrees, like traditional implants, providing a larger surface area for bone-to-implant contact.
The placement of the implants creates a trapezoid shape for increased stability.
While careful planning is required prior to the treatment day, the actual procedure is completed in just one day. This means that teeth extractions, implant placement and replacement teeth attachment are carried out all in the same session.
The method can be used to replace all the teeth in one jaw (upper, lower or both), whereas traditional implants typically replace one tooth at a time.
What Are the Benefits of the All-on-4® Treatment Concept?
Lots! This is why this treatment proves to be so popular despite the normally high price tag. For example:
The procedure is carried out in one session, with your new teeth fitted on the same day of your procedure.
The dental implants provide a complete arch of permanent, stable teeth.
There is surprisingly little downtime following the surgery (although vigorous activity should be avoided following surgery)
Patients with bone loss in the jaw may still be suitable.
It can be less expensive than replacing teeth one-by-one with traditional implants.
There is evidence that dental implants are beneficial to patients with bone loss because they stimulate the jaw bone in the same way as a normal tooth root would.
How Much Can I Save on the All-on-4® Treatment Concept in Izmir?
Compare prices in Izmir compared to home in the table below:
| | | | | | |
| --- | --- | --- | --- | --- | --- |
| | UK £ | EUR € | US $ | CAN $ | AUS $ |
| Prices – at home | 16,000 | 19,000 | 20,000 | 27,000 | 27,000 |
| Prices – Izmir | 5,800 | 6,700 | 7,500 | 10,100 | 10,700 |
[Please note that these are estimated prices at the time of writing. See our individual clinic listings for latest prices.]

What Does the All-on-4® Treatment Concept Entail?
The actual surgical procedure is relatively quick to carry out, but the success of the procedure is in its attention to detail—and this is down to meticulous planning prior to treatment day. As well as your dentist's proficiency and competence in placing the implants, the calculations for the optimum position of each implant ultimately affect the overall success (i.e. how comfortable they feel and how good it looks).
The treatment can be achieved in two stages:
Initial Consultation & Assessment:
To save time, you can send digital x-rays to the dentist in Izmir prior to traveling. For such an extensive procedure, it is likely that the dentist will ask for these anyway, allowing them to determine whether you are a suitable candidate. After all, you don't want to fly all the way to Turkey only to discover that your mouth can't accommodate these implants.
Dental Departures' Customer Care Team can facilitate this whole process, as well as provide a free, no-obligation quote to get you started!
Once you arrive in Izmir, the dentist will perform their own detailed examination of your mouth and take diagnostic tests, such as 3D/CT scans that show your dentist what is happening below the gum line and in your jaw bone. The CT scan also provides the template for determining where the implants should be placed. Impressions are taken of your mouth which are sent to the laboratory where your new set of teeth will be made. Your dentist will receive these prior to your treatment day, ready to be fitted.
Treatment Day:
The surgery usually takes around two hours per jaw. A local anaesthetic is used often with conscious sedation.
First, any remaining teeth are removed and extraction sites are stitched (as required) prior to making incisions in the gum line where the implants are to be placed. Small holes are then made in the jaw and the four implants inserted—two in the front of the jaw, and two in the rear. Once the implants are in place, the dentist attaches your new temporary arch of teeth—and you're good to go!
One thing to bear in mind if you are having teeth extracted is that you will be given a lighter, temporary set of teeth, rather than permanents; these allow the tissue in the mouth time to heal. This means you will need to travel back to your dentist to have the permanent teeth fitted—typically after around six months. Patients should also follow a diet of soft/semi-soft foods during this "healing period" to allow the implants to properly fuse with the jawbone.
What About the Quality of Dental Care in Izmir?
Dentists in Turkey have a high level of expertise and are well-trained, meaning you need not doubt the quality of your procedure in Turkey compared to back home. Turkey is one of Europe's most popular countries to visit for dental tourists, in no small part due to the quality of care, as well as the competitive prices.
Turkey's best clinics are modern, follow international protocols on health and safety and are equipped with the latest technologies, such as computer-aided design/computer-aided manufacture (CAD/CAM), digital x-rays and 3D/CT scanning.
Obviously, this is not a treatment to be undertaken on a whim—and you should be doing your own research to find a reliable, good-quality facility that you are comfortable with.
With Dental Departures, you can rely on our vetting processes to ensure you are seen by a trustworthy dentist. We pre-screen all of the clinics we partner with, which involves checking criminal/legal records and carrying out onsite visits. We confirm professional qualifications and memberships, as well as collate and publish verified patient reviews.
You can find these under each clinic listing on our website, with clinic photos, prices, location maps and other information to help you reach your own informed decision.
Here are three to check out to get started: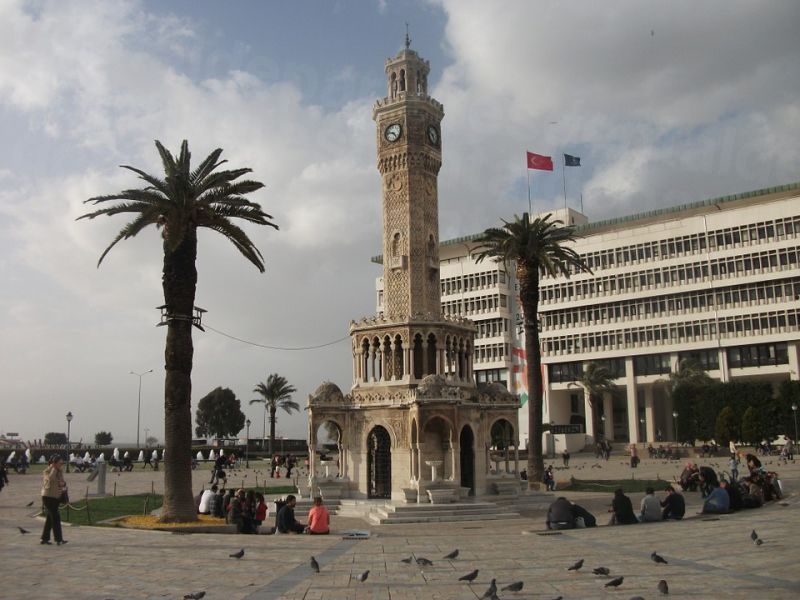 How Can I Book My Appointment?
Book online via any of our clinics' listing pages or give Dental Departures' Customer Care Team a call.
They are on hand to speak to you about any aspect of a trip for the All-on-4® treatment concept in Izmir, a fantastic city primed for sightseeing and relaxation—the perfect combination for a dental tourism holiday or post-treatment recuperation.
Sources:
Nobel Biocare. Website accessed: 3 February 2021. https://www.nobelbiocare.com/en-uk
About Prof Paulo Malo. Nobel Biocare. Website accessed: 3 February 2021. https://www.nobelbiocare.com/international/en/education/our-speakers/m-o/paulo-malo.html
Krans, Brian. Bone Graft. Healthline. 6 November 2018. https://www.healthline.com/health/bone-graft
Misch, Carl E. How Dental Implants Stop Gradual Bone Loss and Replace Teeth. Dear Doctor. 8 January 2011. https://www.deardoctor.com/articles/hidden-consequences-of-losing-teeth/
Yalav-Heckeroth, Feride. Why Izmir is known as the Pearl of the Aegean. Culture Trip. 17 April 2017. https://theculturetrip.com/europe/turkey/articles/why-izmir-is-known-as-the-pearl-of-the-aegean/
Tooth extraction healing. - How long does it take? Animated Teeth. 12 October 2018. https://www.animated-teeth.com/tooth_extractions/a-tooth-extraction-healing-times.htm
Turkey: High-quality Dental Tourism Booming. Affordable Luxury Travel Co. 21 February 2019. https://affordableluxurytravelco.com/2019/02/21/turkey-high-quality-dental-tourism-booming/