If you're searching for the ultimate holiday destination where you can get an affordable All-on-6, Antalya is it. On the Turkish Riviera, this part of the world exudes charm with breath-taking scenery, centuries old archaeological sites and more than enough to keep you occupied in between your trips to the dentist.
What is the All-on-6 procedure?
The All-on-6 procedure is an option for patients who have lost all—or most—of their teeth. Although dentures are a reasonable option to replace teeth, they aren't for everyone. Some people find them uncomfortable, and they can become ill-fitting and loose, which presents difficulties when eating certain foods. Plus, the risk of them slipping or falling out can be a major cause of embarrassment.
All-on-6 dispenses with the aggravation of dentures. A complete arch of teeth is attached permanently to six dental implants, inserted into your jaw, eventually fusing with the bone and providing a stable and secure platform to attach the teeth.
What are the Benefits of All-on-6?
· The treatment can sometimes be carried out in a day. Extractions, placement of implants and teeth placement can all take place in one session.
· Patients with bone loss in their jaw may still be suitable for the treatment without requiring a bone graft.
· More suitable for dental phobic patients as there are fewer trips to the dentist.
· No worries about teeth slipping or falling out, as with dentures.
· Take part in activities you never thought you could due to fear of losing your dentures.
· Eat anything you want without losing your dentures.
· More cost-effective than replacing individual teeth with dental implants.
What's the Treatment Process for All-on-6's?
Your dentist in Antalya will make an initial assessment whether you are a suitable candidate for an All-on-6, if you email up-to-date digital x-rays and/or CT scans. If you qualify, then you can begin to plan your trip.
The treatment process consists of planning & consultation; treatment day and attachment of final restoration.
Planning & Consultation : The first trip to your dentist in Antalya will enable the dentist to examine your mouth properly, take digital x-rays and/or scans to assess the state of your jaw and surrounding tissues. If the dentist confirms your suitability for the procedure, a day will be arranged for the treatment to be carried out, and impressions will be made of your mouth so that your new teeth can be made and ready to be fitted on the day you have the procedure.
Treatment Day: The All-on-6 is carried out under conscious sedation or local anaesthetic and typically takes around three hours. If you have any teeth left in the jaw receiving the implants, these will be removed first and then the dentist will start the procedure by opening up the gum to form small flaps so the dentist can access the jaw at the points where the implants are to be inserted. A small hole is made in the jaw and the implants placed. The gum is stitched back and your new teeth attached.
Permanent Teeth Restoration: If you have had extractions (or had them at home within the last three months) then you will receive a lighter, temporary bridge of teeth, giving the gums time to heal. This means you will need to return to have the permanent restorations fitted (although it's another fine excuse for a holiday, if you need one).
Why Should I Get an All-on-6 in Antalya?
1: Antalya has a lot to offer international tourists. The Gulf of Antalya is robust with beautiful locations, as well as unique, ancient sites, like the underwater Lycian city. Cities like Antalya and Side have pretty harbours where you can spend hours watching the yachts come and go as you sit down to enjoy a long, leisurely lunch. You can enjoy a round of golf in Belek, whitewater rafting in the Goynuk Canyon or hiking along the Lycian Way—a coastal footpath that stretches from Antalya to Fethiye. Or, you can simply find your spot on over 400 miles of beach and let the world drift by.
2: Antalya is accessible, with with daily flights arriving from far and wide. Brits and Irish can take advantage of low-cost airlines that fly in throughout the year. Flight times from the UK are around four hours.
3: The best dental clinics in Antalya are ultra-modern, equipped with state-of-the-art technologies, including digital panoramic x-rays, 3D/CT scanning and CAD/CAM (computer-aided design/computer-aided manufacture).
4: Our listed dentists in Turkey speak English, are highly-skilled and must be registered with the Turkish Dental Association to practice. Furthermore, specialists are likely to be members of international professional organizations, such as the International Congress of Oral Implantologists (ICOI).
5: You'll save thousands on the cost of an all-on-6 in Antalya compared to a dental clinic at home.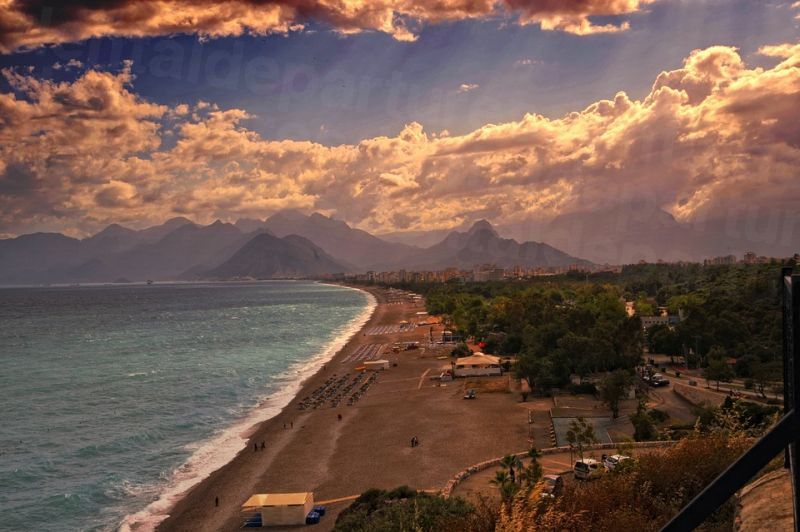 What Are the All on 6 Costs in Antalya?
The table below shows the immense savings you can make on an All-on-6 in Antalya:
| | | | | | |
| --- | --- | --- | --- | --- | --- |
| | UK £ | EUR € | US $ | CAN $ | AUS $ |
| All-on-6 costs – at home | 23,000 | 27,000 | 30,000 | 40,000 | 39,000 |
| All-on-6 costs – Antalya | 5,000 | 6,000 | 6,400 | 8,600 | 8,500 |
How Can I Find A Good Quality All-on-6 Clinic in Antalya?
Take a look below at some of our top-rated clinics that are popular with our patients:
· Premium Dental Turkey
How Do I Begin to Organise a Trip to Antalya for an All-on-Six?
First off, browse our clinic listings and choose a dental clinic that interests you. Either book an appointment online, or ask us for a free quote. Alternatively, our Customer Care Team are always on hand to talk matters through with you, or to answer any questions you have about All-on-6 in Antalya, or any other aspect of dental tourism you'd like to know about.