Last fact-checked: 5 April 2020
Fix a broken or chipped tooth for less with a dental crown in Zadar, Croatia.
If you're planning a holiday to Croatia, now's the ideal time to book in with one of our quality-checked dentists in one of the country's stunning coastal locations, like Zadar. Not only will you be keeping your dental health in check, but you can finally transform that unsightly-looking tooth (or teeth) for good.
How Will a Dental Crown Help Me?
A dental crown is sometimes referred to as a cap because it is placed over your tooth. Although they can be made from a variety of materials, most people choose a tooth-coloured material that blends in with your existing teeth; this way, no-one will even know it's a crown.
Crowns can be used to treat a number of problems, including:
● Restoring a broken tooth
● Adding strength to a weakened tooth
● Protecting a tooth
● Covering an uneven or discoloured tooth
● Replacing a missing tooth as part of a dental implant
● Replacing a missing tooth as part of a dental bridge
What Are the Advantages/Disadvantages of Different Crown Materials?
There are pros and cons for each of the materials that crowns are made with, which include porcelain/ceramic, metal such as gold, porcelain fused to metal (PFM), composite and zirconia. Your dentist will talk you through the options as some materials are more suited to certain teeth depending on location and the normal biting and chewing forces exerted on it.
Price and personal preference may also have a bearing on what material you choose for your dental crown—otherwise, here is a quick overview of each material generally available at our listed dentists:
● All ceramic/porcelain: These mimic the natural colour of your teeth, but they can be prone to chipping.
● Porcelain Fused to Metal (PFM): While the underlying structure of the crown is metal, porcelain is placed over the top to provide a colour-match to your teeth. However, sometimes you can see a grey tinge from the metal underneath the porcelain.
● Metal: These are ultra hard-wearing crowns that are good at withstanding biting and chewing forces. They are good for back teeth, but the prominent colour may be off-putting for some people aesthetics-wise.
● Composite/Resin: This is the least expensive material for crowns, and while they can be colour-matched, they don't have the same qualities that mimic the tooth as other materials, like porcelain or zirconia.
● Zirconia: Zirconia has excellent cosmetic qualities and mimics natural teeth very well. It is also a very hard-wearing material and can be used anywhere in the mouth. It is also the most expensive material for dental crowns, although the prices in Zadar are much lower than at home.
How Much Do Dental Crowns Cost in Zadar?
With Dental Departures' guaranteed best prices you'll always get the best deal for your dental crowns in Zadar. Check out the prices compared to your home country:
| | | | | | |
| --- | --- | --- | --- | --- | --- |
| | UK £ | EUR € | US $ | AUS $ | NZ $ |
| Dental Crown Price at home | 1,015 | 1,200 | 1,300 | 1,700 | 1,775 |
| Dental Crown Price in Zadar | 200 | 250 | 277 | 405 | 422 |
The prices listed above are approximates based on figures at the time of writing. Please check our individual clinic listings for more accurate costs or contact our Customer Care Team for a free quote.
What Happens During the Dental Crowns Procedure?
The procedure for dental crowns typically takes two visits to the dentist. During the first visit, your mouth will be examined by the dentist and an assessment is made as to whether a crown is required. If so, the dentist will discuss the options of material with you and prepare your tooth to receive the crown.
In order for the crown to sit comfortably in your mouth, the tooth will need to be pared down. You will be administered local anaesthetic while the dentist removes the outer parts of the tooth. Impressions of your mouth are made to send to the laboratory where your new crown is made to measure. A temporary crown is fitted until the dentist receives your new crown from the lab.
Then you return to the clinic to remove the temporary crown and have the permanent fitted. Your dentist will place the crown on top of your tooth, making any minor adjustments to ensure a good fit. Once happy, the crown will be fixed permanently with a light-activated adhesive that bonds the crown securely to your tooth.
CAD/CAM
Many dentists now offer CAD/CAM (computer-aided design/computer-aided manufacture) dental restorations . Instead of sending out to a laboratory, the dentist has an in-house lab and the whole process can be carried out while you wait using computer images and an onsite milling machine. This obviously has major benefits, particularly to patients from abroad where spending less time in the dentist's chair means more time to enjoy their time in Zadar. Feel free to ask us about this before booking your appointment through Dental Departures; we can check whether the clinic you are interested in offers this service.
What About the Quality of Dental Crowns in Zadar?
There is no reason to doubt that your dental crown procedure in Zadar will be of an inferior quality to what you'd receive at home. Dentists are highly-skilled and well-trained with the appropriate qualifications to carry out all manner of dental procedures. Clinics are modern and equipped with state-of-the-art technologies to deliver accurate diagnoses and treatment outcomes.
Having said that, it's paramount that you choose a trustworthy facility that you can rely on. Dental Departures makes it our business to carry out our own checks on all the facilities listed on our website, so you don't have to. Our checks include onsite visits and searching criminal/legal records for anything untoward. We list dentist qualifications and professional memberships we have verified, alongside clinic photos, procedure prices and location maps to make it easy for you to make your own choice.
Take a look at some of our clinics in Zadar where you can go for your dental crowns: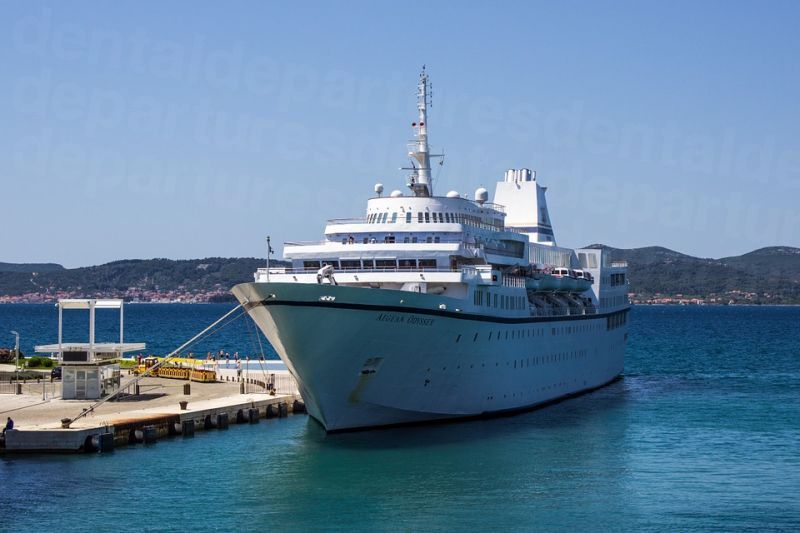 Further Information About Dental Crowns in Zadar:
Contact Dental Departures' Customer Care Team to learn more about dental crowns in Zadar. We can help you book your appointment, obtain a free quote or provide advice about our other services, such as dental insurance or finance options.
Sources:
Dental Crowns. WebMD. Website accessed 24 July 2019. https://www.webmd.com/oral-health/guide/dental-crowns" target="_blank
What are NHS Fillings and Crowns Made Of? National Health Service. Website accessed 24 July 2019. https://www.nhs.uk/common-health-questions/dental-health/what-are-nhs-fillings-and-crowns-made-of/" target="_blank
Smith, Yolanda. Procedure for Dental Crowns. News Medical Life Sciences. 26 February 2019. https://www.news-medical.net/health/Procedure-for-Dental-Crowns.aspx" target="_blank
Sandilands, Tracey. CAD/CAM Dentistry: What is it? Colgate. Website accessed: 24 July 2019. https://www.colgate.com/en-us/oral-health/basics/dental-visits/cad-cam-dentistry--what-is-it-" target="_blank