Last fact-checked: 20 February 2020
Save hundreds on the cost of dental crowns in Barcelona. If you're in need of this versatile procedure, those savings could be enough to cover your travel expenses and accommodation, just as long as you're on a relatively modest budget. And if you were planning a holiday in this part of Spain anyway? Even better!
Barcelona: A City Overview
Barcelona is one dental tourism destination that you won't want to leave in a hurry.
The iconic Sagrada Familia, Cata Batilo and Park Guell are must-see stop-offs that are part of the timeless appeal of this unique city. Studied by architecture students across the world, and with seven of his properties UNESCO World Heritage Status -listed, Gaudi's quirky masterpieces have their place in history—even if they're still a little leftfield for some tastes.
But there's more to this city than its architectural heritage. It is very much the 21st-century city in terms of entertainment and activities, with the long pedestrian thoroughfare of 'Las Ramblas' the main tourist magnet, and for good reason. The entire area is a hive of activity with shopping, restaurants, bars and street entertainers and plenty of hotels. Yes, it is quite touristy, but it's easy to escape the crowds (and lost at the same time) by heading through the winding, narrow alleys of the Old Town; from here, you can keep going on foot to reach the harbour, catch a cable car across the city or even make your way to Barcelona's main city beach.
Why Would I Need a Dental Crown?
Sometimes referred to as 'caps' because they are placed on top of the tooth, dental crowns can serve a variety of purposes. They are an easy way to repair teeth that have been damaged through accident or that have been weakened by tooth decay. They can also be used to replace missing teeth.
For example:
● A crown can be placed over a tooth that has had a large filling or root canal treatment, which may be weak due to a compromised structure.
● A tooth that has been damaged and is broken, chipped or cracked may have a crown to restore its shape and function.
● A tooth that is discoloured or misshapen can have its appearance improved with a crown.
● Missing teeth can be replaced with a crown as part of a dental bridge.
● Missing teeth can also be replaced with a crown as part of a dental implant.
Are Crowns a Suitable Treatment for Dental Tourists?
Most dental procedures are suitable for dental tourists, and crowns are no exception. The treatment can be completed in two trips in a matter of hours—so it won't take up too much of your precious holiday time. Second, there should be no downtime following your crowns procedure. The crown may feel a little different in your mouth at first—mainly because it's likely to be a different shape to your tooth, but it will only take a few days before you are used to it.
What Is the Procedure for Dental Crowns?
It usually takes two visits to the dentist for a new dental crown. The dentist will first give you a thorough examination and consultation to assess whether a dental crown is a suitable treatment for your circumstances. The next stage is to prepare the tooth to receive the crown. A local anaesthetic is administered and then the tooth will be filed down so that the crown fits over it. The dentist will place a temporary crown over your tooth, which will be removed when your new crown is fitted. Clinics equipped with the latest CAD/CAD technologies can have you in and out in a day or two.
At this point, the dentist will also take impressions of your mouth to send to the laboratory where your crown is made to measure.
The dentist will also discuss the materials available for the crown. All have their plus and minus points, which your dentist will discuss with you, and there is also a significant difference in the prices. Most people prefer tooth-coloured materials which closely match their own teeth, such as zirconia, porcelain, or porcelain bonded to metal. However, zirconia is strong but quite expensive (certainly in the UK and Eire, but less so in Spain); porcelain is prone to fractures and porcelain fused to metal (PFM) is the cheapest option but sometimes the metal can be seen through the porcelain giving the crown a grey tinge.
Once your dentist receives the crown from the lab, it's time to put your sightseeing on hold and head back to have it fitted. The dentist removes the temporary crown and places the new one over the tooth to check the fit. Any minor adjustments are made by the dentist before the crown is cemented in place by a light-activated adhesive.
Same-Day Crowns: Note that it is possible to have your dental crowns made while you wait if your chosen clinic in Barcelona has onsite CAD/CAM technology. The whole process can take just a couple of hours—something worth bearing in mind if you are pushed for time.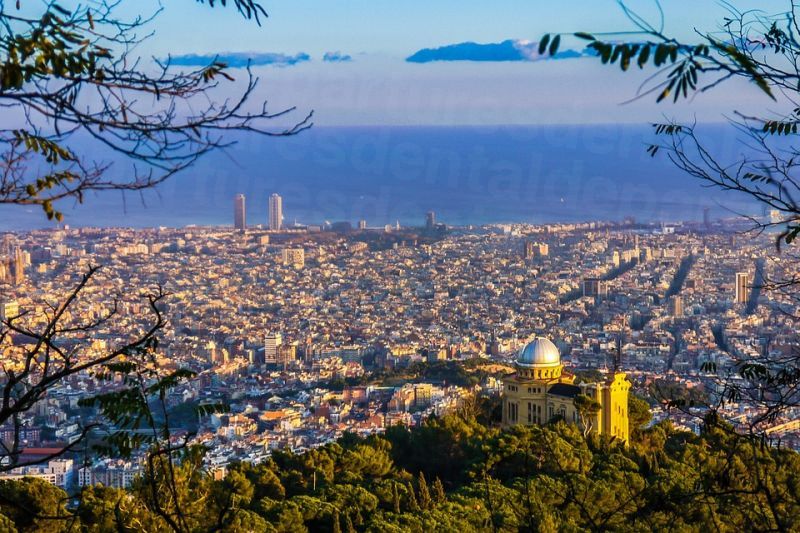 How Much Does a Dental Crown Cost in Barcelona?
Dental crown prices in Barcelona cost, on average, 60% less than they do at home:
| | | | | | |
| --- | --- | --- | --- | --- | --- |
| | UK £ | EUR € | US $ | CAN $ | AUS $ |
| Dental Crown Prices at home | 1,015 | 1,200 | 1,300 | 1,700 | 1,700 |
| Dental Crown Prices in Barcelona | 385 | 450 | 508 | 680 | 712 |
Can I Expect to Receive Good Quality Dental Care in Barcelona?
Dental Care is generally good in Spain, but when you book with Dental Departures you are assured of finding the best pre-screened clinics that are trustworthy and reliable. Our background checks include onsite visits, dental qualifications, professional memberships, legal/malpractice records and patient reviews. If we don't like what we see, we don't partner with that facility and they won't be listed on our site.
Take a look for yourself at three of the most popular clinics in Barcelona below. Click through to see clinic photos, prices and location maps to pinpoint a great match:
Book Your Appointment Today
Dental Departures' Customer Care Team is on standby around the clock to help you book an appointment, obtain a free quote or answer any questions you have about dental crowns in Barcelona. You can also book directly online, with more options below.
Sources:
Works of Antoni Gaudi. UNESCO World Heritage List. UNESCO. Website accessed: 14 March 2019. https://whc.unesco.org/en/list/1526" target="_blank
Shepard, Katelynne. Your Dental Crowns Procedure: What to Expect. Colgate. Website accessed: 11 March 2019. https://www.colgate.com/en-us/oral-health/cosmetic-dentistry/bridges-and-crowns/your-dental-crown-procedure-what-to-expect-0113" target="_blank
What are NHS Fillings and Crowns Made Of? National Health Service. Website accessed: 15 February 2019. https://www.nhs.uk/common-health-questions/dental-health/what-are-nhs-fillings-and-crowns-made-of/" target="_blank
Sandilands, Tracey. CAD/CAM Dentistry: What Is It? Colgate. Website accessed: 11 March 2019. https://www.colgate.com/en-us/oral-health/basics/dental-visits/cad-cam-dentistry--what-is-it-" target="_blank