Last fact-checked: 5 April 2020
If you're considering dental implants in Singapore but don't know where to start, then let Dental Departures point you in the right direction. Our network of pre-screened clinics offer great quality care that you can rely on—so let us fill you in on what the dental implant procedure entails, how to choose a clinic and what to expect when receiving care in the fabulous Lion City.
What Is a Dental Implant?
A dental implant is a replacement tooth root (usually made of titanium) that's embedded into your jaw bone. The implant is not visible as it is below the gum line, but a newly manufactured tooth (crown) is attached to it by way of an abutment.
Dental implants are the best way of replacing a missing tooth. Some of the key benefits include:
● They are secure and permanent (if good oral hygiene practices are followed)
● The abutment does not compromise the structure of surrounding teeth
● An implant looks, feels and acts like your original tooth
Am I A Suitable Candidate for Dental Implants?
Not everyone is suitable for dental implants. If you have lost a tooth because of periodontal disease (advanced gum disease) then it is likely you will have suffered bone loss in your jaw. This makes the dental implant procedure difficult, if not impossible, to carry out because the implant will have nothing to bond with if there is no bone.
But this doesn't mean all is lost. It is possible to undergo a bone graft procedure to augment the jaw bone although this may take up to 12 months before the graft has bonded sufficiently to place a dental implant.
Cigarette smokers are generally not considered suitable for dental implants and many dentists turn down patients who have not managed to kick the habit. Notwithstanding all the health risks we are all well aware of, smoking decreases blood flow to the mouth, which means less oxygen and nutrients can reach the cells. This is of particular importance after a dental implant procedure when healing and fighting infection are paramount for the success of the procedure.
Why Choose Singapore for Dental Implants?
1: Most of the dental facilities in Singapore are high-tech and modern, equipped with the latest technologies, such as CAD/CAM (computer-aided design/computer-aided manufacture), 3D/CT scanning and panoramic x-rays.
2: Dentists are well-trained and quite reliable. Specialists, such as implantologists, are also likely to be members of international professional organizations, such as the International Congress of Oral Implantologists (ICOI ). They offer a comprehensive range of general and specialist dental services to cater to any dental health problem you may have.
3: Singapore is a vibrant, exciting city-state with more than enough to see and do during your time here. This runs true regardless of whether you have come specifically for dental care or simply have decided to take advantage of the good quality dental care while here.
How Much Do Dental Implants Cost in Singapore?
Although Singapore's reputation for high-quality care dominates the region, it is not known for the inexpensive prices that other countries in Southeast Asia charge. However, you will more than likely save a little compared to back home:
| | | | | | |
| --- | --- | --- | --- | --- | --- |
| | AUS £ | NZ $ | US $ | EUR € | UK $ |
| Dental Implant Price at home | 5,100 | 5,300 | 3,500 | 3,100 | 2,800 |
| Dental Implant Price in Singapore | 4,700 | 4,900 | 3,200 | 2,900 | 2,600 |
Note: the prices above are approximate. Please check our current prices for your selected clinic for estimated costs of treatment.
What About the Quality of Dental Implants in Singapore?
The most important aspect of any medical or dental procedure is finding trustworthy professionals to carry out your procedure with skill and expertise. The problem when choosing healthcare providers overseas is that you don't have the benefit of recommendations from other dental experts, friends or family to help you make a decision.
This is where Dental Departures steps in. All the providers listed on our website have already been pre-screened by us. Our checks including legal/criminal records, dentist qualifications, professional memberships, and patient reviews. You can see much of this information under each individual listing, along with prices, clinic photos, location maps and more. So, you have everything you need at your fingertips to choose the right dental facility for you.
Top-rated dental clinics in Singapore for your dental implants include:
● Royce Dental Surgery Kovan
● Royce Dental Surgery Woodlands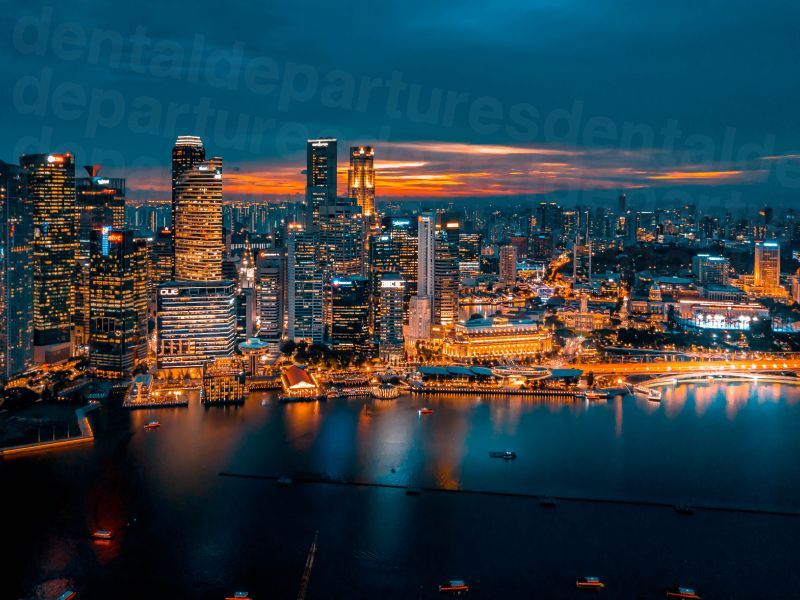 Further Information about Dental Implants in Singapore:
Find out more about dental implants in Singapore by contacting Dental Departures' Customer Care Team who will be happy to assist you. They can book your appointment, provide a free, no-obligation quote or help with other aspects of your trip, including hotel bookings, finance, and insurance. You can also book your appointment quickly and conveniently with us online, at no charge to you. We're available any time of the day or night to serve you.
Sources:
What is Periodontal Disease? Colgate Professional. Website accessed: 11 June 2019. https://www.colgateprofessional.com/education/patient-education/topics/plaque-and-gingivitis/what-is-periodontal-disease" target="_blank
Krans, Brian. Bone Graft. Healthline. 6 November 2018. https://www.healthline.com/health/bone-graft" target="_blank
Chrcanovic, Bruno, Ramos et al. Smoking and Dental Implants: A Systematic Review and Meta-Analysis. Science Direct. Journal of Dentistry, Volume 43, Issue 5 May 2015. https://www.sciencedirect.com/science/article/pii/S0300571215000603" target="_blank
Burhenne, Mark. Your First Dental Implant Procedure: What to Expect. Ask the Dentist. 18 January 2019. https://askthedentist.com/dental-implants/" target="_blank