Last fact-checked: 14 October 2020
Find a superior-quality clinic for dental implants in the United Arab Emirates with Dental Departures. Offering expertise and luxurious facilities, in the UAE you're assured of great customer service—so why not take advantage?
Am I a Suitable Candidate for Dental Implants?
Dental implants are a fantastic option for replacing missing teeth. The dental implant is inserted into the jaw bone and acts as a replacement tooth root. It is set below the gumline so it is not visible. A false tooth is attached to the implant which looks and functions exactly like your own teeth.
Suitable patients for dental implants should be in good health and have no bone loss in their jaw. Bone loss is caused by periodontitis, an advanced form of disease that attacks the bone and soft tissues that support the teeth. Untreated, periodontitis eventually leads to tooth loss.
If you do have bone loss, the dental implant procedure may still be an option if you have a bone graft. However, a bone graft is a separate procedure, which requires many months for the bone to augment before you can consider the implant procedure. Another option would be looking into a more expensive All-on-4 procedure if you've suffered bone loss and want to replace a whole arch of teeth.
Smokers are not good candidates for dental implants because smoking reduces blood flow to the mouth. Reduced blood flow means that essential nutrients and oxygen do not get to the cells responsible for healing and fighting infections. Although this is important throughout the life of your implant, it is particularly so when the implant has first been placed, when any infection could lead to your implant failing.
How Much Do Dental Implants Cost in the UAE?
Dental implant costs in the UAE are less expensive than at home. Check out the average prices in the table below, compared to the prices at home:
| | | | | | |
| --- | --- | --- | --- | --- | --- |
| | UK £ | EUR € | US $ | CAN $ | AUS $ |
| Dental Implant Price – at Home | 3,000 | 3,600 | 3,900 | 5,200 | 5,100 |
| Dental Implant Price – UAE | 700 | 815 | 900 | 1,200 | 1,300 |
( Note: the prices above are approximate. Please check our current prices for your selected clinic for estimated costs of treatment).
Can I Rely on the Quality of the Dental Implants I Receive in the United Arab Emirates?
The UAE is becoming a popular dental tourism destination. Its private dental facilities are of exceptionally high quality with the latest diagnostic and therapeutic technologies, such as digital radiography, 3D/CT scanning and computer-aided design/computer-aided manufacture (CAD/CAM) equipment. Accurate diagnoses, predictable treatment outcomes and quicker treatment times are some of the reasons why international patients are heading to the UAE.
Dentists in the UAE are highly-skilled with many having undertaken part of their training overseas, in the United States or Europe. Specialist implantologists are affiliated with professional organisations, such as the International Congress of Oral Implantologists (ICOI ).
Dental Departures understands how important it is for patients travelling overseas for dental care to be confident that the facility they have chosen has a good reputation. This is why we have carried out our own background checks on every dental provider listed on our site.
We investigate any legal/criminal records and we carry out our own onsite visits. Our checks also confirm dentist qualifications and professional memberships. We also collate real patient reviews which are published on our website, alongside clinic photos, prices, location maps and more.
You can make your own informed decision based on all the facts you need, rather than relying on search engines or biased, sometimes even fake patient reviews. Get started by taking a look at our three of our top-rated clinics in the United Arab Emirates:
● Versailles Dental Clinic
[Note: All of the above-listed clinics are based in Dubai, UAE.]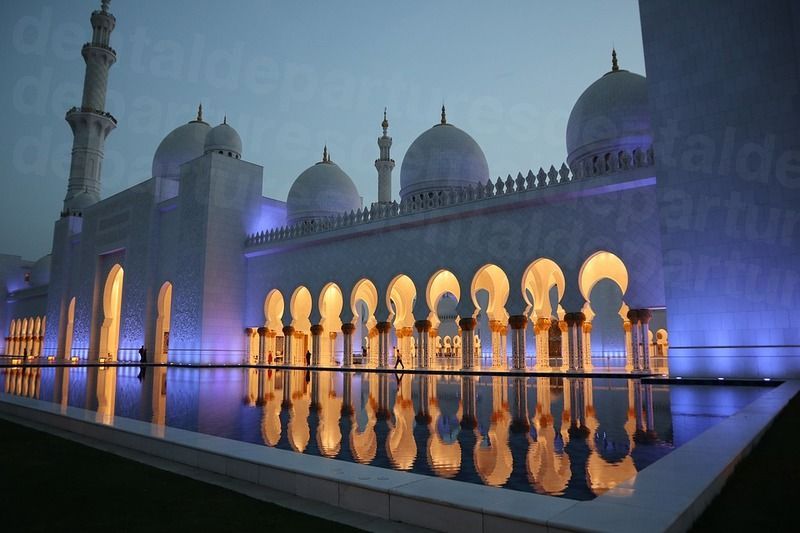 What Is the Procedure for Dental Implants? Is it a Good Option for Dental Tourists?
The dental implant procedure is a good option for dental tourists, although you must be prepared to make two trips to the UAE to complete your procedure (that's unless you are staying there long-term or live there).
The dental implant is inserted into the jaw bone during the first stage of the dental implant procedure. This is typically carried out under a local anaesthetic, although you can also have conscious sedation.
First Visit:
During the initial procedure, the dentist makes an incision in the gum and creates a flap where the implant is to be placed. The gum flap is opened up and the dentist makes a small hole in the jaw bone and inserts the implant into the hole. The gum flap is then stitched back into place. You will not see any evidence of the implant once the stitches are removed or have dissolved, as it is below the gum line. The implant is left for several months to enable it to fuse with the jaw bone in a process called osseointegration, which provides a secure and stable base on which to attach the replacement tooth.
Second Visit:
After several months, you will return to your dentist in the UAE to complete your dental implant procedure. This will be carried out under local anaesthetic and simply involves opening up the gum flap to expose the implant so that the replacement tooth can be attached. You will need to be in the UAE for around a week for this part of the procedure, as once the procedure is complete, your dentist will want to make a final check that everything is as it should be before you return home.
Further Information about Dental Implants in the UAE:
You can schedule your appointment online quickly and conveniently for your dental implant in the UAE. You can also ask for a free, no-obligation quote or speak to Dental Departures' Customer Care Team if you'd like to find our more.
Sources:
Nordqvist, Christian. What is Periodontitis? Medical News Today. 18 January 2018 https://www.medicalnewstoday.com/articles/242321.php
Shepard, Katelynne. Bone Graft for Dental Implants: Understanding the Possibility. Colgate. Website accessed: 8 November 2019. https://www.colgate.com/en-us/oral-health/cosmetic-dentistry/implants/bone-graft-for-dental-implants-understanding-the-possibility-0213
Sandilands, Tracey. CAD/CAM Dentistry: What is it? Colgate. Website accessed: 23 July 2019. https://www.colgate.com/en-us/oral-health/basics/dental-visits/cad-cam-dentistry--what-is-it-
Murphy, Caleb. Smoking And Tooth Implants: How it Affects the Success Rate. Authority Dental. 8 April 2019. https://www.authoritydental.org/smoking-tooth-implants
Burhenne, Mark. Dental Implants: What to Expect, Complications, Procedures and FAQs. Ask the Dentist. 2 August 2019. https://askthedentist.com/dental-implants/